Kwasi Kwarteng appeared to question whether Kathryn Stone should keep her job amid a row over MPs conduct.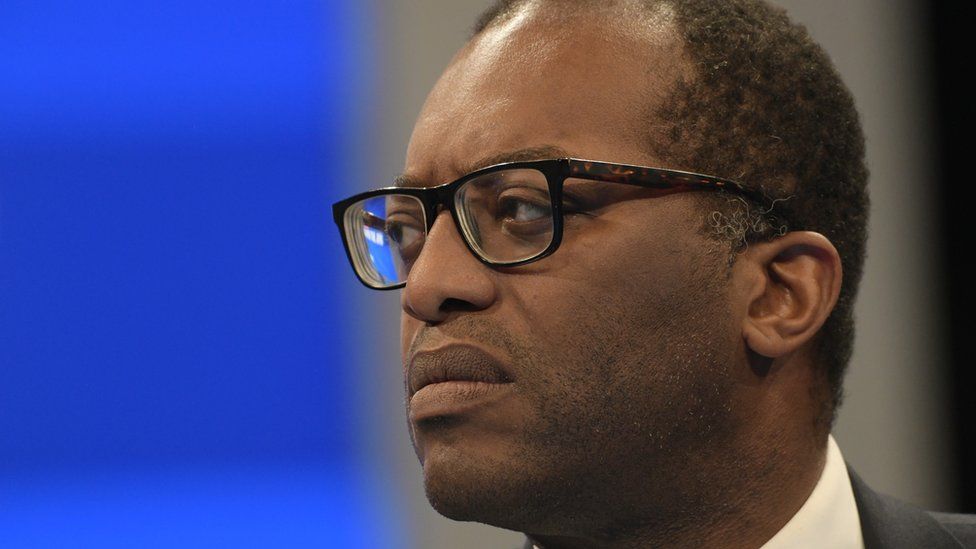 Kwasi Kwarteng has apologised to Parliament's Standards Commissioner for appearing to question if she should keep her job in a row over MPs conduct.
The business secretary had told Sky News it would be "difficult" for Kathryn Stone to stay in her post after the government backed reforms to the standards system, blocking the suspension of Tory MP Owen Paterson.
But No 10 later performed a U-turn.
Mr Kwarteng said he should have "chosen [his] words more carefully".
In a letter to Ms Stone, he said he "did not mean to express doubt about your ability to discharge your role" and apologised for "any upset or distress my choice of words may have caused".
MPs are later expected to endorse Ms Stone's report that concluded Mr Paterson had broken lobbying rules in Parliament while working as a consultant for two firms – which will, in turn, leave the existing standards system intact.
The MP for North Shropshire has denied any wrongdoing, but resigned from Parliament after the fallout.
On Sunday, Prime Minister Boris Johnson acknowledged Mr Paterson's case could have been handled "better" – while choosing again not to apologise for his part when pressed.
However, the furious row in Westminster has left more questions in its wake over MPs' conduct, including whether they should be allowed second jobs.
Labour will hold a vote in the Commons on Wednesday, calling for a ban on MPs taking paid directorships or consultancies, with its leader, Sir Keir Starmer, arguing it would help to end "dodgy lobbying".
Currently, more than 200 MPs have declared additional earnings on top of their MPs' salary in the past year, with Conservative Sir Geoffrey Cox hitting the headlines as one of the highest earners – having accrued almost £900,000 for his legal work.
Conservative party chairman Oliver Dowden told the BBC the government was "constantly improving standards", adding: "The prime minister has been very clear that members of Parliament should be getting on with their day job."
Asked if the government would support Labour's efforts to ban certain second jobs, the prime minister's spokesperson said it would be a matter for the House of Commons.
Speaking ahead of a vote in the Commons earlier this month, when Downing Street planned to back an overhaul of the standards system – which would also block Mr Paterson's suspension – Mr Kwarteng seemed to cast doubt on Ms Stone's performance as commissioner.
He said: "I think it's difficult to see what the future of the commissioner is, given the fact that we're reviewing the process, and we're overturning and trying to reform this whole process, but it's up to the commissioner to decide her position."
Mr Kwarteng came in for a raft of criticism as a result and within 24 hours – after a furious backlash from MPs on all sides – No 10 had changed its position, saying any changes to the standards system needed cross-party support.
Publishing his letter to Ms Stone on Monday evening, the minister wrote: "Having seen how my remarks have been interpreted, and reflecting on them, I recognise that in answering the question that was posed to me I should have chosen my words more carefully.
"I did not mean to express doubt about your ability to discharge your role and I apologise for any upset or distress my choice of words may have caused."
The business secretary added: "I recognise that it is incumbent on ministers to adhere to the high standards of the Ministerial Code, including ensuring that our words are carefully chosen and that we treat others with consideration and respect.
"I therefore regret if the words I used on this occasion have given the impression of having fallen short of these high standards."
MPs will be able to debate and vote on the original report into Mr Paterson's conduct on Monday evening, with the motion also formally scrapping the government's efforts to review the current standards system.
However, if other business in the House of Commons overruns, there may not be time for a full debate and the motion could simply be nodded through.
Commons Speaker Sir Lindsay Hoyle said he hoped Monday's vote would allow MPs to "move beyond" what he called "one of the darkest weeks we've had in parliamentary history".