Nearly 180,000 children in England acting as carers may be unknown to councils, BBC analysis suggests.
Nearly 180,000 children in England who care for a relative may be missing out on support because they are not known to their council, BBC News analysis suggests.
Local authorities have a duty to identify, assess and support children who provide a caring role.
But experts say many are not getting the help and time off they need.
Ministers said councils had a duty to support carers but the Local Government Association called for better funding.
A young carer is someone under 18 who cares for a family member or friend with a physical or mental health illness or disability.
They carry out a high level of care such as washing, dressing, giving medication, looking after family finances, cooking and cleaning.
If they are known to their local council they could access young carers clubs and activities, help at home or one-to-one support.
But analysis by the BBC suggests 75% of young carers in England are not known to councils.
Responses to a Freedom of Information request showed local authorities were aware of just over 58,000 young carers in 2019-20.
Research by BBC News and Nottingham University in 2018 estimated that 7% of children aged 11-15 years were caring at a high level.
The analysis compared the national trends from the 2018 findings to the FOI responses and the results suggest nearly 180,000 young carers are unaccounted for.
Professor Saul Becker, a specialist on young carers, said that if every one of those was known to local authorities, they would not be able to meet demand.
He said: "The system does rely, to some extent, on it only meeting the needs of a certain number of those young people. It couldn't cope with the sheer demand from all of those hidden armies of young carers out there."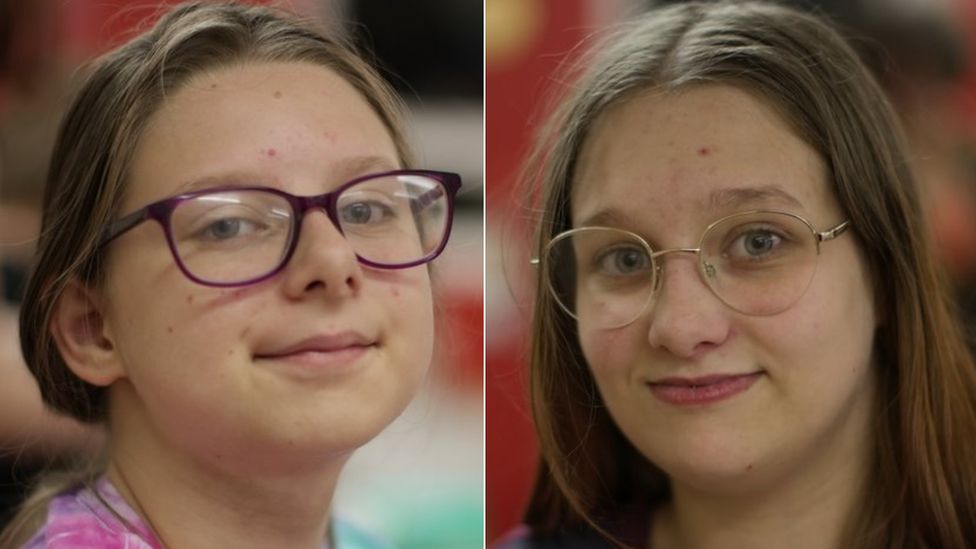 Paige, 15, and Beth, 12, from Herefordshire, help their disabled mum to get out of bed, shower, apply her morphine patches and assist with cooking and cleaning.
They said they had not had an assessment or were really sure what one was, and the pressure of their caring roles affected their mental health.
"We have anxiety… and we've got separation anxiety as well," Paige said.
"We hate being away from mum. That makes it worse," Beth added.
"I feel quite isolated as a young person and as a young carer. Sometimes it takes a toll on you," Paige explained. "I think you just get overwhelmed."
The sisters go to Herefordshire Young Carers Club (HYCC) which offers weekly activities and support.
Susan Brace, one of the support workers at the charity, said: "It's really important young carers get to access the same opportunities as anybody else.
"A lot of them have got a huge amount of responsibility. And it's really hard for them to sometimes socialise after school or have friends around to play."
Edwina Roberts, another support worker at HYCC, said: "There are so many hidden young carers, we are forever trying to raise awareness to try and find them. Here they're having respite from their caring role and they're just allowed to be a child and to have fun."
Professor Becker said: "We should never underestimate the importance and the power of having a few hours off where you do not have to worry about who's looking after your parent – who's looking after your brother and sister – so you can escape.
"And so respite care is critical. Supporting the family is critical, one-to-one support is important for many young carers."

The number of young carers reported by councils varied dramatically across the country.
Some areas including Leeds, Bolton, Tower Hamlets and Derby responded saying they had less than 50 young carers, while others including Suffolk, Lincolnshire and West Sussex said they had over 1,000.
No council reflected the suggested number of young carers in their area.Lancashire County Council said they had nine young carers in their area, but the BBC analysis suggested that figure could be nearer to 5,000, based on national trends.
The council said: "This data is only for young carers who care for an adult service user that we have on our adults system." After rechecking its figures the council responded saying its commissioned service supported 224 new referrals in 2019-20.
Warwickshire County Council highlighted 2,080 young carers, which was only around 200 less than trends would suggest.
Six local authorities replied saying it would cost too much to retrieve the data, while 11 councils couldn't give data for the year April 2019 to March 2020.
Two councils only provided census information dating back to 2011, while another council claimed it was unable to release the numbers as it was personal information.

The Local Government Association said: "Councils across the country work hard to make sure young carers are able to access the support they need.
"With adequate funding for children's services and adult social care, councils can do more to help young carers and prevent them from having to pick up any shortfalls in support."
The Department for Education said: "Young carers make an invaluable contribution and we recognise the challenges they face.
"Local authorities have a duty to assess and support young carers' needs, making sure a young carer is not taking on excessive or inappropriate caring responsibilities."