Hundreds of new buildings are being deliberately designed to avoid fire safety rules, LFB says.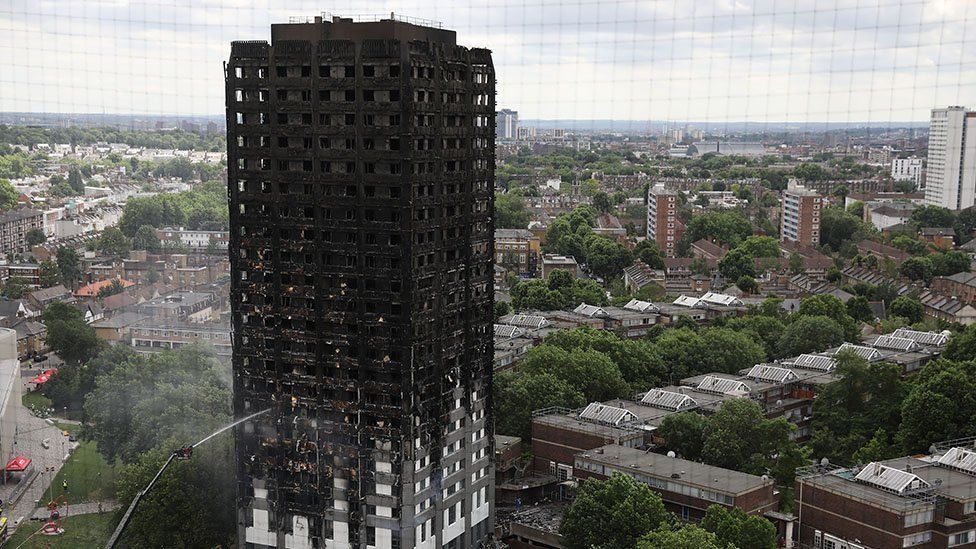 Housebuilders may be "gaming the system" to avoid fire safety checks put in place after the Grenfell Tower fire, London Fire Brigade (LFB) has warned.
Deputy Commissioner Paul Jennings said there are "hundreds if not thousands" of new buildings which may be "deliberately" designed to avoid rules.
They include blocks designed to be lower than an 18m (59ft) limit to be considered a high-rise building.
The building safety minister branded efforts to "cut corners" as "shocking".
The Grenfell Tower fire in June 2017 led to the deaths of 72 people.
Speaking to BBC Newsnight, Mr Jennings, said: "We have got examples where we think people are deliberately designing and building their buildings below that 18 metre, six floor threshold, because they know if they reach that threshold they would have to put advanced and more intricate fire safety measures in."
Mr Jennings described these new buildings in the capital as examples of "gaming the system".
When asked how many new buildings in London were being constructed to avoid the rules, he said it was likely "hundreds, if not thousands".
"We are seeing around 60% of the building consultations that come into the fire engineering team and others are ones where we are going backwards," he said.
On Monday, Michael Gove told the Housing, Communities and Local Government Committee: "We collectively – the department, some in local government, others in the private sector – failed people at Grenfell and there are people who were and still are in buildings where there is a significant risk."
The BBC is not responsible for the content of external sites.