Files chased by the Capitol riot inquiry will not be released until an appeals court hears the case.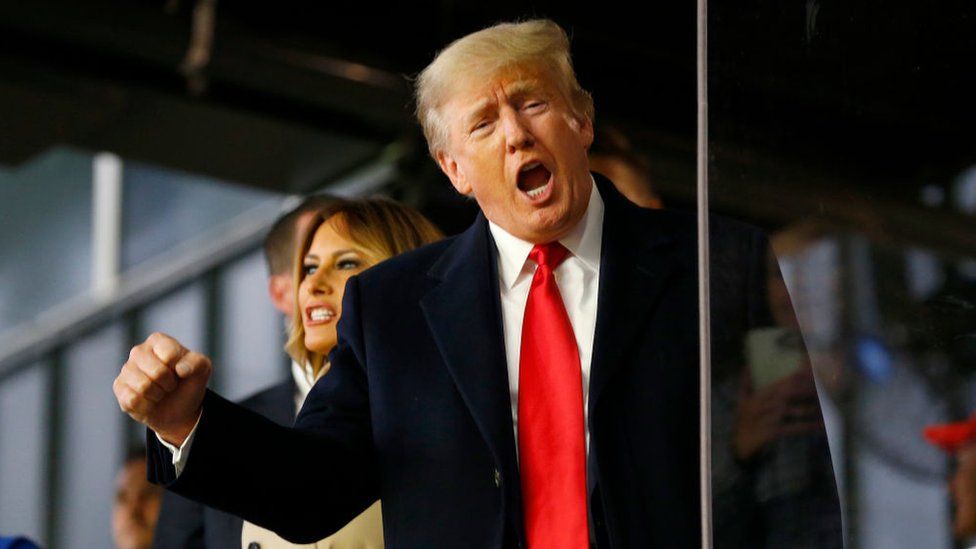 A US appeals court has temporarily denied a bid by US Capitol riot investigators to access ex-President Donald Trump's White House records.
The ruling comes two days after a court ordered the documents to be turned over to the congressional committee leading the inquiry.
Lawmakers are trying to find out if Mr Trump had foreknowledge of the riot.
Trump supporters stormed the Capitol building on 6 January as Congress was meeting to certify the election result.
Mr Trump has refused to acknowledge losing the election to President Joe Biden last year, making claims – without evidence – of mass voter fraud.
The inquiry is being conducted by a committee set up by the House of Representatives, which is dominated by President Biden's Democrats.
The panel wants to see phone records, visitor logs and other White House documents that could shed light on events leading up to the attack on Congress.
But on Thursday, the US Court of Appeals in Washington placed a temporary hold on a lower court's order to hand over the trove by Friday.
The appeals court said it will schedule a hearing for 30 November. The case will be heard by three judges who were selected at random, according to US media. All three were appointed by Democratic presidents.
Mr Trump's lawyers had said in their emergency filing to the appeals court that their client could "suffer irreparable harm through the effective denial of a constitutional and statutory right to be fully heard on a serious disagreement between the former and incumbent President".
The legal battle is likely to wind up at the Supreme Court.
Mr Trump – a Republican – has argued his White House communications were protected by executive privilege, under which presidential documents can be kept secret. But Mr Biden has waived executive privilege on the files.
And on Tuesday, US District Judge Tanya Chutkan rejected Mr Trump's argument, writing in a 39-page decision: "Presidents are not kings, and Plaintiff is not President."
The House Select Committee has issued dozens of subpoenas in the last week, calling on many former Trump officials to hand over documents and testify about the riot.
They include Kayleigh McEnany, the White House press secretary, Stephen Miller, who was Mr Trump's senior adviser, Mark Meadows, former White House chief of staff, and Michael Flynn, former national security adviser.
On Thursday, Mr Meadows notified the committee that he would refuse to co-operate until a final court judgement. The move led the committee's top investigator to threaten him with criminal contempt charges.
Following the Capitol riot, Mr Trump was impeached by the lower house of Congress, but cleared by the then Republican-dominated upper house, the Senate, of inciting an insurrection.
More than 670 people have been arrested for the invasion of the Capitol complex.