Charities say inequalities in maternal care need to be addressed urgently.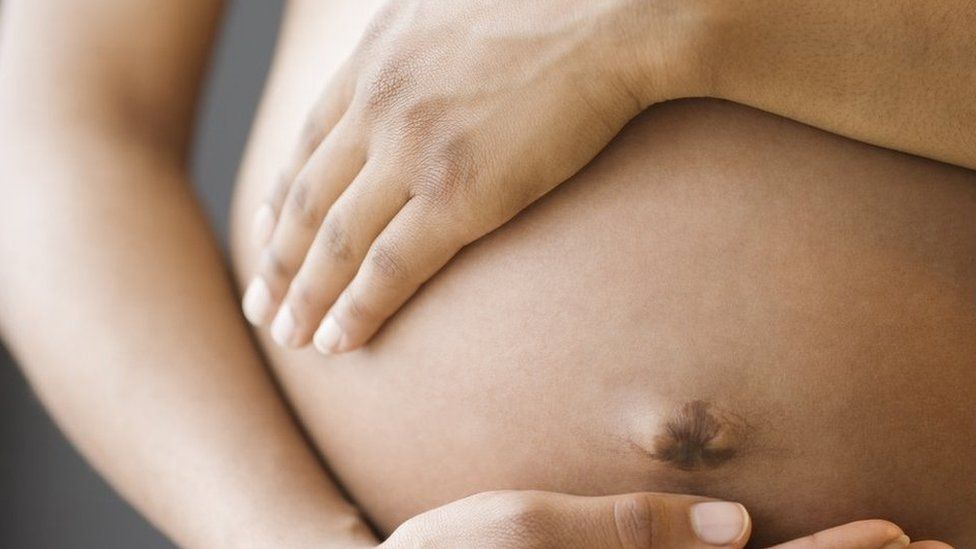 Black women are more than four times more likely to die in pregnancy or childbirth than white women in the UK, a review of 2017-2019 deaths shows.
Some 495 individuals died during pregnancy or up to a year after birth, out of 2,173,810 having a child.
The charity Birthrights is concerned that overall "this bleak picture has not changed in over a decade".
University of Oxford researchers say for the vast majority of people, pregnancy remains very safe in the UK.
But despite slight decreases in the maternal death rate in recent years, there have been no significant improvements to these rates since the 2010 to 2012 period.
Their current report shows heart disease, epilepsy and stroke continue to be the most common causes of death.
And they say in some 37% of cases, improvements in care may have made a difference to the outcome.
The report shows the risk of dying in pregnancy or the year after childbirth, for women is:
White groups – about seven in 100,000
Asian – 12 in 100,000
Mixed ethnicity – 15 in 100,000
Black groups – about 32 in 100,000
The report does not look directly at the individual reasons behind the disparities.
However, researchers acknowledge that addressing "wider cultural and structural biases affecting women's care on the basis of their pregnancy, or the potential to become pregnant, is fundamental to the prevention of maternal mortality".
Lead researcher, Prof Marian Knight, said: "Pregnant women get inequitable care for several reasons.
"Healthcare professionals often attribute their symptoms to pregnancy alone and they do not always end up getting the treatment they need because people can be incorrectly concerned about giving them medication.
"On top of that is the unconscious bias that black and Asian women can experience. It all adds up.
"We know from other studies that the disparity in death rates cannot be fully explained by socio-economic factors and other medical conditions for example. We need to look for other reasons."
Amy Gibbs, chief executive of Birthrights, said the organisation remained deeply concerned that black and brown people's "basic human rights to safety, dignity and equality in pregnancy and childbirth are not being protected, respected or upheld".
She added: "Emerging themes from our own inquiry, backed up by testimony from healthcare professionals, include feeling unsafe, their concerns being ignored or dismissed, denial of pain relief due to racial stereotypes, and pervasive microaggressions causing harm or distress."
The comprehensive Mbrrace study – which also looks at mental health and cancer care for pregnant women – shows other inequalities continue to grow, with women living in the most deprived areas twice as likely to die than those who live in the most affluent areas.
Separately, the review looks at the care of women who give birth over the age of 45.
For the 37 births examined closely, fewer than a third of women received care that was fully in line with current guidance.
Researchers make a number of broad recommendations, including ensuring women have documented conversations about the risks of pregnancy when older than 45, and that mothers-to-be receive cancer and mental health care promptly.
And they advise women to be as healthy as possible before and during pregnancy, and to take folic acid supplements.
The BBC is not responsible for the content of external sites.