The EU is reportedly preparing fresh sanctions over an escalating migrant crisis at Belarus's border.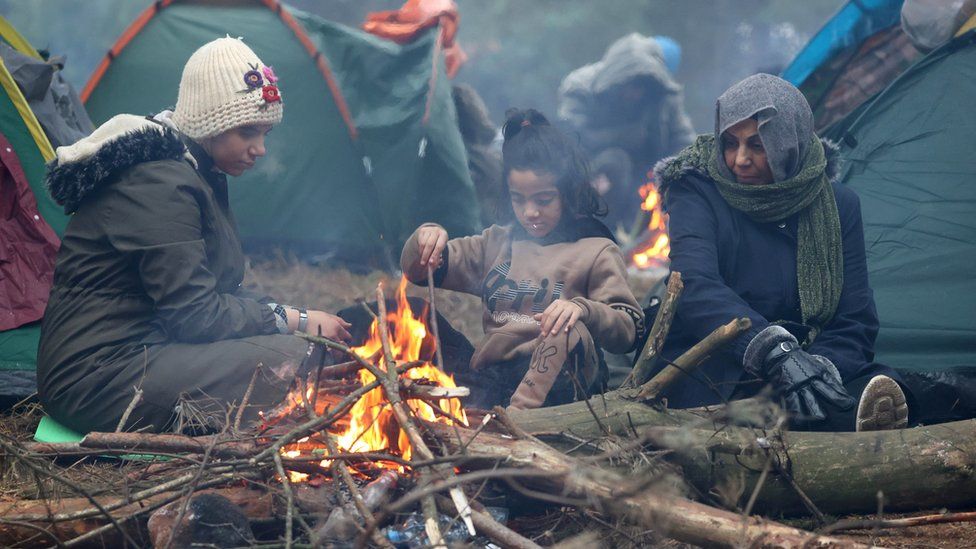 Belarus's leader has threatened to cut-off gas supplies to Europe if sanctions are imposed over an escalating migrant crisis at the country's border.
Thousands of people are at the border with Poland, where they are enduring freezing conditions in the hope of crossing into the European Union.
Western officials have accused Belarus of provoking the crisis to undermine EU security, an allegation it denies.
Meanwhile, the EU is reportedly preparing a package of fresh sanctions.
"If they impose additional sanctions on us… we must respond," the country's long-time authoritarian leader Alexander Lukashenko said on Thursday.
"We are heating Europe, and they are threatening us," he said, referring to a Russian gas pipeline that runs through Belarus and into the EU.
"And what if we halt natural gas supplies?" he added. "I would recommend that the Polish leadership, Lithuanians and [others] think before speaking."
His comments raised new concerns about a shortage of natural gas supplies and high prices in Europe.
The EU's economy commissioner Paolo Gentiloni said on Thursday that the bloc "should not be intimidated" by Mr Lukashenko's threats. More EU sanctions on Belarus could be introduced as early as Monday, two unnamed diplomats told the Reuters news agency.
They added that the airport in the capital, Minsk, could be sanctioned in an effort to stop international airlines carrying migrants from landing there.
The EU has accused Belarus of mounting a "hybrid attack" on its territory by encouraging thousands of people to try and cross into Poland.
It claimed the country's leadership had enticed them with the false promise of easy entry to the EU as part of an "inhuman, gangster-style approach". It also listed some 20 countries from which it said migrants had flown into Minsk, mainly on tourist visas.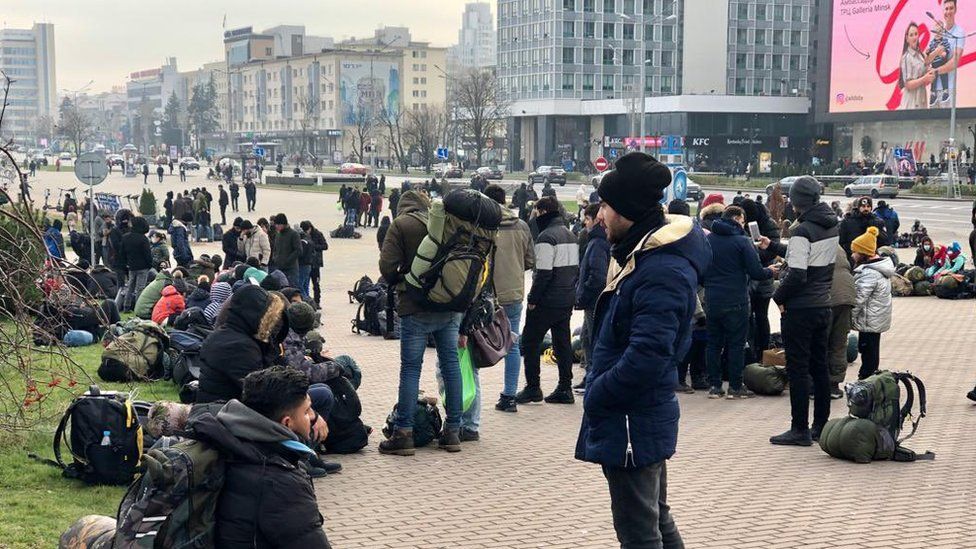 Mr Lukashenko, who won a largely discredited election last year, has repeatedly denied that Belarus is sending people over the border in revenge for existing EU sanctions.


The Polish government is pleased with the support the EU and its member states are giving it over the crisis.
Make no mistake, they're definitely on the same page.
There's even discussion in Brussels about partially funding a $400m (£298m) fence that Poland plans to erect on part of the border by mid-2022.
Poland also wants the EU to block flights bringing the migrants to Belarus. That won't be easy, but the EU is looking at moves against the Belarusian state airline Belavia and private charters.
It is also in the process of broadening sanctions against companies and individuals tied to Alexander Lukashenko's regime.

Also on Thursday, stranded migrants threw rocks and attempted to break a razor wire fence at the Polish border.
Poland has been accused of pushing people back across the border into Belarus, contrary to international rules of asylum.
"There's no way to escape," 33-year-old Shwan Kurd told the BBC, who described arriving in Belarus at the start of November.
"Poland won't let us in. We are so hungry. There's no water or food here. There are little children, old men and women," he said.
The migrants – mostly from the Middle East – are mainly young men but there are also women and children. They are camping in tents just inside Belarus, trapped between Polish guards on one side and Belarusian guards on the other.
There are unconfirmed reports that two people have died on the Belarusian side in recent days. At least seven people have died on the Polish side of the border, many from hypothermia in recent months.
The UN Security Council is to meet later on Thursday for emergency talks on the crisis.
Lithuania, Estonia and Latvia said in a joint statement that the situation posed serious threats to security at their borders.
"This increases the possibility of provocations and serious incidents that could also spill over into the military domain," it said.
There have also been reports that the EU could be considering sanctioning Russia's state airline, Aeroflot, over the crisis.
On Thursday, the airline denied any involvement in carrying migrants to Belarus after its shares fell following the reports.
"The information on PJSC Aeroflot's involvement or assistance in organizing mass transportation of migrants to the Republic of Belarus is not true. Our airline does not operate regular flights to the cities in Iraq or Syria, nor are there flights on the Istanbul – Minsk route. Charter flights on the specified routes are not operated either", the company said in a statement.
Russian state media, meanwhile, reported that President Vladimir Putin had spoken to his ally Mr Lukashenko about the border issue.
Pavel Latushka, former Belarusian culture minister and ambassador who is now in Poland told the BBC that what is happening on the border is "artificial migration, organised on Lukashenko's orders."
"He wants to take revenge on the EU and show his strength and superiority."