People can hold public remembrance ceremonies together once more, after last year's lockdown disruptions.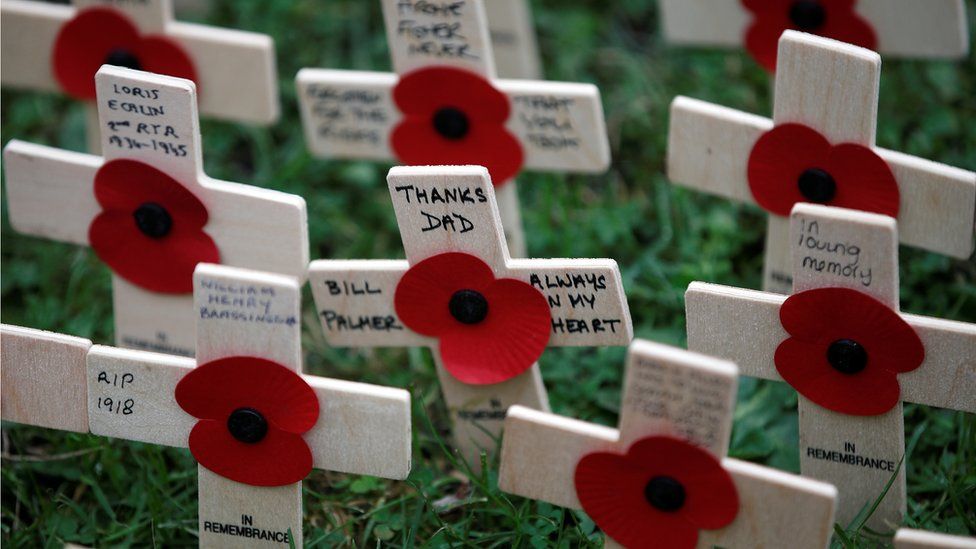 The UK is to come together for Armistice Day, after ceremonies last year were disrupted by the pandemic.
Remembrance then was reduced by Covid restrictions with people encouraged to stay home and remember the fallen.
With no more restrictions in place, people are at cenotaphs around the nation to commemorate those who have died in military conflicts.
A two-minute silence is held every year on 11 November at 11:00 GMT to mark the end of World War One in 1918.
The silence is held then because the end of hostilities between Germany and the Allies was declared "on the 11th hour of the 11th day of the 11th month".
The traditional symbol of remembrance is the poppy, with people wearing pins and laying wreaths of them in tribute.
Camilla, the Duchess of Cornwall, will be attending Westminster Abbey ahead of the public opening of the 93rd Field of Remembrance. While there, she will pay her respects and observe the silence.

Remembrance Sunday – observed on the closest Sunday to Armistice Day – features the National Service of Remembrance at the Cenotaph in London. It will be held this Sunday.
The Queen will pay tribute at the ceremony, alongside other members of the Royal Family, serving and former members of the armed forces, representatives of Commonwealth nations and senior British politicians.
Like Armistice Day, Remembrance Sunday will see the nation fall silent at 11:00 to remember the war dead.

A single gun will be fired from Edinburgh Castle and local government officials join members of the armed forces laying wreaths at the Scott Monument.
In London, hundreds of wreaths have travelled to major stations from around the UK and overseas from locations including the Falkland Islands, as part of the Poppies to Paddington and Routes of Remembrance campaigns by The Veterans Charity.
One has already toured the UK and on Thursday travelled up the Thames, before being taken to the Tower of London on board HMS Belfast – a surviving World War Two Navy warship.