The defence minister say many attempts were made to cross but 15,000 soldiers are now stationed there.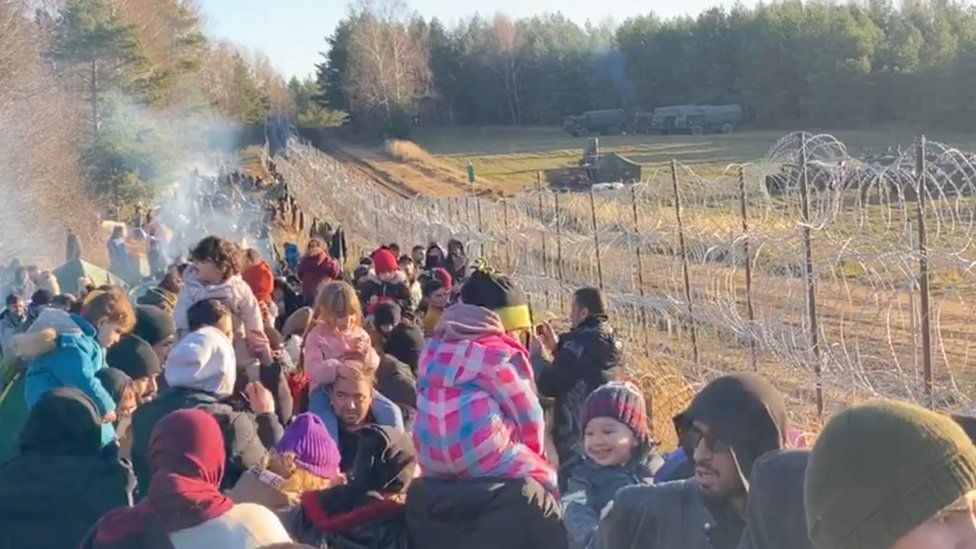 Poland faced "many attempts" to breach the border with Belarus overnight but now has 15,000 troops to repel them, the defence minister has said.
At least 2,000 migrants have become stranded at the border, at the centre of an escalating international row.
For months, the EU, and now Nato and the US, have accused Belarus's leader Alexander Lukashenko of provoking a renewed refugee crisis in Europe.
Lately, Poland and Belarus accuse each other of using violence at the border.
A BBC team, along with other journalists, have been barred from reaching the area, where Poland recently declared a state of emergency.
But Poland's defence ministry has tweeted a video, alleging that a Belarusian soldier fired a shot to intimidate the migrants camped near the razor-wire fence.

"It wasn't a calm night. Indeed, there were many attempts to breach the Polish border," Defence Minister Mariusz Blaszczak told Polish radio. Police spoke of two separate incidents involving groups of about 50 people. Meanwhile, the border guard said in the past day there had been 599 attempts to cross illegally and that nine people, all from the Middle East, had been detained.
The defence minister said earlier attempts had focused on the area around a big border crossing at Kuznica but that had now changed.
Video footage this week has shown crowds of people on the Belarusian side. Overnight temperatures at the border have fallen below freezing and some of those people stranded there have warned they are running out of food and water.
Aid workers complain that Poland's state of emergency means they are unable to enter the affected area: "For us it is heartbreaking. We are here, near the border and we cannot enter the zone and help people. We can only help those who manage to cross the border and make it out of the restricted area," Ania Chmielewska told the BBC.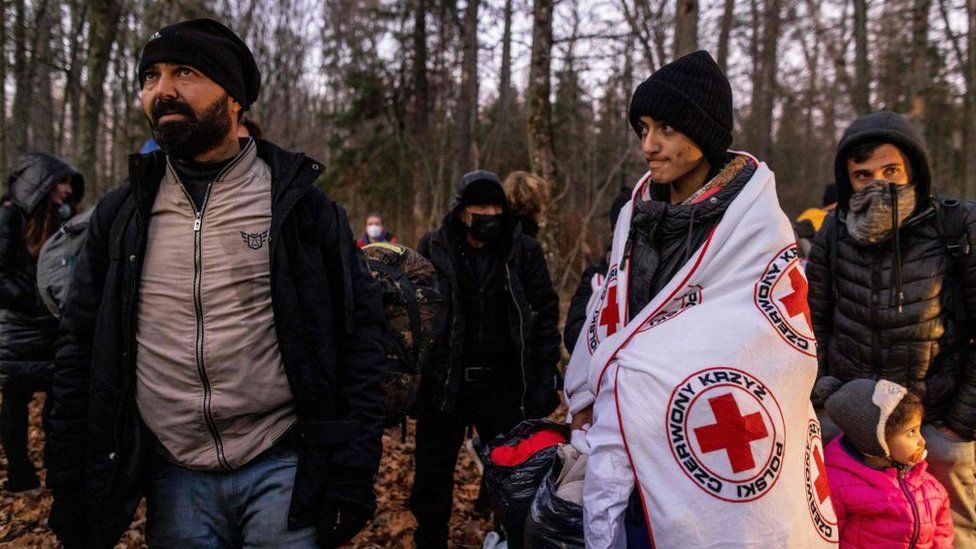 Earlier border breaches have involved the use of bolt cutters and tree trunks, as Polish guards tried to fend them off.
Many of the migrants are young men but there are also women and children, mostly from the Middle East and Asia.
The European Commission has accused Belarus's authoritarian leader Alexander Lukashenko of luring migrants with the false promise of easy entry to the EU as part of an "inhuman, gangster-style approach" and it has listed some 20 countries from which migrants have flown into Minsk, mainly on tourist visas.
German Foreign Minister Heiko Maas said on Wednesday that the EU would not be blackmailed. He said the bloc would work to extend sanctions on Belarus: "We will sanction all those who participate in the targeted smuggling of migrants."
Mr Lukashenko has denied accusations that the migrants are being invited in and then sent to his country's borders with Poland, Lithuania and Latvia in revenge for EU sanctions. Many of the opposition activists who managed to flee Belarus are now based in the three neighbouring countries.
Speaking in the Polish parliament on Tuesday, Prime Minister Mateusz Morawiecki said: "This attack which Lukashenko is conducting has its mastermind in Moscow, the mastermind is President Putin."
He accused the Russian and Belarusian leaders of trying to destabilise the European Union – which the two countries are not part of – by allowing migrants to travel through Belarus and enter the bloc.
He added that it was the first time in 30 years that Poland's border security had been so "brutally attacked".
On Tuesday, Lithuania declared a state of emergency on its border with Belarus, which came into effect at midnight.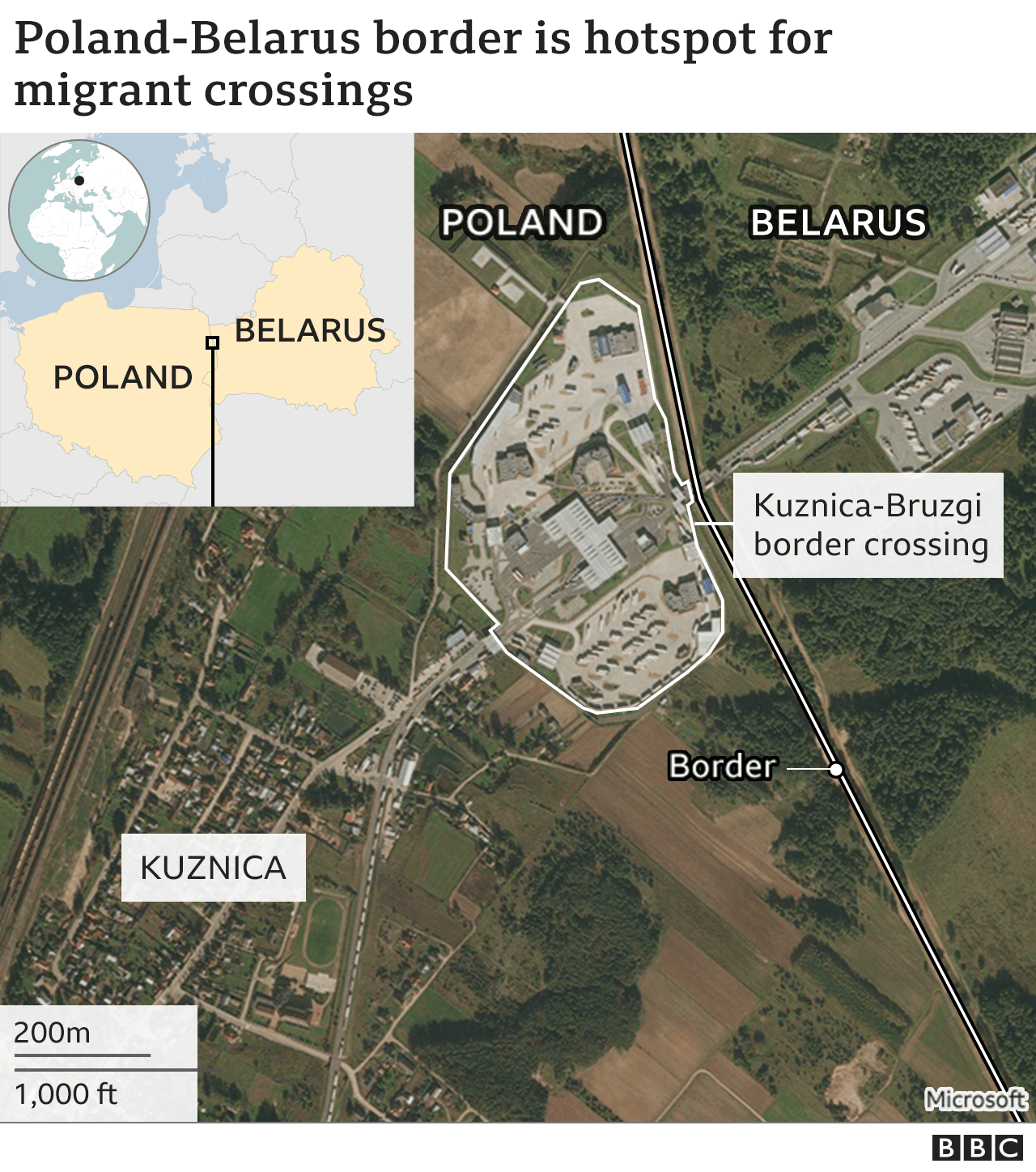 Poland has been accused of pushing migrants back across the border into Belarus, contrary to international rules of asylum.
"Nobody is letting us get in anywhere, Belarus or Poland," 33-year-old Shwan Kurd from Iraq told the BBC by video-call.
He described how he had arrived in Belarus's capital, Minsk, from Baghdad at the start of November, and was now in a make-shift camp metres from Poland's barbed-wire fence.
"There's no way to escape," he said. "Poland won't let us in. Every night they fly helicopters. They don't let us sleep. We are so hungry. There's no water or food here. There are little children, old men and women, and families."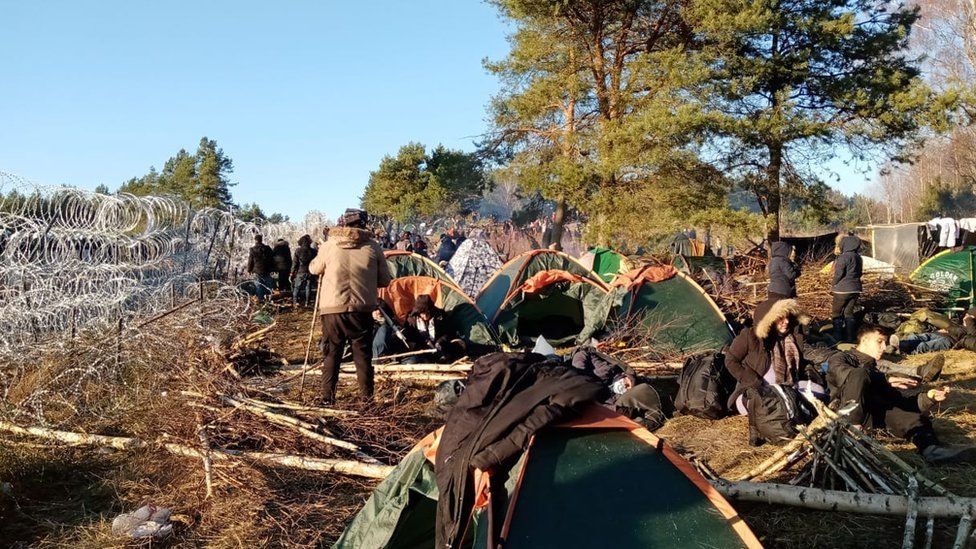 In an interview with the Belarusian state news agency, Mr Lukashenko said he wanted to avoid any military escalation on the border which could draw Russia into a conflict.
He said he was "not a madman" and knew what was at stake, but remained defiant, saying "we will not kneel down".
Russia has praised its ally's "responsible" handling of the border row and said it is watching the situation closely.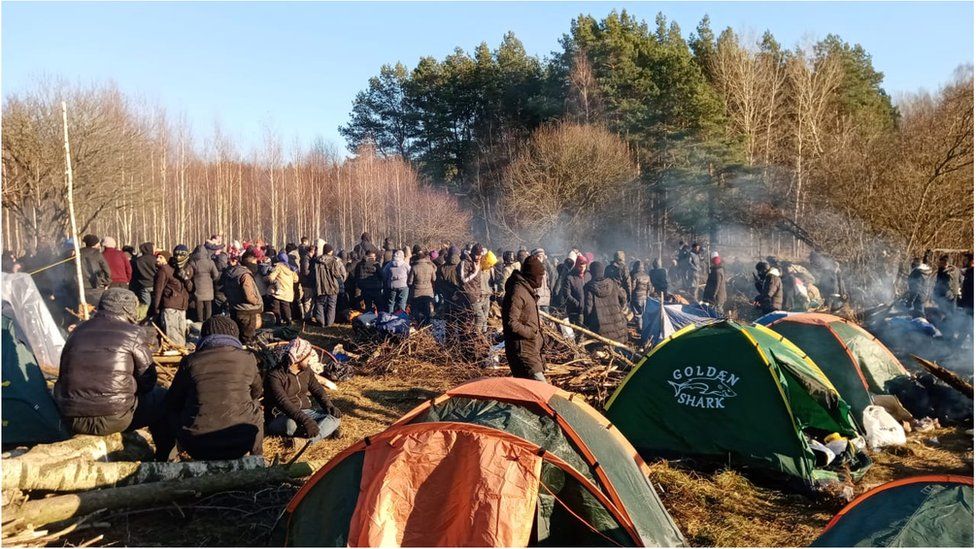 Are you in the area? Have you been affected by what's been happening? You can get in touch by emailing haveyoursay@bbc.co.uk.
Please include a contact number if you are willing to speak to a BBC journalist. You can also get in touch in the following ways:
If you are reading this page and can't see the form you will need to visit the mobile version of the BBC website to submit your question or comment or you can email us at HaveYourSay@bbc.co.uk. Please include your name, age and location with any submission.