Thousands are marching through Glasgow city centre as discussions continue at COP26.
People of all ages have joined striking school pupils in a mass climate protest through Glasgow.
Thousands marched from Kelvingrove Park to the city centre in one of the landmark demonstrations during COP26.
The event was organised by Fridays for Future Scotland, a group founded by young people inspired by the activism of Greta Thunberg.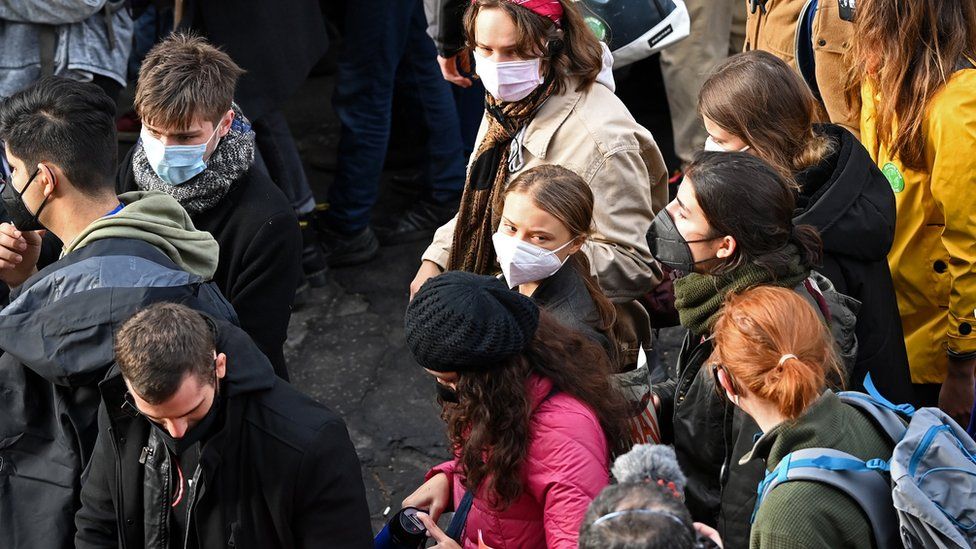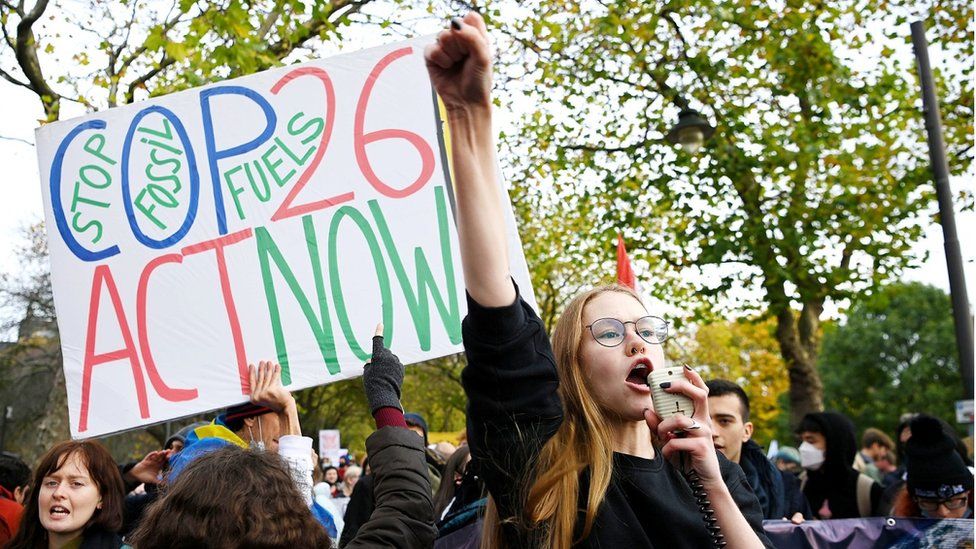 The Climate Strike march was due to begin at 11:00 GMT but experienced a slight delay.
Crowds then marched through the city's west end, past the COP26 site, before heading towards the city centre.
The procession arrived at George Square where a stage and speakers had been erected.
Youth activists from around the world gave speeches on how climate change has affected their land and communities.
Ms Thunberg is expected to speak at the event along with Ugandan activist Vanessa Nakate, as well as local trade unionists.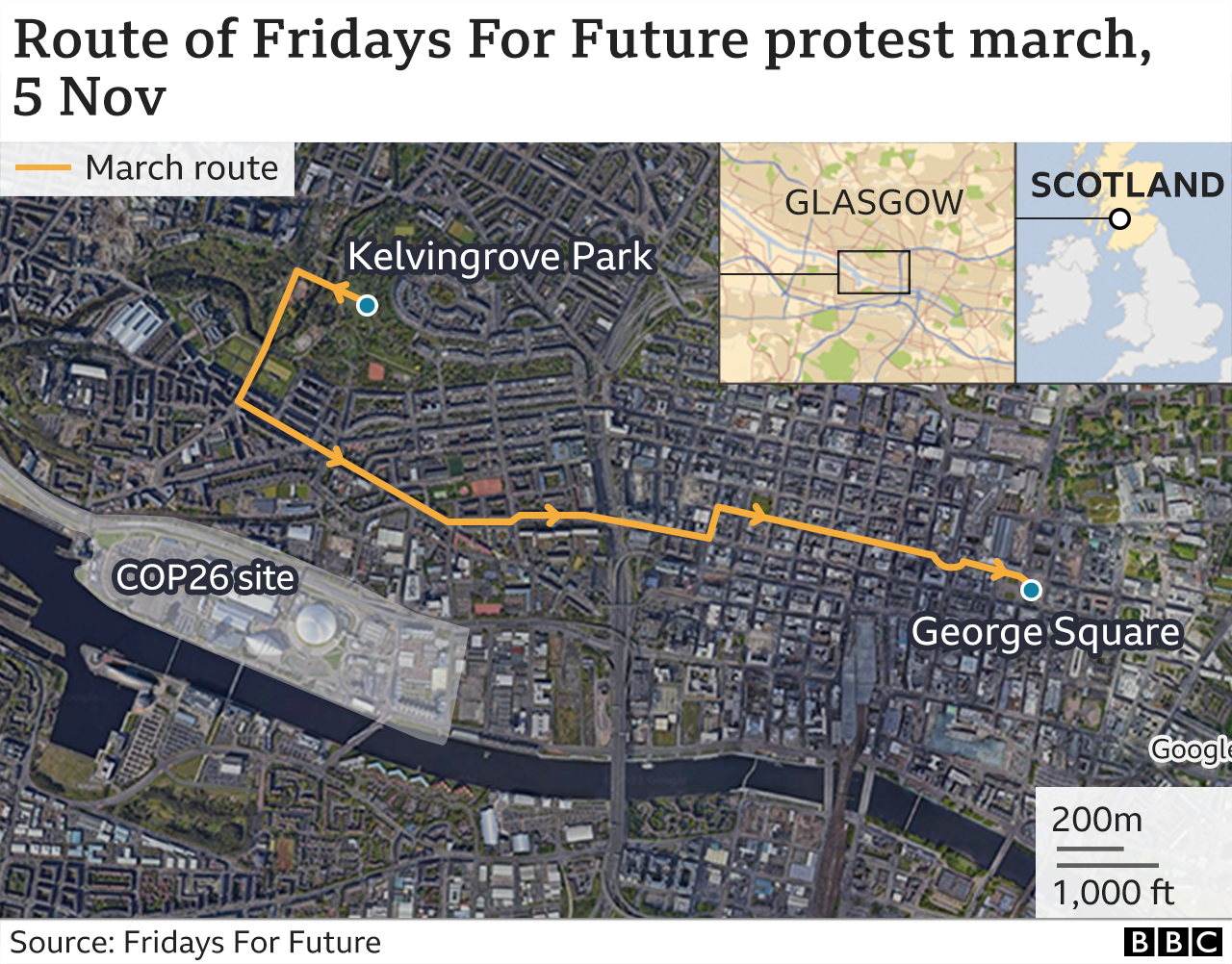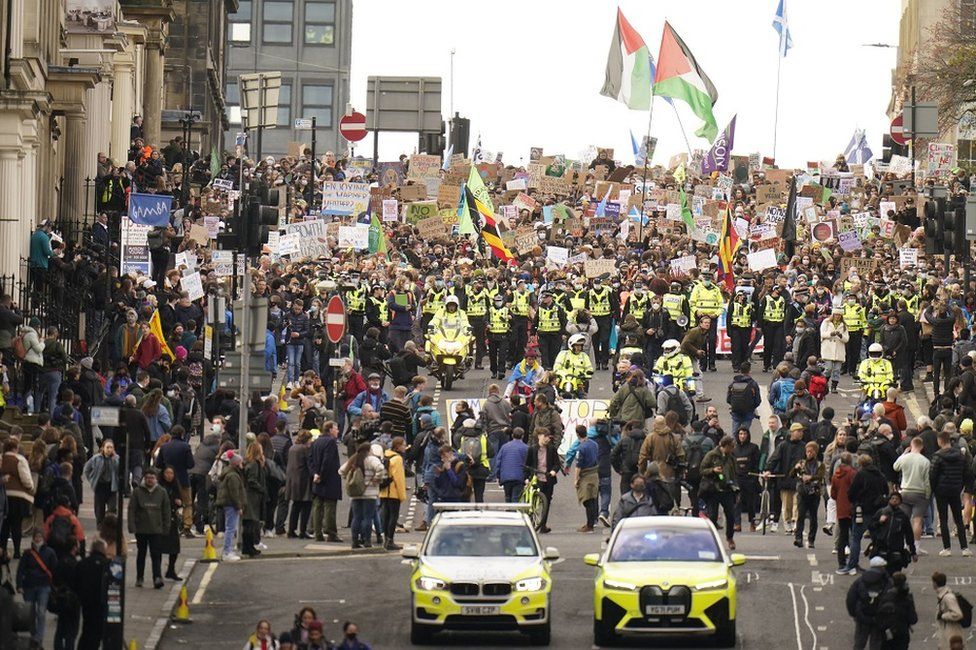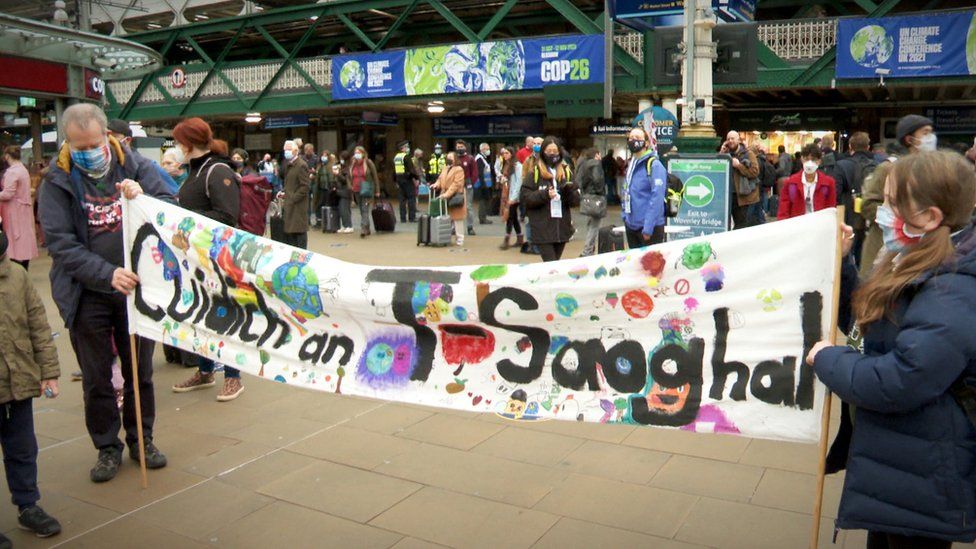 The wider Fridays for Future movement has seen young people around the world striking from school on a Friday to raise awareness of climate change.
However, people of all ages joined the crowd at Kelvingrove Park calling for immediate action beyond the activities of the UN summit.
Earlier young people and their families were seen travelling through Edinburgh Waverley station on their way to Glasgow – armed with colourful banners.
A smaller procession also took place in Dundee.
Anna Brown, an activist with Fridays for Future in Glasgow, said the event would demonstrate a need to move climate discussions away from "enclosed" spaces.
She told the BBC: "The message is that the system of COPs – we've had 26 now – that system isn't working. So we need to uproot that system. The message is you need to listen to the people in the streets, the young people, the workers."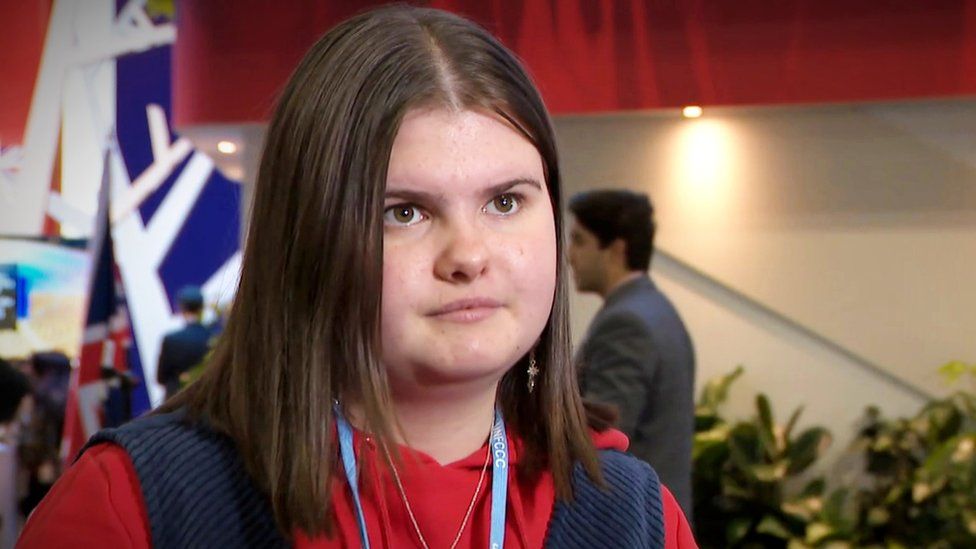 She continued: "We need to move it from being in an enclosed space where people can't get involved to the streets, where people can see what's happening and have a say.
"I think part of it is designed so people don't understand what it's about – if people don't understand what's being said in negotiations, they can't criticise what's happening and the decisions that are being made."
First Minister Nicola Sturgeon said she was committed to "meaningful engagement" between the Scottish government and young people and to involve them in decision-making.
Ms Sturgeon will be joined by COP26 President Alok Sharma and the UN's chief climate negotiator Patricia Espinosa on Friday to receive a statement written by young people which sets out actions they want world leaders to take to tackle the climate crisis.
She said: "In Scotland, we are already acting to tackle the climate emergency, but, as we have heard from children and young people this week from Scotland and round the globe, is it not enough and we must do more."
Assistant Chief Constable Gary Ritchie told BBC Radio's Good Morning Scotland programme there would be a reduced number of officers at the youth protest as the force did not expect to see "major disorder".
He said: "It will be a different approach to some of the policing in the days leading up to this. We respond to the threat and risks that are posed and the info given to us.
"Clearly it is a different picture today – it is children who are keen to have their voices heard and make their point so that world leaders hear them and we are keen that they can do that.
"So it will be a friendly and welcoming approach from police officers."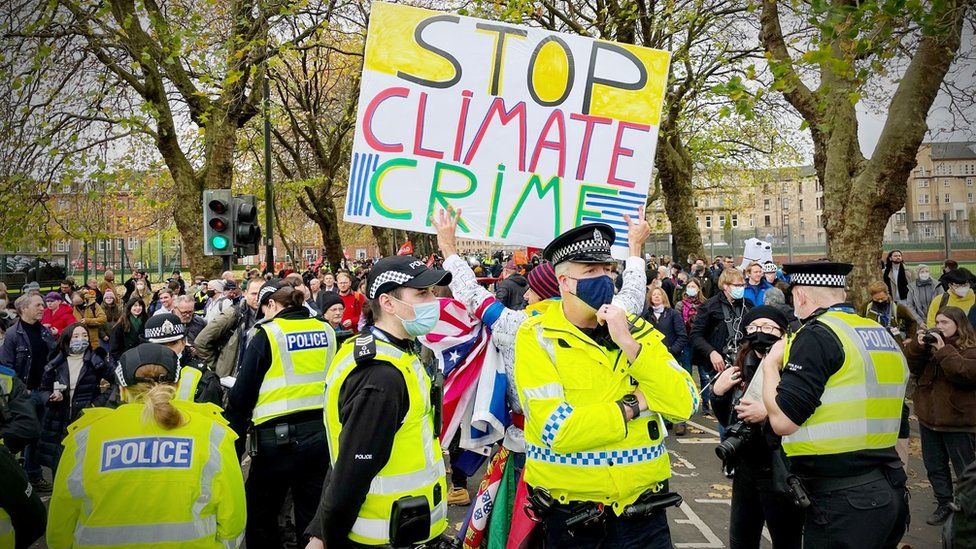 Meanwhile, the Prince of Wales said he had been invited to join the march through Glasgow, but said taking part would be "difficult".
Prince Charles expressed sympathy with the anger and frustration of the young activists in a speech addressing COP26 negotiators, telling delegates the "weight of history" was on their shoulders.
He said: "There's a big march tomorrow, which some people have said I should join – that's more difficult – but the point is, please don't forget these people out there. Don't forget that it's their future."
In London, Downing Street said young people missing school to attend the demonstration is "extremely disruptive at a time when the pandemic has already had a huge impact on their learning".
However Glasgow City Council and most neighbouring local authorities have told the BBC schoolchildren will not be punished for taking part in the climate strike.
They have urged parents to let schools know if a pupil will be off for safety check purposes.
However, pupils in East Dunbartonshire have been told they will be marked as having unauthorised absence if they do not attend school on the day of the march.
A spokesperson for North Lanarkshire Council said: "Tackling climate change is a subject on everyone's lips just now with Glasgow hosting COP26. While we encourage pupils to take an active interest current and world affairs, it is important they attend school as often as possible.
"Our attendance procedures apply throughout term time and any decision about taking time off school is a matter for their parents and carers to decide upon."
A spokesperson for South Lanarkshire Council added: "We take a proactive approach through our schools and educational establishments, to promote democracy and support young people to become politically literate."