Police say officers had paint sprayed at them while climate change activists say they were "kettled" for two hours.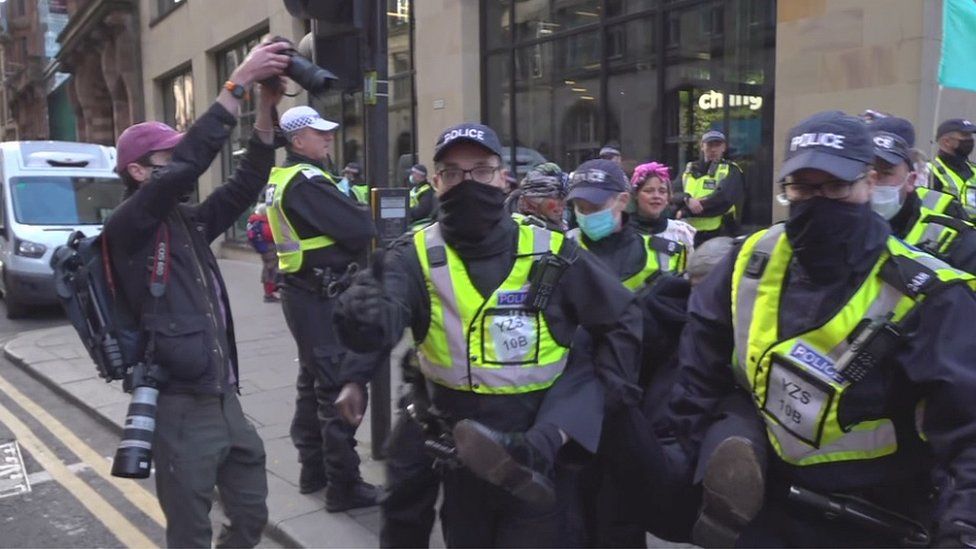 Five activists have been arrested as hundreds of climate change protesters marched through Glasgow.
Scuffles broke out during an Extinction Rebellion demonstration outside the SSE energy company as two activists tried to force their way into the building.
Police said other arrests were made following "assaults" on officers who had paint sprayed in their faces.
Most of the demonstrations against corporate "greenwashing" were peaceful as officers accompanied marchers.
The biggest protests of the summit so far began with hundreds of campaigners gathering in the city centre to highlight what they see as the exaggeration of green credentials by big businesses.
Some then headed for the offices of SSE where police and security staff prevented activists entering the building, and four arrests were made including two people who, according to the police, sprayed paint at officers.
Gary Ritchie, Assistant Chief Constable of Police Scotland, said they received first aid at the scene before opting to return to the operation, which he described as "very effective" and "very well planned".
Another protest took place outside the offices of JP Morgan, where a green flare was let off.
Extinction Rebellion said about 500 demonstrators were later "kettled" at St Vincent Street before being allowed to move off with a heavy police escort towards the city's Broomielaw next to the River Clyde.
Amid shouting and pushing, several protesters fell and police medics helped at least one woman who was injured.
ACC Ritchie said most protesters had been "fairly compliant" with police "in negotiations" with the group about their intentions.
"They have told us they would like to proceed to another part of the city and we have agreed to that," he said. "But for public safety reasons we will be escorting the protesters as they make their way to that location."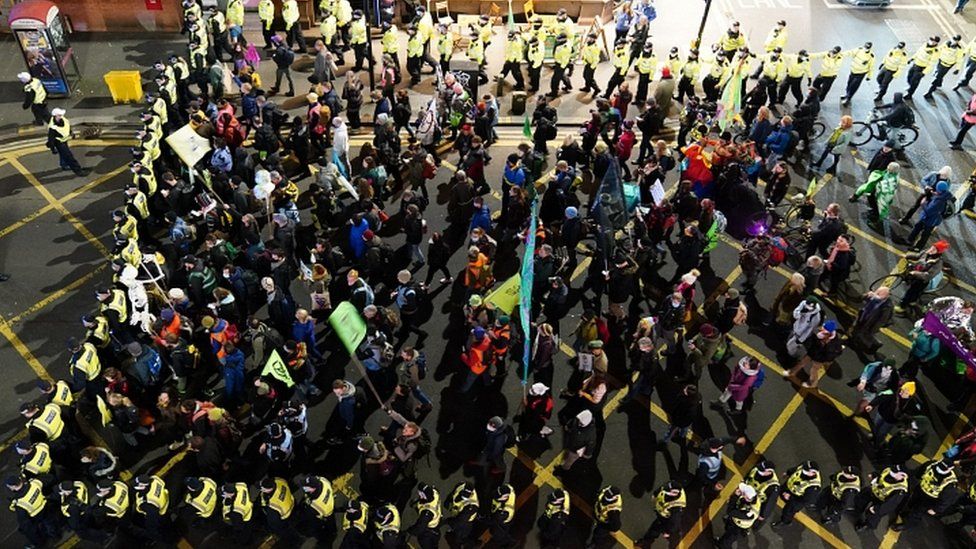 ACC Ritchie said police would "protect the rights of people who wish to peacefully protest or counter-protest at COP26, balanced against the rights of the wider community".
He added: "We will provide a proportionate policing response to any protest and violence will not be tolerated.
"Assaults on officers, who put their safety at risk every day to keep the public safe and have adopted a facilitative and rights-based approach to protest, is totally unacceptable."

Eyewitness: Cameron Buttle, BBC Scotland reporter in Glasgow city centre
For around two hours hundreds of public order police were chasing a group of protesters around the centre of Glasgow.
It was a hugely difficult operation to police; as soon as a street was blocked the protesters disappeared down a lane or backtracked and took a different route.
Eventually a group of about 150 were held in a block just off Renfield Street.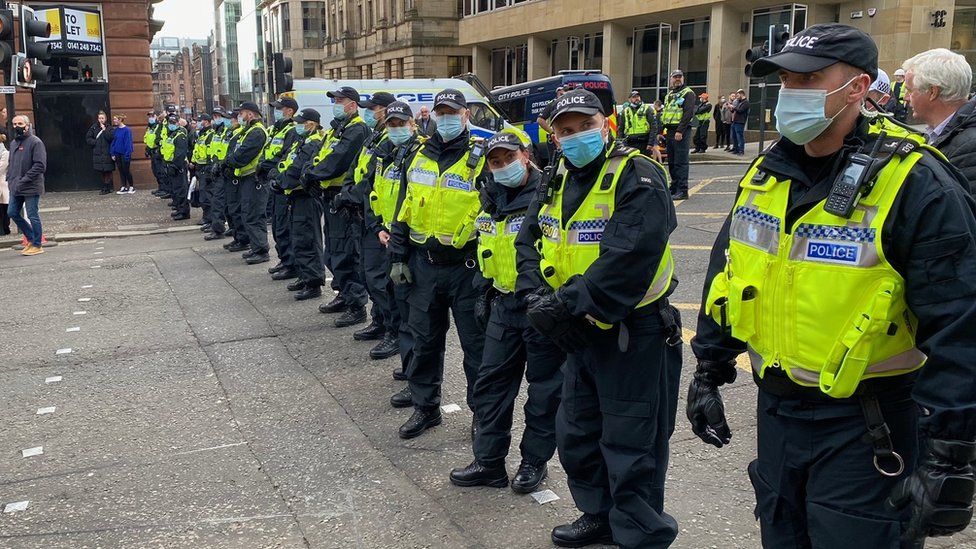 It was noisy, passionate and occasionally very tense.
I did see some scuffles breaking out in front me but it calmed down very quickly.
Eventually the police cordon moved slowly through the city taking the group down towards the main conference venue.
Some protesters complained about the police operation, saying it was over the top and heavy handed.
The police said they feared that main routes were going to be blocked and said the action was proportionate.

Campaigners also used the demonstrations to object to the planned Cambo oil field off Shetland, on the anniversary of the Queen inaugurating the flow of North Sea oil in 1975.
Friends of the Earth Scotland, along with the campaign groups Platform and Stop Cambo, took part in protest events.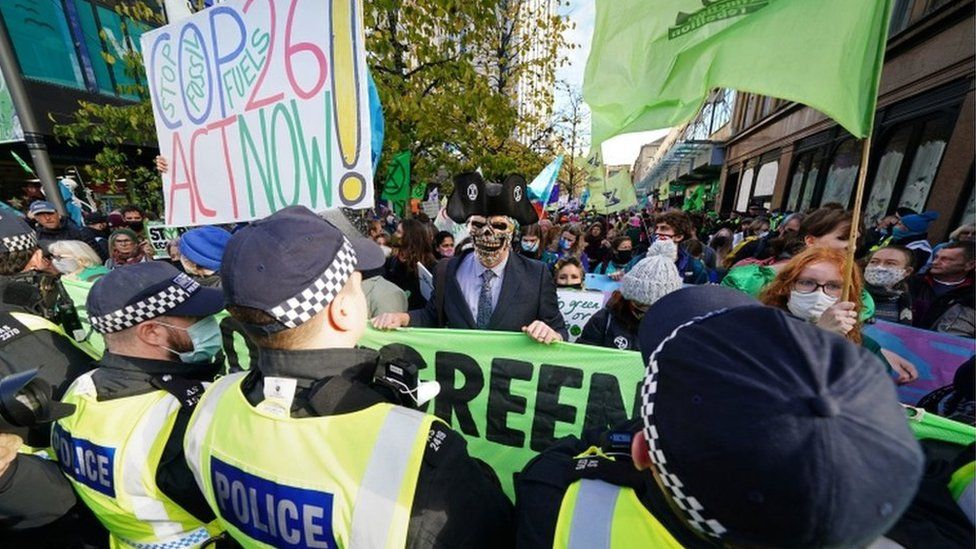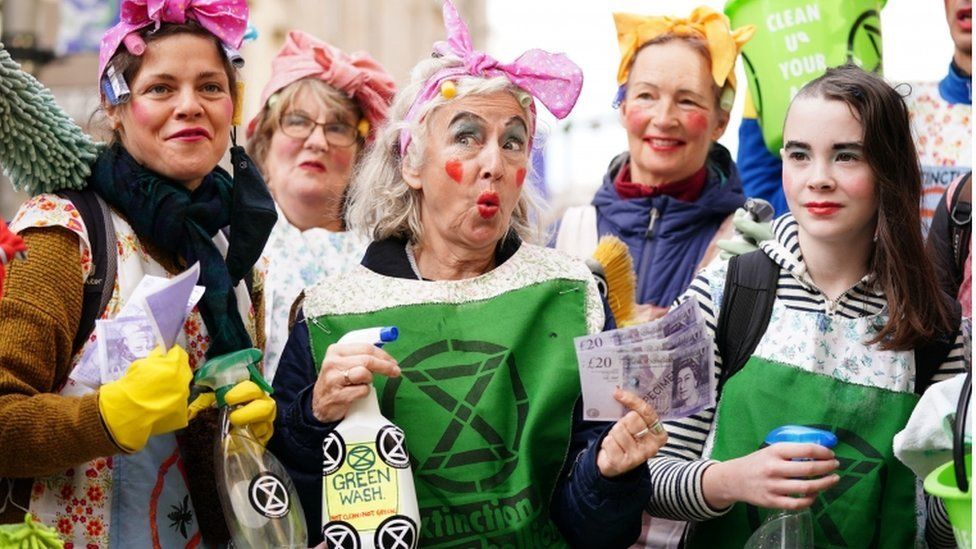 The UK government's Scottish Secretary Alister Jack has backed the project, saying Cambo is "priced in" to the UK government's plans to reduce emissions.
Rosemary Harris, of Platform, said there should be no new investment in oil and gas.
She said: "Any new oil and gas production is continuing to support a declining industry. There's a lot of talk about it being important for jobs, but they should be creating pathways for workers outside oil and gas."
Inside the conference hall, UK Chancellor Rishi Sunak promised to cut carbon emissions by rewiring the "entire global financial system".
He said the plan would help persuade firms investing in fossil fuels to instead put their money into green energy and technologies.
About 450 of the world's biggest banks, insurers and pension companies, which control about £100tn, have signed up.
More than 100 world leaders were in Glasgow for the first two days of the COP26 summit but most have now left, leaving delegations to continue the negotiations.
US President Joe Biden flew out on Tuesday night after a two-day visit.

The COP26 global climate summit in Glasgow in November is seen as crucial if climate change is to be brought under control. Almost 200 countries are being asked for their plans to cut emissions, and it could lead to major changes to our everyday lives.