Protesters caused delays near Manchester Airport, as well as targeting the M25 and Birmingham.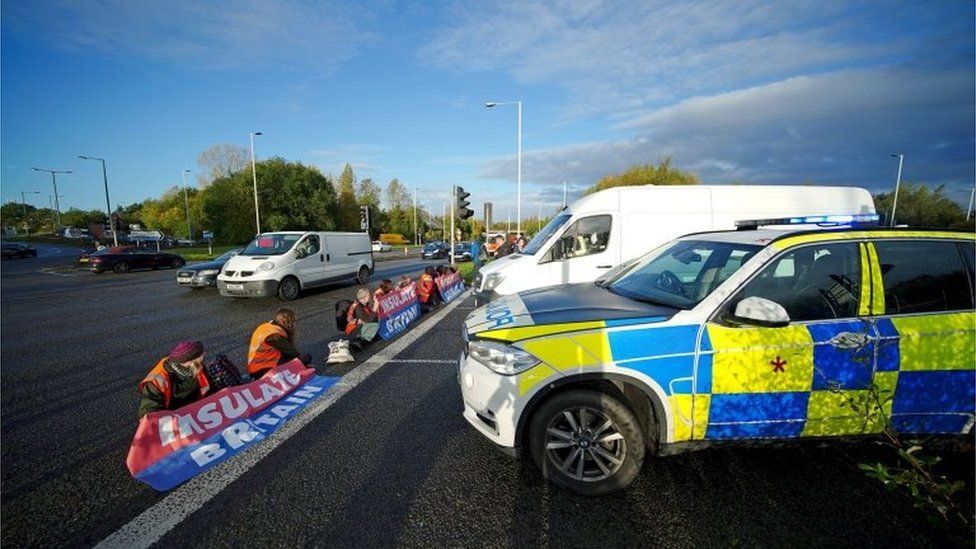 Insulate Britain protesters blocked a major road near Manchester Airport as part of a series of demonstrations across the country.
About a dozen people joined the protest on Wilmslow Road near the M56, with some gluing their hands to the road.
Greater Manchester Police (GMP) said 11 people had been arrested on suspicion of causing danger to road-users.
Insulate Britain said about 60 demonstrators descended on junction 23 of the M25 in Hertfordshire, the A538 (Wilmslow Road) in Greater Manchester and the A4400 in Birmingham from about 08:00 GMT.
Insulate Britain – which campaigns for homes to be low energy by 2030 to fight fuel poverty – said it was taking its message "outside of London".
"Britain should be leading the world with radical plans to decarbonise our society, instead our government is actively setting policies that will drive emissions higher," it added in a statement.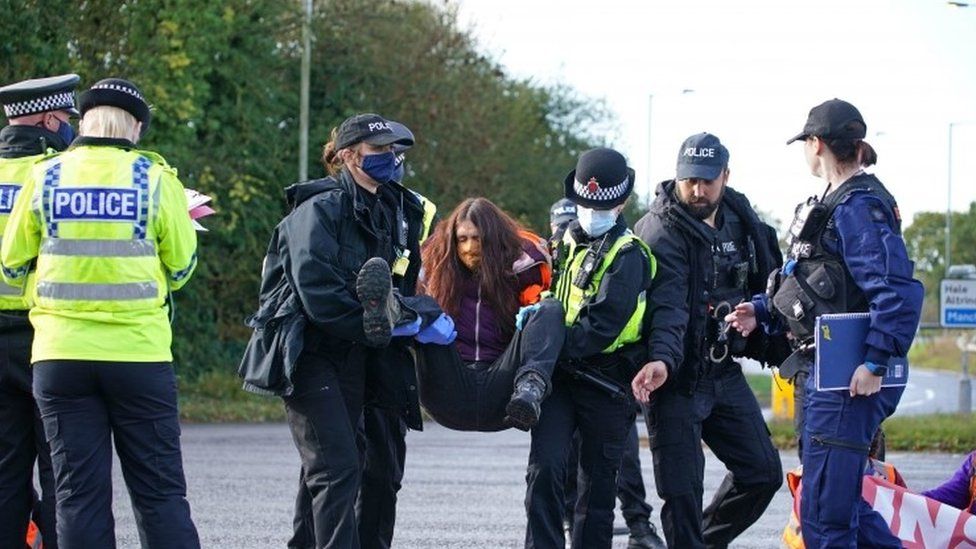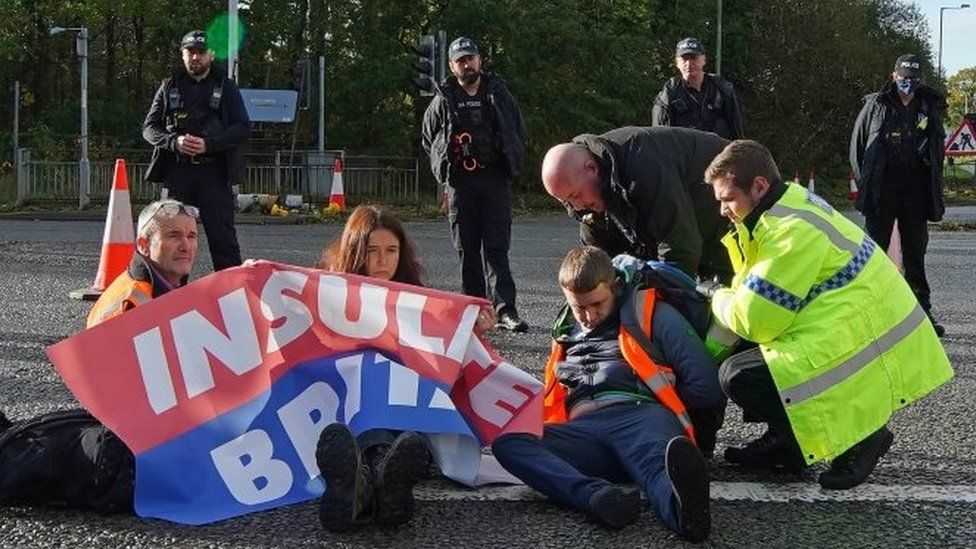 About a dozen protesters blocked Wilmslow Road near Manchester Airport, including seven who glued their hands to the road.
One of the protesters, Stephanie, said the group wanted to put pressure on the government to insulate homes to help tackle the climate crisis.
"Insulating our houses is the simplest, easiest first step towards tackling climate change, 15% of our emissions are because of our heating and our housing," she said.
GMP said the demonstration caused delays but it had "kept disruption to a minimum" and officers had "ensured access" to the M56 and Manchester Airport.
The force said all roads in the area had returned to normal by about 13:00.
Greater Manchester Mayor Andy Burnham tweeted: "I can't see how this type of protest does anything other than alienate people from the climate cause."
The leader of Trafford Council, councillor Andrew Western, said the protest was "a sure fire way to lose hearts and minds on the climate crisis issue".
He branded it "selfish, self-indulgent and dangerous" and said the protesters were "not helping anybody".

By BBC North of England Bureau senior journalist Michaela Howard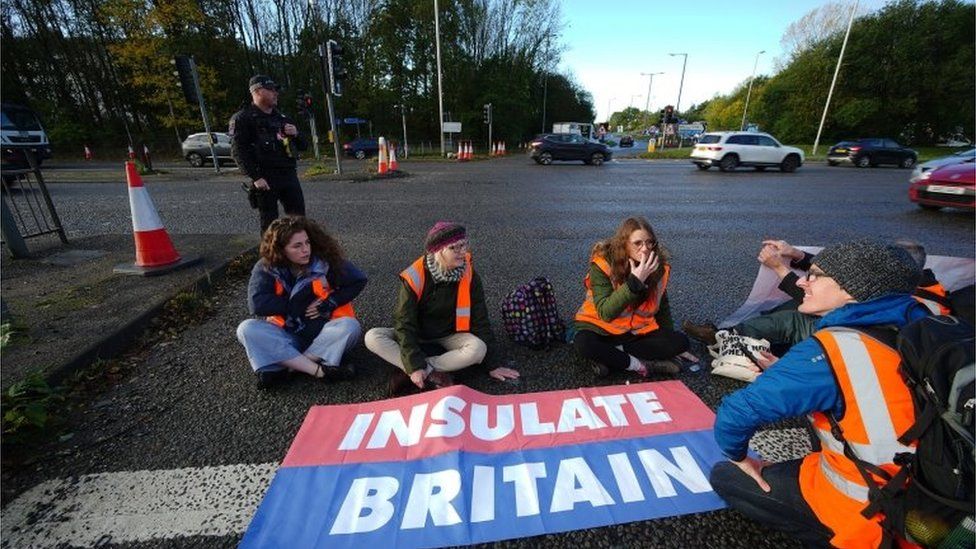 Eleven Insulate Britain protesters walked on to the road at around 08:30, sitting down in front of cars as the traffic lights were red, pulling out their banners.
Sitting in a line, seven of the protesters glued their hands to the road with the others sat on the ground.
There were a handful of police officers initially on scene but numbers have increased to around two dozen.
There hasn't been a great deal of traffic disruption and there has been a mixed response from passing motorists, some hooting their horns in support but many shouting at the protesters.

Elsewhere, 20 people were arrested after protesters attempted to block the M25 by gluing themselves to the road.
Hertfordshire Police were called to junction 23 for the A1(M) at Bignells Corner at 07:45 and to the A1081 St Albans Road at 08:20.
Officers said they managed to intercept the protesters before they reached the M25 carriageway.
By 10:00, police said all protesters had been removed and the road was being reopened.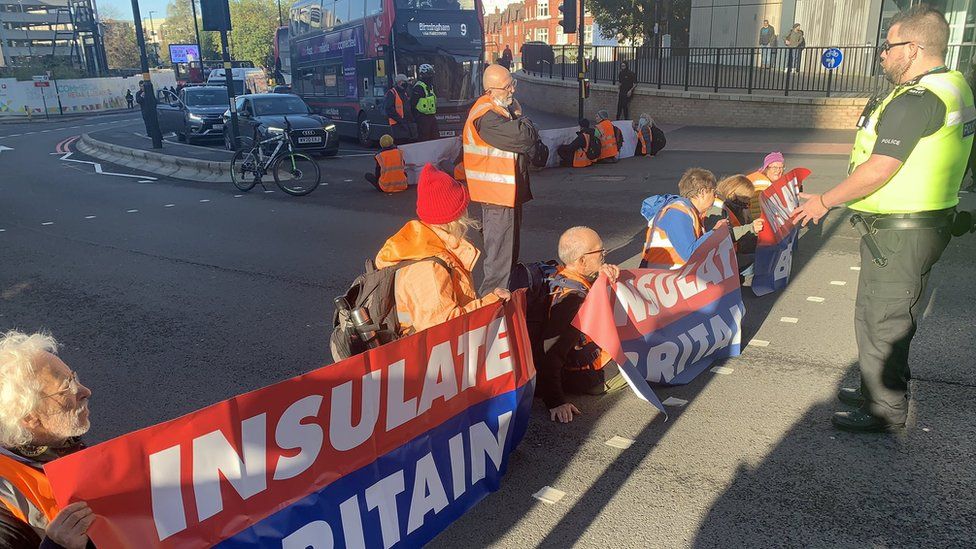 Protesters also disrupted morning traffic by sitting in the road around Great Charles Middleway in Birmingham city centre.
West Midlands Police said about 20 people had "briefly and intermittently" blocked traffic for about an hour, causing minimal disruption, with no arrests made.
Insulate Britain activists have blocked roads on 18 days since 13 September, a move that has seen drivers stuck in long queues of traffic.
Before Tuesday's action, 161 people had been involved in the roadblock campaign, with 770 arrests.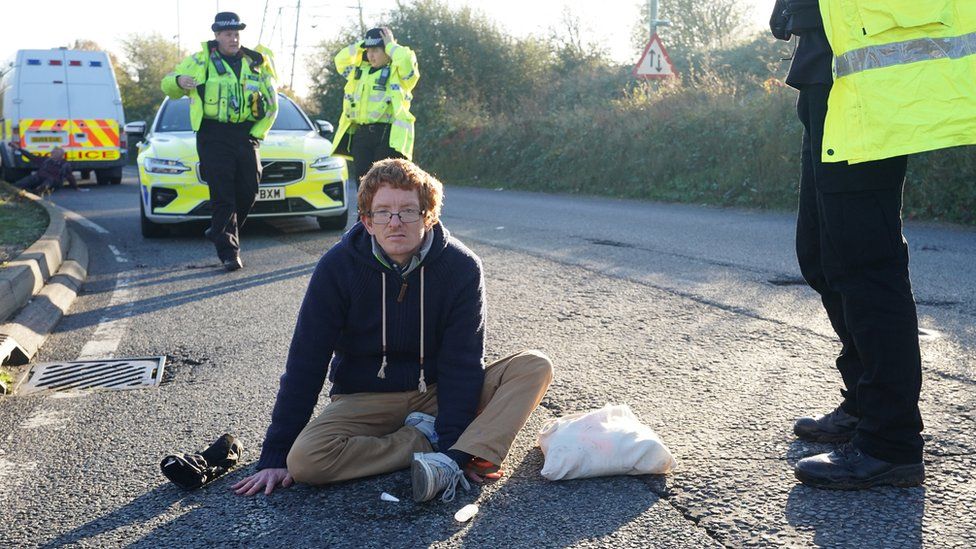 The BBC is not responsible for the content of external sites.