Passengers describe being thrown from their seats when two trains collided in Salisbury, Wiltshire.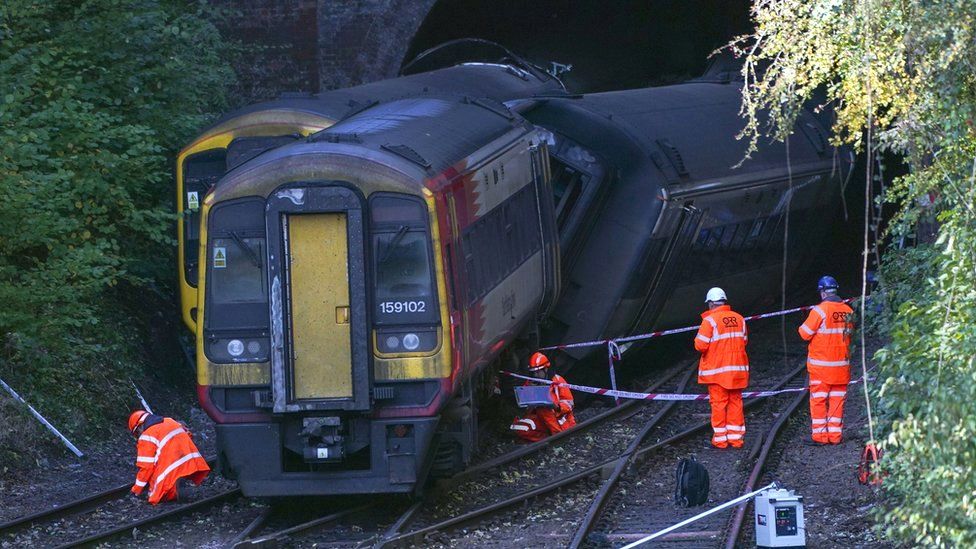 The driver of one of two trains involved in a crash has suffered injuries believed to be "life-changing", police have said.
Passengers described being thrown from their seats when the Great Western and South Western Railway services crashed in Salisbury on Sunday evening.
British Transport Police (BTP) said a driver was in hospital in a stable condition.
A total of 14 people were taken to hospital and treated for minor injures.
A carriage was initially thought to have derailed after hitting an object, and the second train then crashed into it when signalling was damaged.
However in a press conference on Monday afternoon, Supt Lisa Garrett of BTP, said "at this early stage, there was nothing to suggest" the train had struck an object before derailing.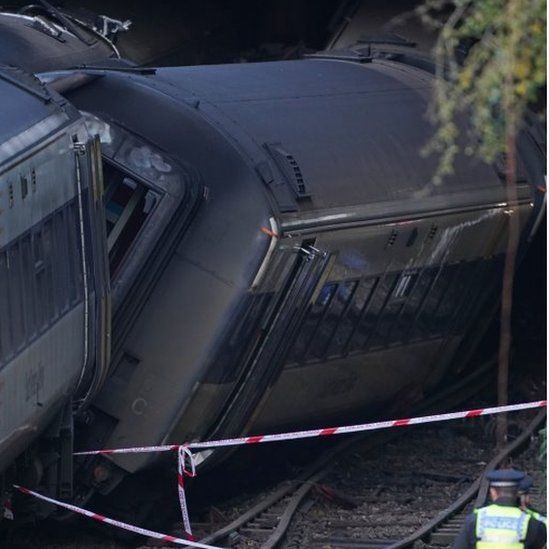 Supt Garrett said of the 92 passengers on board the two trains, 30 people attended a casualty centre set up in a nearby church, with the majority "walking wounded".
Two people, along with the driver, remain in hospital.
Supt Garrett said: "Unfortunately the driver of the train was more seriously injured and his injuries are believed to be life-changing.
"We have now moved out of the rescue phase of the operation and into the investigation, which will involve the trains remaining in situ for some time."
Supt Garrett also said there was no evidence the driver of the derailed train pressed an emergency alarm, which would set the surrounding signals to red.
Passenger Angela Mattingley said there was some panic in the carriages when everything went black and people were thrown forwards and hit their heads.
Lucy Gregory, who was also on board, said she was launched across a table by the impact and ended up on the floor.
"They smashed the windows and we got out of the window. It was really scary," she said.
Corinna Anderson, 51, from Derby, described being thrown against a wall and said a three-week-old baby was rescued.
Tamar Vellacott, 25, said she was walking outside with her young children, around a kilometre from the scene.
"It was a noise we've never heard before… my young ones started panicking thinking it was a bomb and we said maybe a lorry had crashed on the London Road and not to panic.
"There was no screeching like brakes, just a long rumbling sound like thunder hitting the railway line."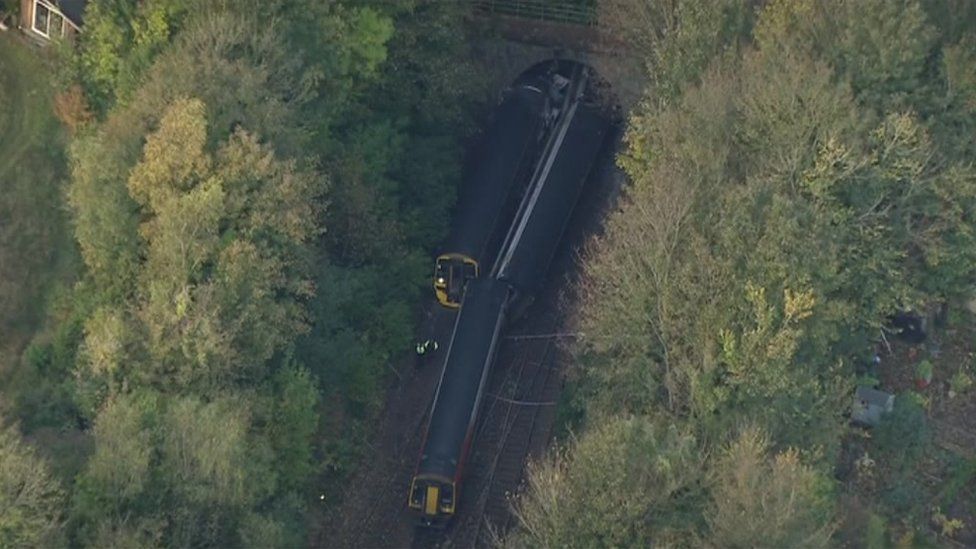 The rear carriage of the 17:08 Great Western Railway (GWR) service from Portsmouth Harbour to Bristol Temple Meads derailed on its approach to Salisbury station, knocking out signalling in the area.
Shortly afterwards, the 17:20 South Western Railway (SWR) service from London Waterloo to Honiton collided with the Bristol train.
Rail services have been disrupted on Monday as a result of the crash, with cancellations to several journeys.
The disruption on the line is likely to last at least a few days, with a senior rail source suggesting the position of the crash – half in and half out of the tunnel – meant recovering the train carriages would be more complicated and take longer.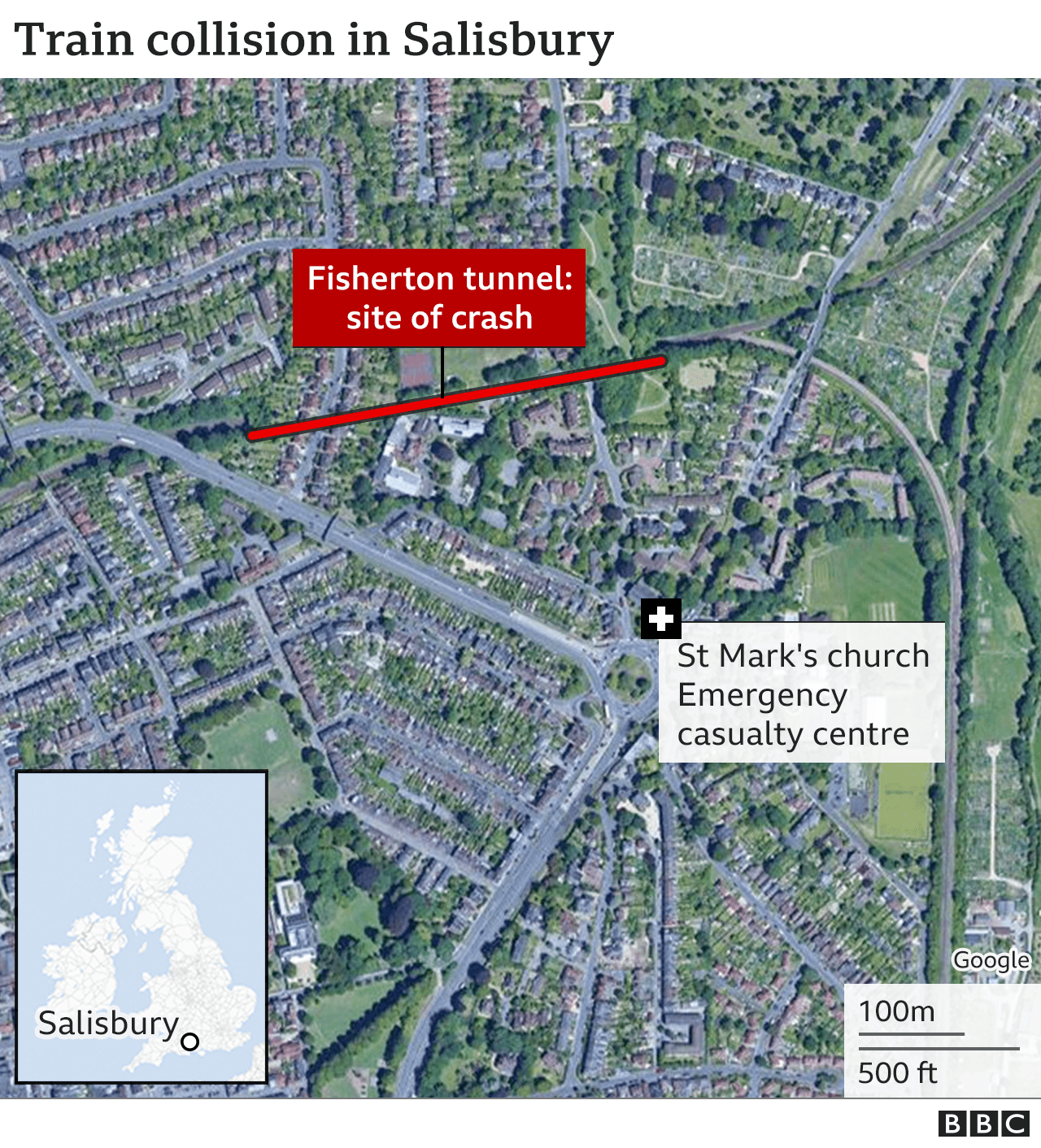 Stood on the bridge on London road, I am about 150m from the entrance to the tunnel. I can see one of the carriages slightly on a tilt, but the next carriage really alarmingly tilted, that sort of very eerie and desolate sight of a train that isn't where it should be safe on the rails.
The first train into the tunnel was the south coast train from Portsmouth. That's a very local service for us in Wiltshire, very well used for those short trips. It was hit by the London Waterloo train.
We know both trains weren't going too fast. There were about 100 people on those trains. It was a very scary event for those people on board.
We can be very grateful there were not any fatalities.
So a very relieved city, a very relieved county and some very relieved train passengers this morning.

Martin Frobisher, Network Rail's safety and engineering director, said it was too early to say what had caused the collision.
He said: "Passengers must have had a really scary experience and we're very sorry for that.
"A detailed forensic investigation into what happened is now taking place."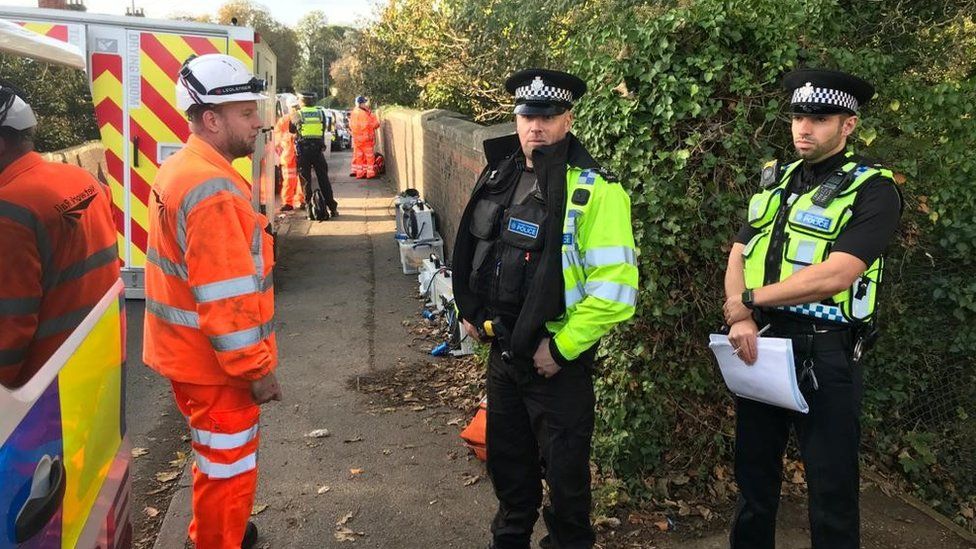 Cameron Thrower was taken to hospital for treatment after injuring his arm and shoulder. He said he was preparing to get off the train when there was a huge amount of shaking and noise.
"We were being tossed around and I turned around behind me to see a huge whoosh of fire and sparks. It was this huge calamitous moment when you go 'oh no' and you can barely put a thought together until you get off the floor and realise something has gone terribly wrong.
"First moment was bewilderment when you get up, look around and realise you're at a 45 degree angle but then it was good to see everyone trying to see if others around them were ok.
"We were trying to pull open doors to get people out. It was a crazy moment you never expect to happen in your life."
Salisbury mayor Caroline Corbin thanked the emergency services for their response and all the people in the area who offered their help throughout the night.
"I am hugely relieved that there were no fatalities and wish those who were injured in the collision a speedy recovery," she said.
The city's MP John Glen said he was thankful everyone was safe but there were "many questions to be answered" over what happened.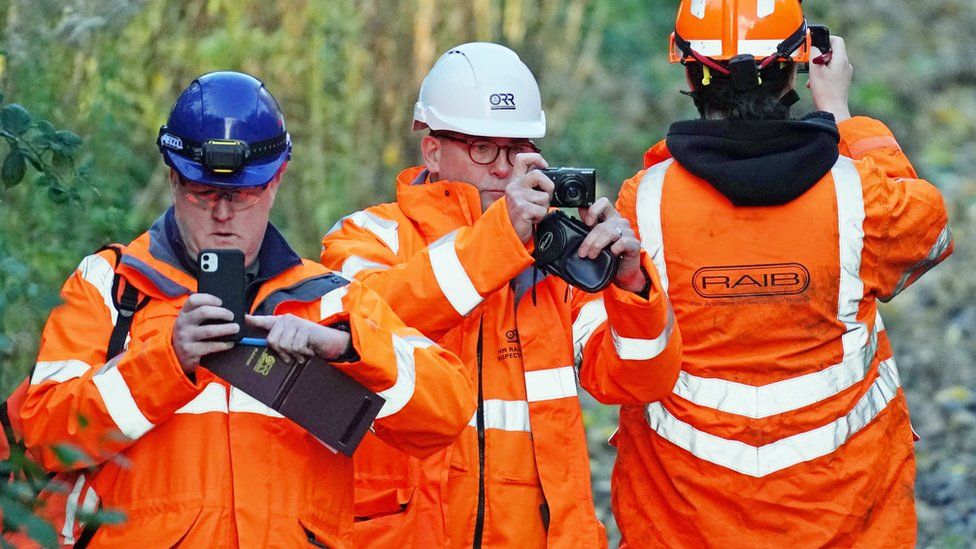 SWR trains between Exeter and Basingstoke, and GWR trains between Westbury and Portsmouth remain affected on Monday while specialist teams continue their investigations.
Many of the lines through Salisbury are expected to remain closed until at least the end of the day on Thursday and customers are urged not to travel on that part of the network.
SWR is running a two-hourly train service between Exeter St Davids and Gillingham and GWR is offering road transport between Salisbury and Romsey.

Were you personally affected by the crash? If you feel able to do so please get in touch. Email haveyoursay@bbc.co.uk.
Please include a contact number if you are willing to speak to a BBC journalist. You can also get in touch in the following ways:
If you are reading this page and can't see the form you will need to visit the mobile version of the BBC website to submit your question or comment or you can email us at HaveYourSay@bbc.co.uk. Please include your name, age and location with any submission.

The BBC is not responsible for the content of external sites.