Campaigners have glued themselves to a giant table and formed a human chain around Oxford Circus.
Climate change protesters have been removed by police from a central London demonstration.
A large group of campaigners blocked off roads near Oxford Circus, glued themselves to a giant table and formed a human chain around the area cordoned off by police.
Dozens of activists were carried to police vans by officers.
Pedestrians are being urged to find another way around the area as disruption continues.
The Brazilian embassy, Piccadilly Circus and the Department for International Trade (DIT) were also targeted.
The group gave the DIT a mock award for "making an outstandingly awful contribution to climate change" and the embassy gathering was "to show solidarity with indigenous people in the Amazon rainforest".
Thousands of people have taken part in protests around London since Sunday, listening to speeches and parading through the city streets.
The table, which had previously been erected in Seven Dials, represents an invitation to "come to the table" for discussions about fossil fuel. Chairs were left empty to represent an invitation to all those who identify as female, nonbinary or trans.


Extinction Rebellion coordinate these actions very carefully.
Just after 14:00 BST about 50 female protestors converged on the road junction at the centre of Oxford Circus.
A van drew up, the back doors were flung open, and women began to unload what looked like giant pieces of pink Lego.
Quickly they began to assemble these in the middle of the road.
At the same time, 30 or so women formed a circle and superglued their hands together.
Others lay down in the road and padlocked themselves together with locks inside steel tubes.
The idea is to make it as difficult and as time consuming as possible for the police to dismantle the protest.
Within minutes, dozens of police officers arrived, charging into the middle of the group amid screams from the protesters.
And the now familiar stand-off began, with police gradually tightening their cordons until – probably early tomorrow morning – they will go in and clear the remaining protesters from the streets.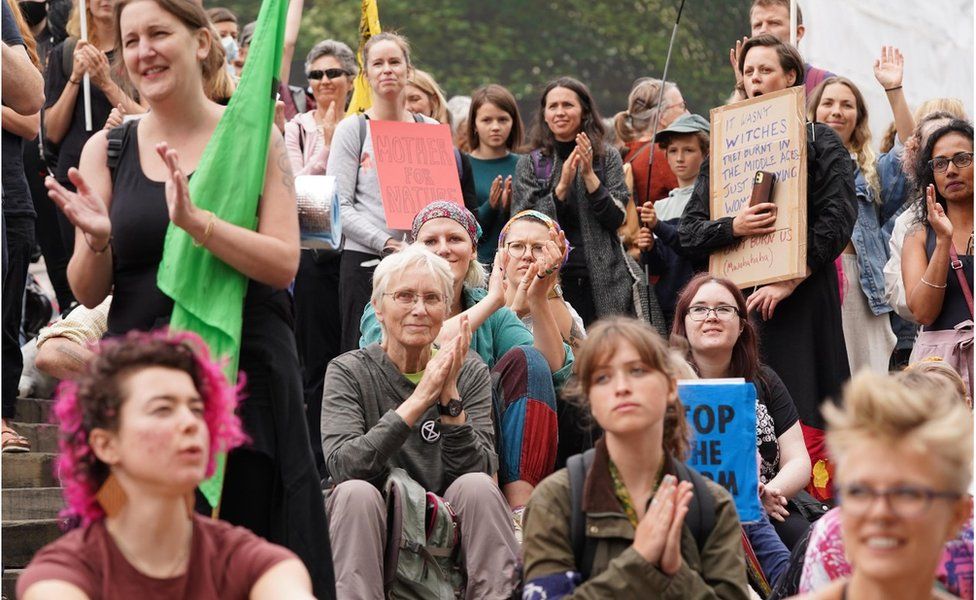 The demonstrations are planned to continue next week, when the activists will protest against the links between "big finance, fossil fuels and the fossil of politics that is Westminster".
At least 10,000 people have gathered at the protests and 196 arrests have been made for a variety of offences since the demonstrations began on Sunday.
The BBC is not responsible for the content of external sites.