About 1,200 people have been evacuated from Afghanistan in the last 12 hours, the UK government says.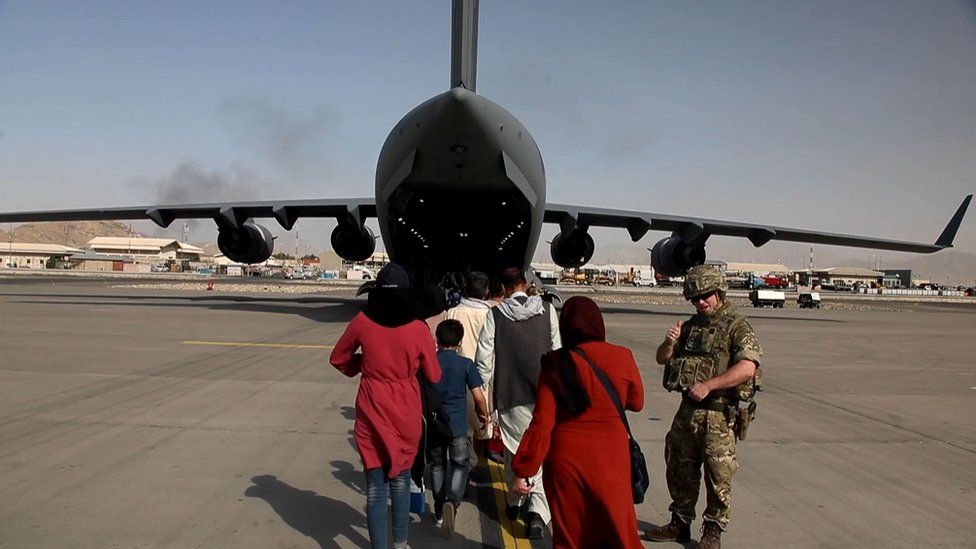 The UK's operation to evacuate people from Afghanistan ahead of the 31 August deadline is moving at "significant pace", the government has said.
Some 1,200 people had been evacuated by the UK in the last 12 hours, as of 18:00 BST on Wednesday, it added.
The UK is rushing to evacuate British nationals, as well as Afghans who worked for the UK and other vulnerable individuals, out of Kabul airport.
A 31 August deadline is in place for foreign troops to leave the country.
US President Joe Biden rejected calls from PM Boris Johnson and other allies to delay his withdrawal date for the remaining American troops past August.
The airport is currently being defended and run by the US, which has 5,800 troops on the ground.
He said the UK wanted to keep using "every hour and day that we've got left" to fly British nationals and eligible Afghans out of the country.
Mr Raab was also pressed on whether the deadline for troops to leave Afghanistan was midnight on 30 or 31 August, after a White House press secretary was unable to confirm the exact timeframe.
In response, he said: "I think it's going right the way up to the end of the calendar month", adding that there would be "further details in due course".
More than 1,000 UK troops are on the ground in Kabul helping to process British nationals and eligible Afghans at the airport, where there have been chaotic scenes since following the Taliban's swift takeover of the country.
The UK and other allies had urged the US to stay in Afghanistan beyond 31 August to allow more time for evacuation flights.
The Taliban have opposed any extension of the deadline and the US president said the airlift had to come to an end soon because of the growing risk of an attack by the Islamic State group in Afghanistan.