The UK will continue evacuating people from Afghanistan "until the last moment", Boris Johnson says.
The Taliban must guarantee a safe passage for those who want to leave Afghanistan beyond the 31 August deadline, PM Boris Johnson has said.
Following an emergency virtual meeting of G7 leaders, Mr Johnson said the UK would continue evacuating people from the country "until the last moment".
He added he was confident thousands more could be airlifted out.
However, G7 leaders were not given any indication at the meeting the US would keep troops in Afghanistan past August.
The UK was among several other G7 countries pressing the US to delay its withdrawal of troops, warning they will not be able to evacuate all those fleeing the Taliban past 31 August without the US presence at Kabul airport.
Mr Johnson, who chaired the meeting, said the G7 – the UK, US, Canada, France, Germany, Italy and Japan – had agreed a "roadmap" for engaging with the Taliban.
"The number one condition that we are insisting upon is safe passage beyond the 31st, beyond this initial phase, for those who want to leave Afghanistan," he said.
He added that the G7 had "very considerable leverage – economic, diplomatic and political" at its disposal, including withholding substantial funds from the Taliban.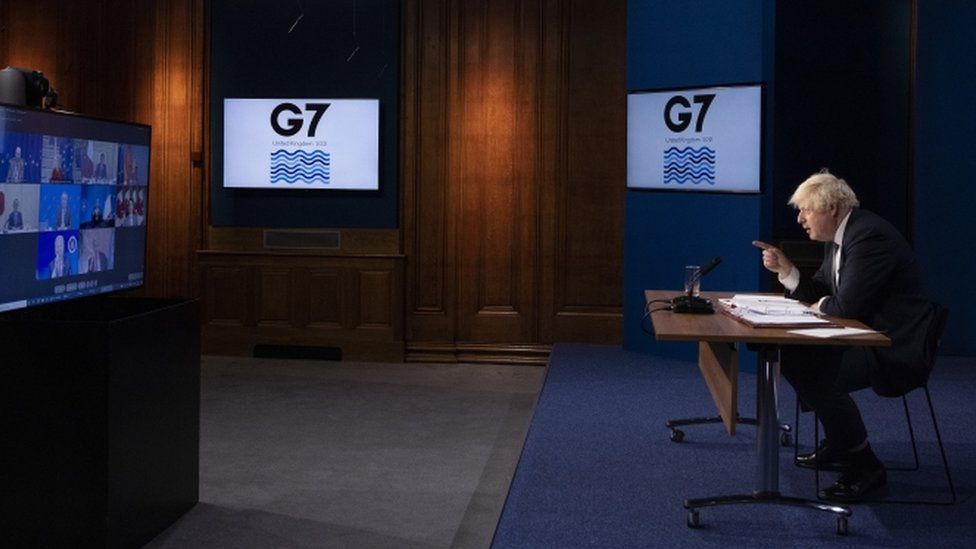 The prime minister said the UK had so far evacuated 9,000 people from Kabul, Afghanistan's capital, across 57 flights – although he added that there were "harrowing scenes" at the airport.
"We're confident we can get thousands more out, but the situation at the airport is not getting any better," he said.
More than 1,000 UK troops are on the ground in Kabul helping to secure the airport and process British nationals and eligible Afghans.
There have been chaotic scenes at Kabul airport in recent days – people desperate to flee the country following the Taliban's swift takeover of Afghanistan have crammed in or near the airport access points.
The airport is currently being defended and run by the US, which has 5,800 troops on the ground.
Earlier, Taliban spokesman Zabihullah Mujahid said there was enough time to get foreign nationals out before the 31 August deadline.
The Taliban has previously warned of consequences if foreign forces remain after the deadline agreed with the US.
Shadow foreign secretary Lisa Nandy told the BBC that the prime minister appeared to have left the G7 meeting he was chairing "without any clear plan" for exerting pressure on the Taliban.
SNP Westminster Leader Ian Blackford said the failure to extend the deadline was "deeply regrettable" and called for Parliament to be brought back from its summer break to monitor the situation.
Liberal Democrat leader Sir Ed Davey said a failure to secure an extension showed Mr Johnson had "failed on the global stage once more, and the consequences could not be more devastating".