People being beaten, shot at or raped while trying to secure documentation in Kabul, Lisa Nandy says.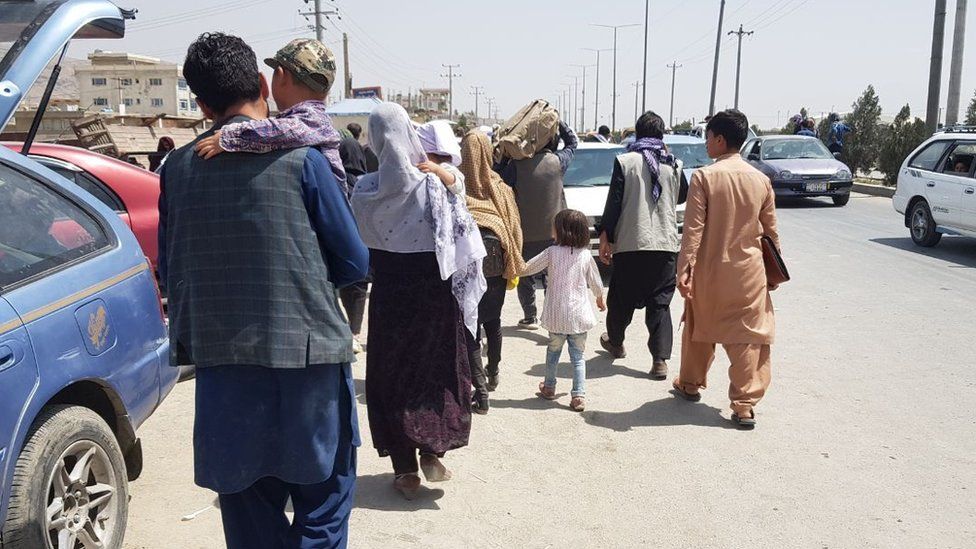 Foreign Secretary Dominic Raab has been urged to step up efforts to get British and eligible Afghans to the UK, amid claims some had been attacked while waiting to leave the country.
Lisa Nandy said she had heard of people being beaten, shot at or raped while trying to get documentation in Kabul.
The shadow foreign secretary urged Mr Raab to work with Nato partners to set up a safe corridor to the airport.
The Foreign Office said it was trying to get people out as fast as possible.
A spokeswoman said the government's "top priority" was to "do all we can to deliver on our obligations to British nationals, and those who have helped us".
More than 3,000 people, including British nationals and Afghan staff, have been evacuated from the country since Sunday, the Foreign Office said.
There have been chaotic scenes outside Kabul airport as thousands of Afghans have desperately sought to leave the country and governments have scrambled to evacuate their citizens and eligible Afghan colleagues.
The US has warned its citizens to avoid the airport, with continued chaos outside the terminal.
Former UK PM Tony Blair – who sent UK troops into Afghanistan 20 years ago – has said the UK has a "moral obligation" to stay in the country until "all those who need to be are evacuated".
About 4,500 US troops are in temporary control of Hamid Karzai International Airport, with about 900 British soldiers also on patrol at the site as part of efforts to secure the evacuation flights.
Ms Nandy told BBC News: "The fact that people are being asked to carry documentation that links them to the United Kingdom in order to prove their eligibility but that is the documentation that makes them a target for the Taliban who are checking those documents en route.
"There are no safe corridors to the airport, there are makeshift camps that have sprung up where people are being beaten and even reports of rapes."
The Labour MP wrote in the letter to Mr Raab: "My office is currently in touch with hundreds of people who cannot reach the Baron Hotel or Hamid Karzai International Airport, have been beaten at checkpoints or turned away – some with young children."
She said many of those stranded at the airport perimeter were women or girls, asking Mr Raab to consider establishing a military policing operation with Nato allies "just outside the gate, or a processing zone inside".
She also said the Baron Hotel in Kabul, where many British nationals are being told to travel for processing, is being blockaded by the Taliban.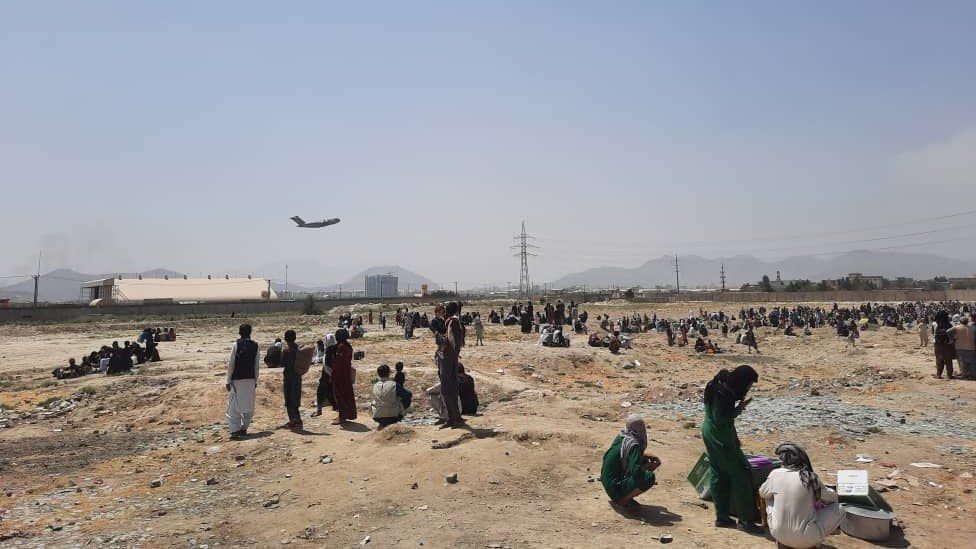 Taliban militants have been manning checkpoints around the perimeter of the airport and blocking Afghans without travel documents from entering.
Twelve people have been killed in or around Kabul airport since Sunday, according to a Taliban official quoted by the Reuters news agency.
But even those with valid papers have struggled to get to the airport, with reports that some have been beaten by Taliban guards.
Ms Nandy praised those – including military and diplomatic staff – "working around the clock to help people in difficult and dangerous circumstances". But she said "many, many people" were "in danger of losing their lives".
Another Labour MP, Chris Bryant, said there were many reports of British nationals and families being unable to reach the Foreign Office through its dedicated telephone helpline.
He said calls either go "straight to a voicemail sending people back to the [government] website or nothing at all".
The Foreign Office said the line for UK nationals to request consular support was working.
Mr Blair said the decision to withdraw troops was "tragic, dangerous, unnecessary" and that it was not in the West or Afghanistan's interests. He said the move by US troops had "every Jihadist group round the world cheering".
The former Labour leader said: "We must evacuate and give sanctuary to those to whom we have responsibility – those Afghans who helped us and stood by us and have a right to demand we stand by them.
"There must be no repetition of arbitrary deadlines. We have a moral obligation to keep at it until all those who need to be are evacuated. And we should do so not grudgingly but out of a deep sense of humanity and responsibility."
Mr Blair admitted mistakes had been made over Afghanistan, but "the reaction to our mistakes have been unfortunately further mistakes". He said while "imperfect", the "real gains over the past 20 years" were now likely to be lost.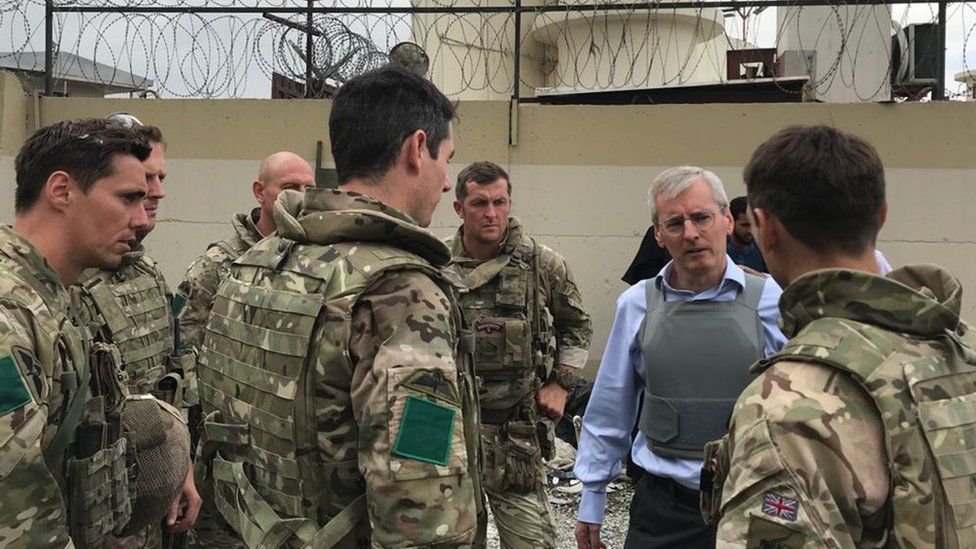 Sir Laurie Bristow, British ambassador to Afghanistan, has said the evacuation from Kabul has been "without a doubt" his greatest international challenge.
The diplomat has stayed in Afghanistan to help process visas, relocating from the embassy to an emergency handling centre at the city's airport.
He added that his team would continue to "work tirelessly to get British nationals, Afghan staff and others at risk out of the country as quickly as possible as we also support Afghanistan's long-term future".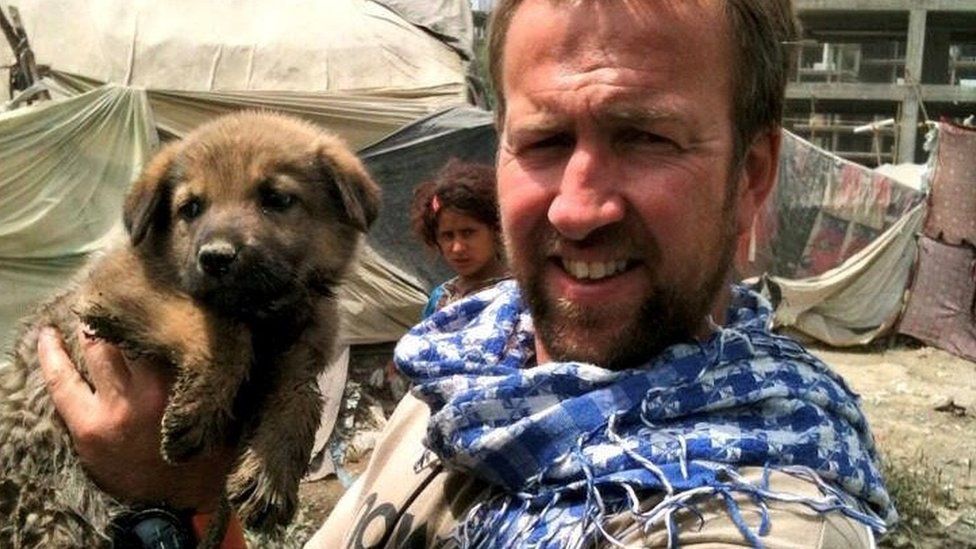 Meanwhile, a former Royal Marine who founded an animal welfare charity in Kabul said he was now "in talks" with the Foreign Office about getting his staff out of Afghanistan.
Paul "Pen" Farthing said 68 workers and their families were being processed, so they could "hopefully" come to the UK.
The Foreign Office confirmed it was in contact with Mr Farthing, with a spokeswoman saying it was "working closely with the Home Office to offer assistance".
On Thursday, Mr Farthing wrote on Twitter that his wife, Kaisa, had made it on to an evacuation flight out of the capital, Kabul.

Sharing a photograph of the "empty" flight, he said the situation was "scandalous as thousands wait outside Kabul airport being crushed as they cannot get in", before warning people would get "left behind" in Afghanistan.