Another 2,397 cases are reported, as doctors warn hospital staff are struggling to meet demand.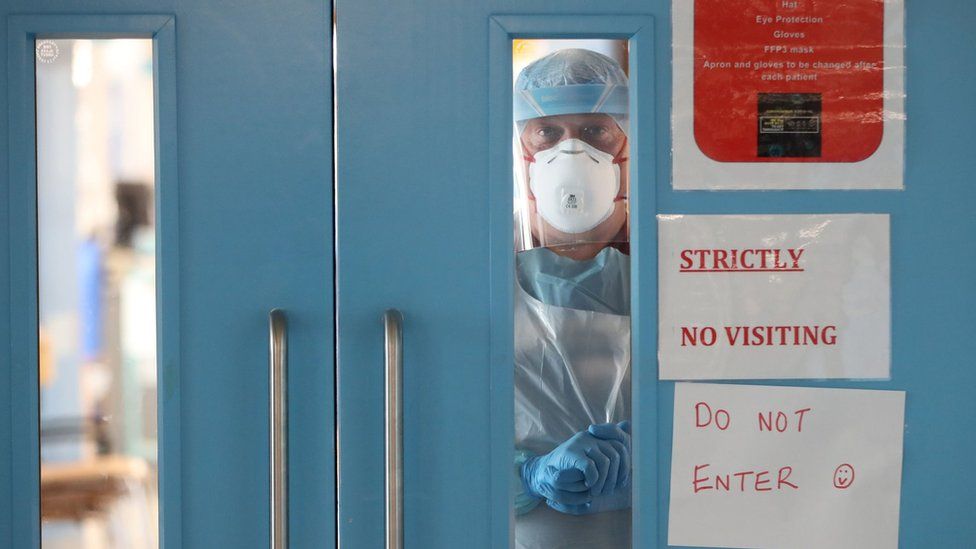 Northern Ireland has recorded the highest number of coronavirus cases in a single day since the pandemic began.
On Friday, the Department of Health reported 2,397 further cases and nine further coronavirus-related deaths.
It comes as doctors warn lives could be lost to other conditions such as cancer due to staff being diverted to treat coronavirus patients.
A critical care consultant said dealing with the virus was as difficult now as at any time during the pandemic.
Dr George Gardiner told the BBC's Good Morning Ulster programme that continuing to carry out surgery while admitting Covid-19 patients to intensive care was a "huge ask" for staff.
"What's different this time is that we haven't switched off all the other essential services that hospitals in Northern Ireland provide," he said.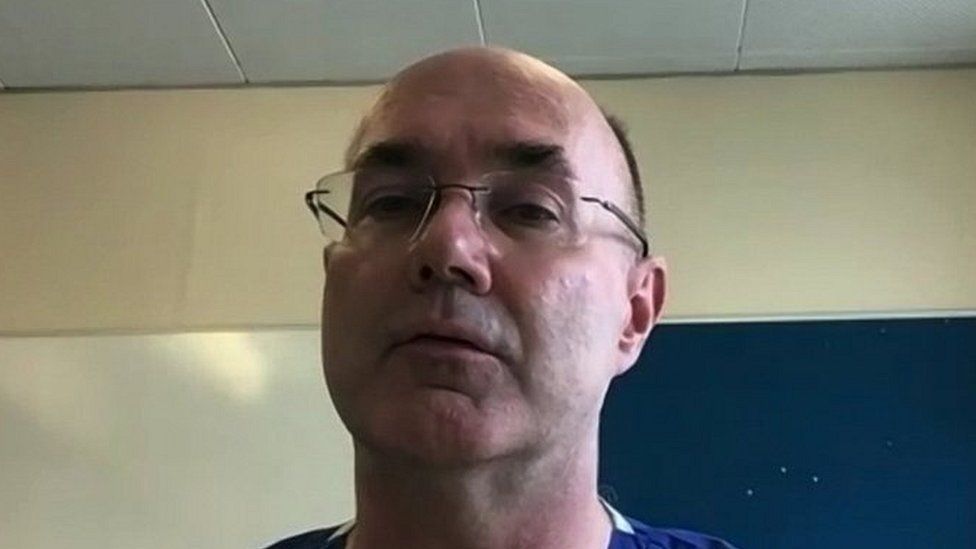 "We've kept cancer surgeries, we've kept urgent procedures, we've kept going for as long as possible – we really are at the edge of what we can achieve now.
"For every patient who is admitted with Covid, who hasn't had a vaccine, that's another bed lost for patients who need urgent cancer surgery.
"We only have so many nurses to run intensive care units."
The level of people testing positive for coronavirus has been increasing in Norther Ireland over the past few weeks.
Figures show Northern Ireland has the highest infection rate in the UK and the lowest rate of vaccinations for people aged over 16 in the UK.
Health Minister Robin Swann said the latest Covid-19 figures were "deeply concerning, both in terms of deaths and new cases".
"The Delta variant is taking its toll on Northern Ireland and it is vital that as many of our citizens as possible are vaccinated," he added.
A total of 184,172 cases of the virus have been confirmed in Northern Ireland since the start of the pandemic.
Other figures showed Covid-19 was recorded on the death certificates of 40 people in the week up until 13 August.
Northern Ireland's statistics agency Nisra has now recorded 3,086 deaths associated with the virus.
On Thursday, Health Minister Robin Swann said the number of people being admitted to hospital with Covid-19 would be cut by half if another 5% of adults in Northern Ireland were vaccinated.
About 70% of people with Covid-19 who are in hospital intensive care units (ICUs) have not been vaccinated, he confirmed.
About 86% of adults in Northern Ireland have had at least one jab for Covid-19.
A consultant at Altnagelvin Hospital's emergency department said staff there are worried about the winter ahead.
Dr Sandy Nelson said many problems facing the health service would undoubtedly have been compounded by the pandemic.
"The pressures of having to treat Covid and non-Covid patients in the same department is increasing and putting a lot of strain on our staff," he said.
"Our department is split into different areas trying to treat patients with possible Covid symptoms and we are seeing an awful lot of young people presenting with Covid symptoms."
The death rate as calculated by Nisra continues to rise, following a general downward trend for many months in the run up to the summer.
It has emerged that a serving prison officer has died with Covid-19, after what the prison service said was a "short battle" with the virus. He was the first prison Officer in Northern Ireland to die with Covid-19.
Nisra's figures are higher than the Department of Health statistics because it records mentions of the virus on death certificates, where it may or may not have been confirmed by a test, while the department's figure is based on a positive test result being recorded.
The infection rate in Northern Ireland is much higher than in the rest of the UK and the Republic of Ireland, with almost 10,500 positive cases in the past seven days.
Of these cases, 65% have been people aged under 40.
Prof Young said it was "highly likely" the number of deaths would continue to rise in the short term.
He told BBC News NI the number of people in Northern Ireland who remained unvaccinated was driving Covid-19 cases up and putting unnecessary pressure on the health service.
"Unfortunately, even the double vaccinated, particularly the elderly and more vulnerable, can become severely ill," he said.
"The fact that older people are still getting the virus is a consequence of the proportion of younger people who are not getting vaccinated."
Prof Young said cases must be reduced to ease pressure on hospitals and described the upcoming Big Jab Weekend incentive as "critical".
Mass vaccination centres will be offering walk-in first jabs for all adult age groups on 21 and 22 August.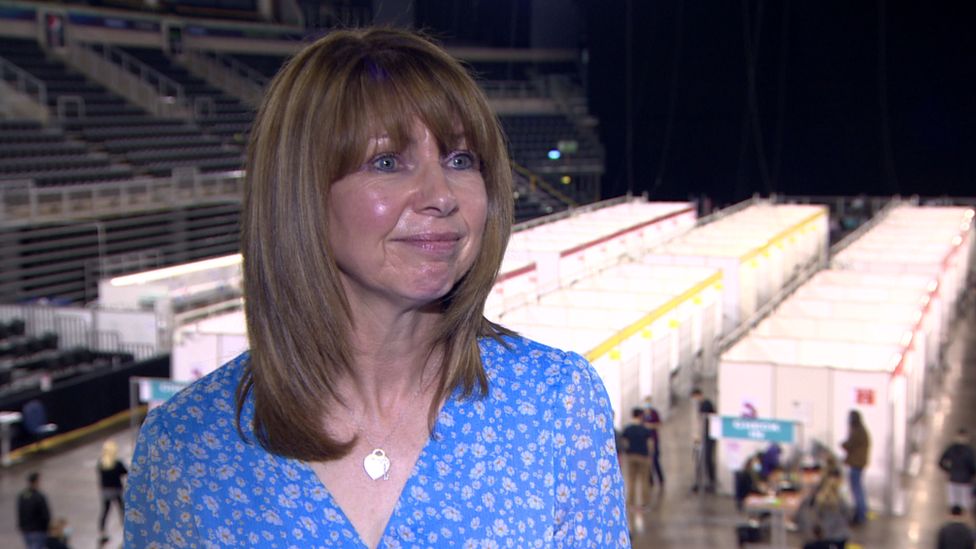 No more first doses of the Covid-19 vaccine will be offered at regional vaccination centres after Sunday.
Clinical lead vaccinator Tanya Daly appealed for people to come forward.
"If you don't get vaccinated you could end up in hospital which will impact on you for weeks and perhaps months to come," she said.
"My colleagues, my friends, have been redeployed to areas where they can't do their normal jobs.
"If you want an outpatient appointment who's going to be there to greet you at the door? Who's going to check your blood pressure? Who's going to be there to help the doctors to their job?
"Nobody, because they've been redeployed."
The Western Trust said it was aiming to vaccinate more than 2,000 people this weekend.
Garret Martin, who is the operation manager at the trust's three vaccination centres, called on younger people to "follow the science".
"It's important because the vaccine works, the vaccine saves lives, we know that is proven," Mr Martin told BBC Radio Foyle.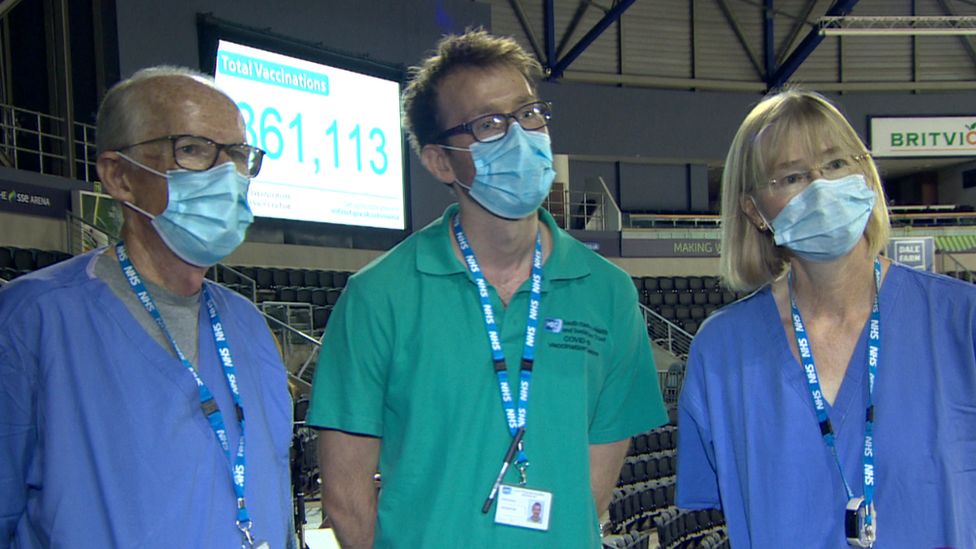 Meanwhile, Bryan and Lorna Burke have been working as vaccinators alongside their son, Patrick, at the SSE Arena, sometimes in adjacent cubicles.
"Everyone has been making jokes that the Von Trapp family are here," said Patrick.
Lorna Burke said while the experience working at the mass vaccination centre had sometimes been tiring, it had been "so well run and so worthwhile".