Defence Secretary Ben Wallace says "every hour counts", with up to 10 flights leaving every day.
No plane carrying Britons and Afghans from Kabul has left empty, the UK defence secretary has said.
Ben Wallace rejected reports that some flights from Kabul contained only a few people, saying the UK was "absolutely ploughing through the numbers".
He told BBC Breakfast "every hour counts" and confirmed "the Taliban are letting our people through".
But Taliban checkpoints ring the perimeter of the airport and chaotic scenes are unfolding outside.
The Taliban are blocking Afghans without travel documents from entering. Twelve people have been killed in and around Kabul airport since Sunday, according to a Taliban official quoted by the Reuters news agency.
But even those with valid papers have struggled to get to the airport, with reports that some have been beaten by Taliban guards.
An Afghan interpreter who worked for the British army said he received permission to come to the UK last week, but was now in hiding and would "face death" if the Taliban found him.
Mr Wallace said the UK would continue to stay in Afghanistan as long as the US ran the airport, but said the government was also investing in "third country hubs" for processing people in the region.
Mr Wallace said seven to 10 RAF planes were taking off every day, with at least 138 due on the next flight out.
He said the passengers on the flights out of Afghanistan this week have included British government personnel, British citizens, media and human rights staff and Afghans who had worked for the UK.
The UK has committed to take in up to 20,000 Afghan refugees over the next few years under a new resettlement scheme – including 5,000 this year.
About 2,000 Afghan former staff and their families have already come to the UK under the separate Afghan Relocations and Assistance Policy (ARAP), according to the Home Office, with a target of 5,000 by the end of 2021.
He told ABC News between 10,000 and 15,000 Americans needed to be evacuated, along with 50,000 to 65,000 Afghans such as former translators for the American military.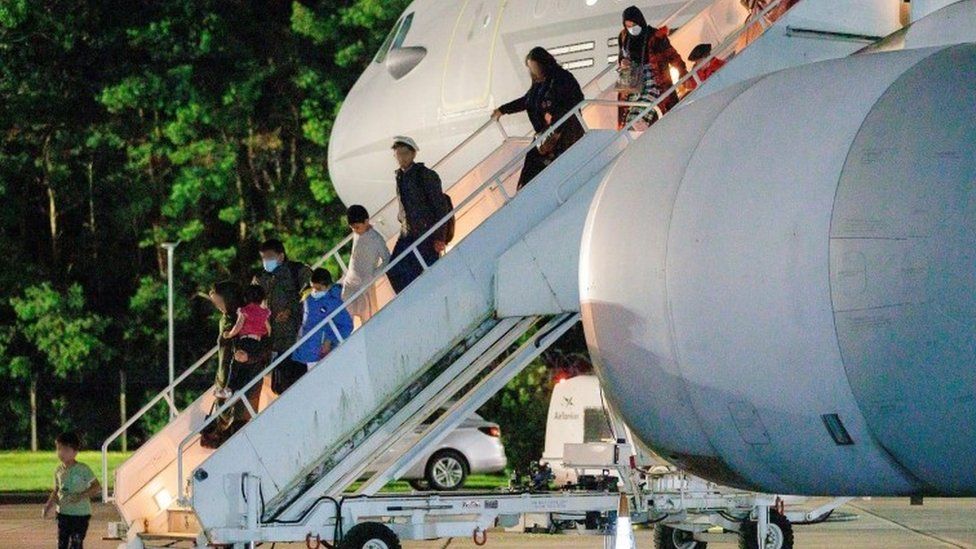 The latest UK flight from Afghanistan landed at RAF Brize Norton in Oxfordshire in the early hours of Thursday morning.
Mr Wallace said a plane left Kabul this morning carrying "115 people and their families – those are the Afghans on there as opposed to other personnel".
He added: "None of our planes are leaving empty… our planes never leave empty. If we have spaces on them, we offer them up to other nations."
He said: "We have a full programme today of many more people coming out – trying to reach our… capability towards the end of the month. And that is so far on track…. we are doing it as fast as we can."
Mr Wallace said many of the flights were at full capacity.
"You and I wouldn't be allowed to fly some of the way those planes are flying in safety, so we are taking considerable risk", he said, adding: "Alongside those people will be troops or others coming in and out."
The defence secretary said additional UK troops would be deployed to Afghanistan to help manage public order on the ground at Kabul airport.
Meanwhile, Labour has accused Foreign Secretary Dominic Raab of putting interpreters' lives at risk after he declined to phone the Afghan foreign minister to get help for the evacuation. The BBC has been told the call was made by a junior minister instead.
But Mr Wallace said "the only thing that mattered" was whether Kabul airport would continue to allow people to get out, telling Breakfast: "No amount of phone calls to an Afghan government at that time would have made any difference."