The militant group spurns international calls for a ceasefire, as it continues to gain ground.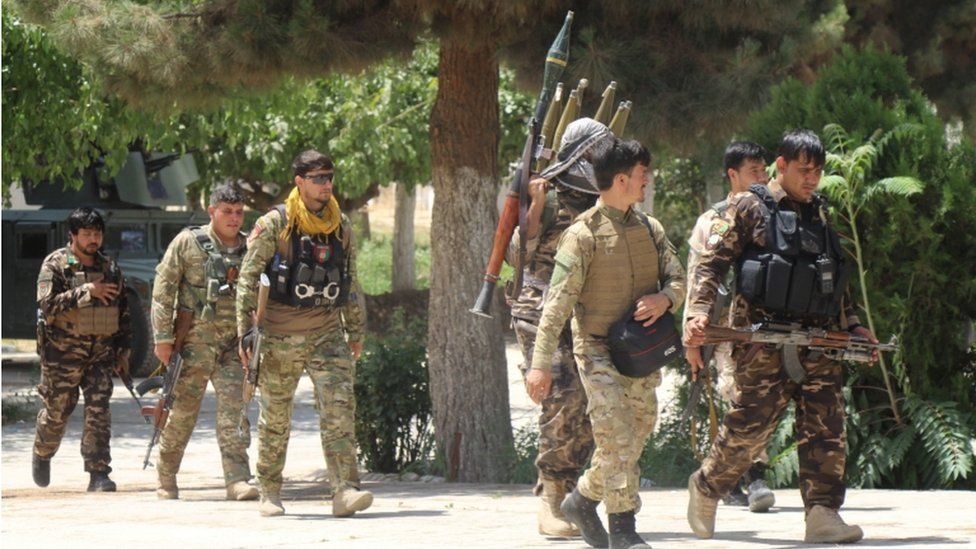 The Taliban have rejected international calls for a ceasefire in Afghanistan, as they push for new territory.
They are reported to have overrun the key northern city of Kunduz, as well as Sar-e-Pul and Taloqan. Fierce fighting continues in other northern cities.
At least five regional capitals have fallen to the militants since Friday. Kunduz is their biggest gain this year.
Latest reports say the northern city of Aybak, near the Tajik border, may also have fallen to the Taliban on Monday.
The insurgents entered Aybak, the capital of Samangan province, without a fight after community elders asked for the city to be spared more violence, deputy governor Sefatullah Samangani told AFP news agency.
"The governor accepted and withdrew all the forces from the city," he said.
Tolo News and Shamshad TV also tweeted that Afghan forces had retreated from the city without fighting. There was no immediate word from the armed forces.
Elsewhere, US and Afghan planes have been carrying out airstrikes – the advance of the militants has not been halted, but Afghan officials say dozens of Taliban have died.
Heavy fighting has been reported in Pul-e-Khumri and in Mazar-e-Sharif, a trading hub on the border with Uzbekistan. Army commanders say they have pushed back militants from its outskirts.

Violence has escalated across Afghanistan now that US-led forces have all but withdrawn following 20 years of military operations.
The Taliban have rapidly captured large swathes of countryside, and are now targeting population centres.
The three northern cities fell to Taliban control within hours of each other on Sunday, with one resident in Kunduz describing the situation as "total chaos".
Videos posted on social media showed Taliban fighters inside government buildings in Kunduz and Sar-e-Pul, though they could not be independently verified.
The Afghan government, meanwhile, said special forces were still fighting inside Kunduz.
On Monday morning a loud explosion was heard outside police headquarters in the southern city of Lashkar Gah, where the two sides have been fighting for more than a week.
Residents said about 20 civilians had been killed in the past two days, and a school and a clinic destroyed.
The seizure of Kunduz is the most significant gain for the Taliban since May. The city of 270,000 people is considered a gateway to mineral-rich northern provinces.
And its location makes it strategically important as there are highways connecting Kunduz to other cities, including Kabul, and the province shares a border with Tajikistan.
That border is used for the smuggling of Afghan opium and heroin, which then find their way from Central Asia to Europe. Controlling Kunduz means controlling one of the most important drug routes in the region.
It also holds symbolic significance for the Taliban because it was a key northern stronghold before 2001. The militants captured the city in 2015 and again in 2016 but have never been able to hold it for long.