The prime minister is urging people to "remain cautious" despite a fall in UK Covid cases.
The prime minister has urged people to "remain cautious" and not jump to "premature conclusions" following the latest fall in UK Covid cases.
Boris Johnson said: "This is still a dangerous disease."
The number of new infections in the UK fell for the sixth day in a row – but is still more than 10 times higher than the levels seen in early May.
A senior government adviser said he was hopeful the worst of the pandemic would be over by October.
Epidemiologist Prof Neil Ferguson, who previously said 100,000 Covid cases a day was "almost inevitable" after England's unlocking on 19 July said: "The effect of vaccines is hugely reducing the risk of hospitalisations and death.
"And I'm positive that by late September or October time we will be looking back at most of the pandemic.
"We will have Covid with us, we will still have people dying from Covid, but we'll have put the bulk of the pandemic behind us."
Mr Johnson said: "I've noticed, obviously, that we're six days into some better figures. But it's very, very important that we don't allow ourselves to run away with premature conclusions about this.
"Step four of the opening-up only took place a few days ago. People have got to remain very cautious, and that remains the approach of the government."
"I totally understand that, particularly now as we're starting to see some better figures," he said.
"But I think everybody understands that this is still a very dangerous disease.
"We do need to use the tools that we have. Self-isolation is the one that we've got. I urge people to do it."
The prime minister declined to confirm or deny reports that students might be required to prove their vaccination status to attend lectures or stay in halls of residence, only stating: "Young people are doing an incredible job of coming forward to get vaccinations."
Meanwhile, Cabinet Office minister Michael Gove has said that those who refuse a vaccine are "selfish" and warned they will be barred from some events.
During a visit to Glasgow, Mr Gove said: "Ultimately, if you can be vaccinated and you refuse to, that is a selfish act. You're putting other people's health and lives at risk, you should get vaccinated."
When asked if refusal to be jabbed should prevent attendance at some mass events, he said it depended on the nature of the event.
"But if you deliberately refuse to get vaccinated and there are certain venues and certain events that require a certain level of safety, then…those venues and those events will be barred to you," he said.
Prof Ferguson, a member of the Scientific Advisory Group for Emergencies (Sage), told BBC Radio 4's Today programme it was "too early to tell" if Covid cases would reach 100,000 a day, but he was "happy to be wrong – if it's wrong in the right direction".
He said: "We're not completely out of the woods, but the equation has fundamentally changed."


After critics branded the decision to continue easing restrictions as dangerous and unethical, you could be forgiven for expecting the prime minister to be more celebratory about the turnaround in infection rates.
Instead, there have been largely words of caution.
That reflects the fact that this wave of infection is finely balanced. Yes – it appears to have been brought under control before it got to some of the levels experts were warning about just over a week ago.
But that is because of two core factors: the levels of immunity in the population and how much mixing the public is doing.
Prior to the 19 July easing the amount of contact we had with others was still at under half the level it was before the pandemic hit.
If that goes up it could be enough to tip the balance and send infections back upwards.
Ministers have been told by scientists advising them that the key is now vigilance as we are likely to be in a period where infection rates bobble around – a sustained period of mini-peaks that need to be carefully managed.

In Scotland, the government's National Clinical Director described how the country's case rate is "dramatically falling".
Professor Jason Leitch told the Today programme that Scotland once had the highest case numbers in five out of the top 10 local authorities in the UK, but now has none in the top 150.
He said: "We've now seen hospitalisations fall. Around 3% of positive people get admitted to hospital but they are now younger, relatively healthy and discharged quicker. But some stay, and we've had many deaths over the last few days."
He added that the Scotland-England Euro 2020 match had caused a spike in cases due to fans travelling.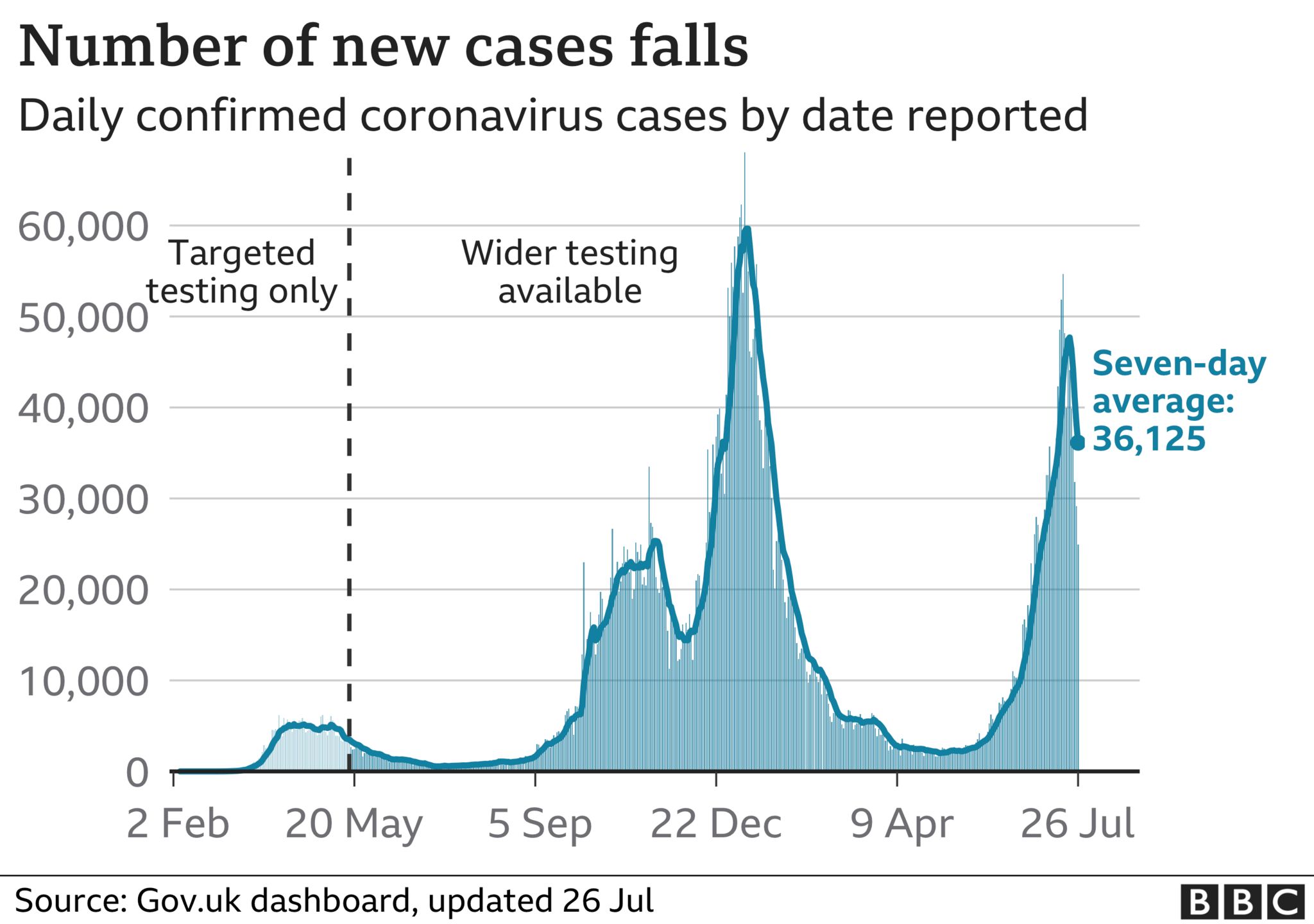 The number of new coronavirus cases in the UK fell on Monday for the sixth day in a row, and now stands at 24,950.
The figures are a drop of 15,000 on 39,950 cases a week ago, and the lowest level in three weeks.
While the number of cases is falling, the number of patients in hospital with Covid-19 is still rising – although at a slower rate than during previous waves because of the impact of vaccinations.
The latest data shows there were 5,238 in-patients on 23 July, compared with 4,612 a week ago. There were also another 14 deaths within 28 days of a positive Covid test.