The government is responding to continuing complaints of sexual harassment in hotel quarantine.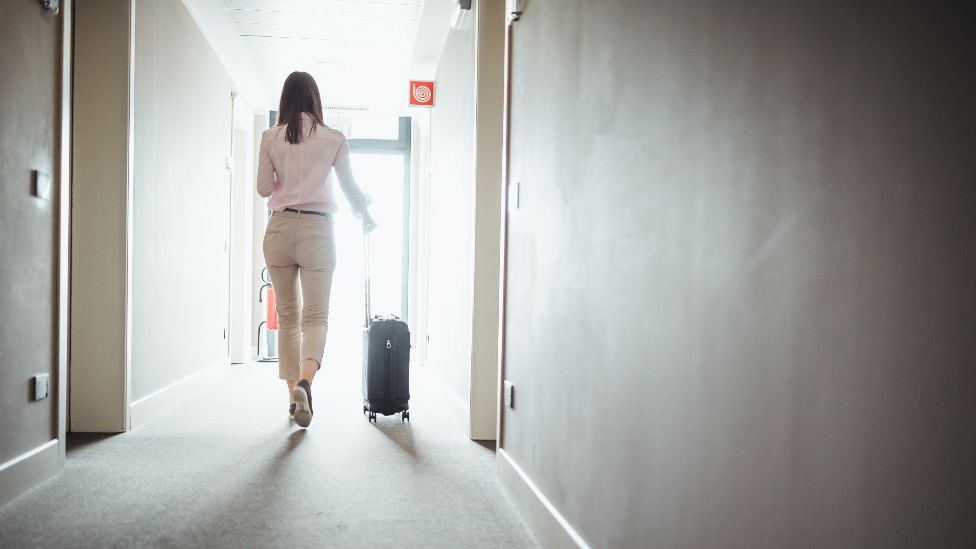 Women quarantining in UK hotels will now have female guards, when possible, after allegations of sexual harassment.
The Department of Health and Social Care made the change after a BBC report in which women said one male guard had mimed having sex in a lift, and another had asked for a hug.
If female guards are unavailable, women should be escorted by two male guards.
Sixteen women have reported harassment to the BBC and some say complaints have been ignored or disbelieved.
Sarah, a 23-year-old medical student from Manchester who says she was taken by a guard on a terrifying walk along deserted hotel corridors when she was quarantining in the Radisson Red Heathrow in April, welcomes the move to provide female guards for lone female travellers.
Personally I would find two male guards more intimidating than just one lone guard… I don't think it ensures the safety of women, rather it increases possible risk
But she is critical of the suggestion to provide two male guards when female guards are not available – "with each guard chaperoning the other to ensure appropriate behaviour," as the DHSC puts it.
In her case, the guard she was expecting to take her on an exercise break via the nearest lift grabbed her by the arm, asked if she had a boyfriend, and then showed her to a group of other guards, who spoke together in a foreign language and laughed at her, she says.
"Personally I would find two male guards more intimidating than just one lone guard," she says. "A group of male guards were talking about me when they clearly saw one male guard was being inappropriate with me. I don't think it ensures the safety of women, rather it increases possible risk."
All of the women we have spoken to say they saw very few female guards in quarantine hotels. G4S told the BBC: "The proportion of women to men in security officer roles at quarantine hotels is typical of the UK security industry and we are working to attract more women to the role."
In other changes, the DHSC says all guards will now be given additional training on how to behave with vulnerable guests "with more focused attention on the needs of lone female guests". It did not respond to a question about what the training consisted of or how long it lasted.

Travellers arriving from countries on the UK's red list (countries with the highest rates of Covid infection) are obliged to quarantine for 10 full days in designated hotels
The cost is £1,750 for a single adult, and includes Covid tests on days two and eight
Guests must stay in their room at all times except when escorted outside by guards for exercise – food is delivered to the room and guests do their own cleaning
Security companies are contracted by the government to provide guards – the maximum value of G4S's contract from February to October was £66.5m, the maximum value of Mitie's was £19.6m

The DHSC also says there is now a dedicated complaints team for quarantine hotels, with a clear process in place for reporting problems.
Now hotels report concerns to the DHSC Managed Quarantine Service Complaints Team, which then investigates with the co-operation of the security companies.
"We are doing our upmost to ensure every person in managed quarantine gets the support they need and we're urgently working to investigate complaints of this nature," a DHSC spokesperson said.

In June, we spoke to four women who say they were sexually harassed in quarantine hotels after flying back from countries on the UK's Covid red list.
We have since been in contact with 12 more, including one who says she was harassed by one of the many paramedics hired by the government to work in the hotels. The cases include:
a woman who received a stream of Facebook messages from a guard who called her "dear" and "sweetheart", and knocked on her door after writing, "This evening I'll come"
a woman who says a guard knocked repeatedly on her door – she then found a note addressed to her from "the tall guard" saying she was "fit" and asking her to message him
a 20-year-old teaching assistant who says she was cat-called and wolf-whistled by G4S guards when she simply walked past a quarantine hotel
All of these 12 women say they are dissatisfied with the way their complaints were handled, including two who have received a response from the new DHSC complaints team. A number, including Sarah, said they had received no written response at all.
Brittany Dodds, 26, received 13 Facebook messages from a guard on the second day of her quarantine in the Radisson Blu Edwardian hotel at Heathrow in May. She had ignored his friend request and sent no replies.
A South African lawyer, Brittany says she didn't confront him or complain, because she didn't want to "possibly provoke him or cause a situation whereby he would find a reason to actually do something".
On her fourth full day in quarantine, the guard sent a message, "This evening I'll come." She says she barricaded herself in with her bags as he knocked repeatedly on her door.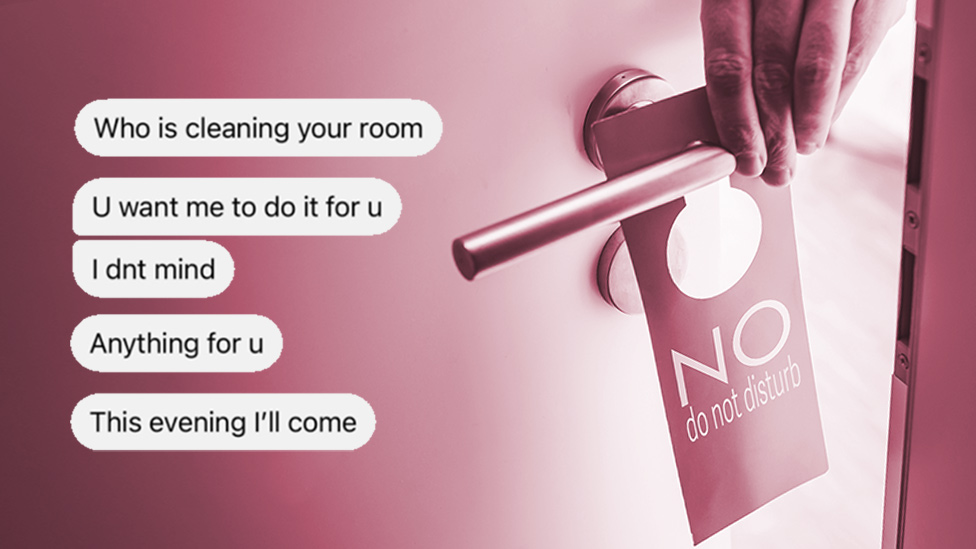 The next day, when Brittany asked a different guard to escort her back to her room, the first guard seemed offended, she says, and knocked on her door, complaining loudly.
"At this point I was shaking and had no words because I knew that he was now following me," Brittany says. She didn't leave her room again until the 10 nights of her quarantine were over.
It was only once she had left that Brittany felt safe enough to complain and had a video call with Darren Carter, head of safety, security and sustainability for Edwardian Hotels, who asked her why she hadn't reported the guard to the hotel management or to the police, she says.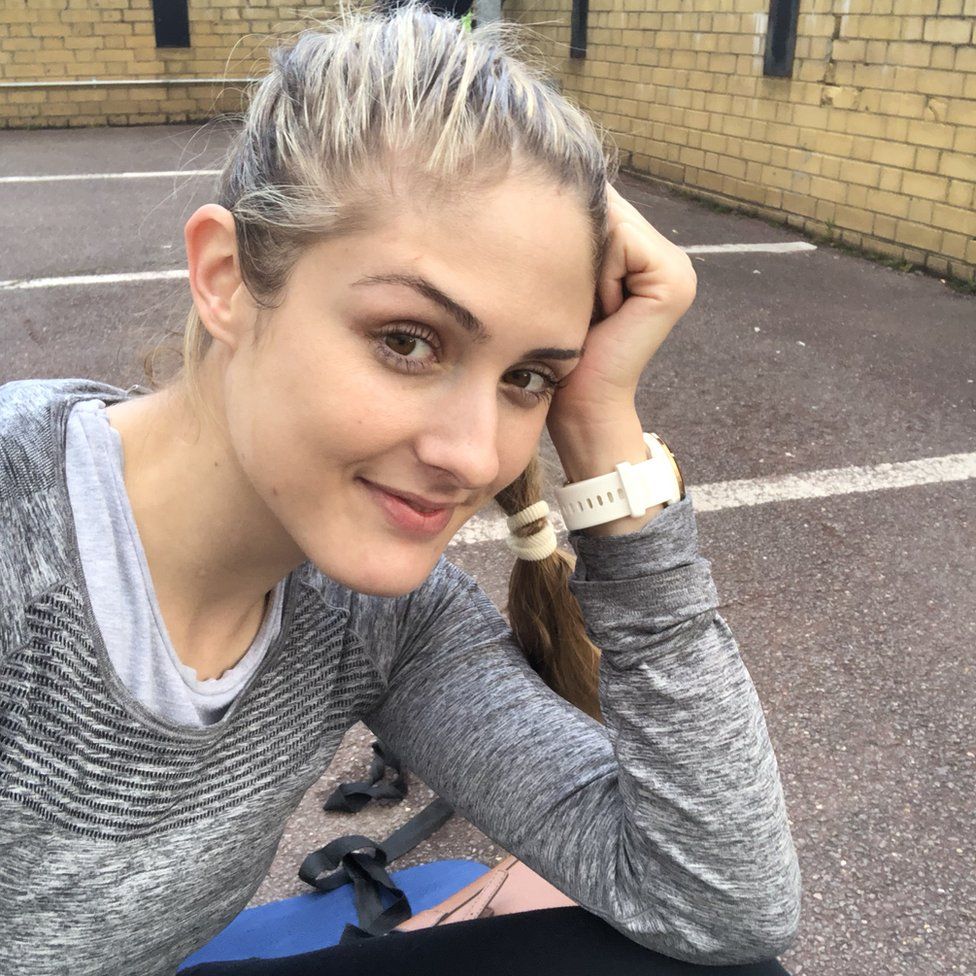 "Carter insinuated that it was because I hadn't taken any steps to protect myself that the security guard continued to do what he did, as he didn't know it was wrong.
"I told them that this was victim-blaming."
Radisson Hotels said it could not comment on individual guests, but added it was co-operating with a DHSC investigation. "The safety and security of our guests and staff is of the utmost importance for Radisson Hotel Group so we are taking these allegations very seriously," the company said in a statement.
Brittany says she never got a reply from G4S, even though she emailed the head of security for a group of Heathrow hotels.
A spokesperson for G4S said: "We treat all complaints extremely seriously, report these promptly, support the Department of Health and Social Care to conduct rigorous investigations in all cases and take appropriate action if the conduct of any security officer falls below the required standard."
Finally, on 19 July, Brittany received an email from the DHSC managed quarantine service complaints team, saying that the guard had been dismissed, but adding that his messages contained "nothing that relates to a sexual nature". The official then repeated that Brittany could have reported the guard to the hotel or blocked the conversation "if you was finding it stressful".
Brittany says that reading the email made her "feel sick" and that she, the victim, was once again being blamed.
Caroline, 48, from Nottingham, says she also had a guard who kept knocking on her door when she started quarantining on 6 June at the Crowne Plaza NEC, on her return from a trip to South Africa.
"He was saying, 'If there's anything you want, anything, you need to come to me. Just ask, I can help you get this stuff'," she says.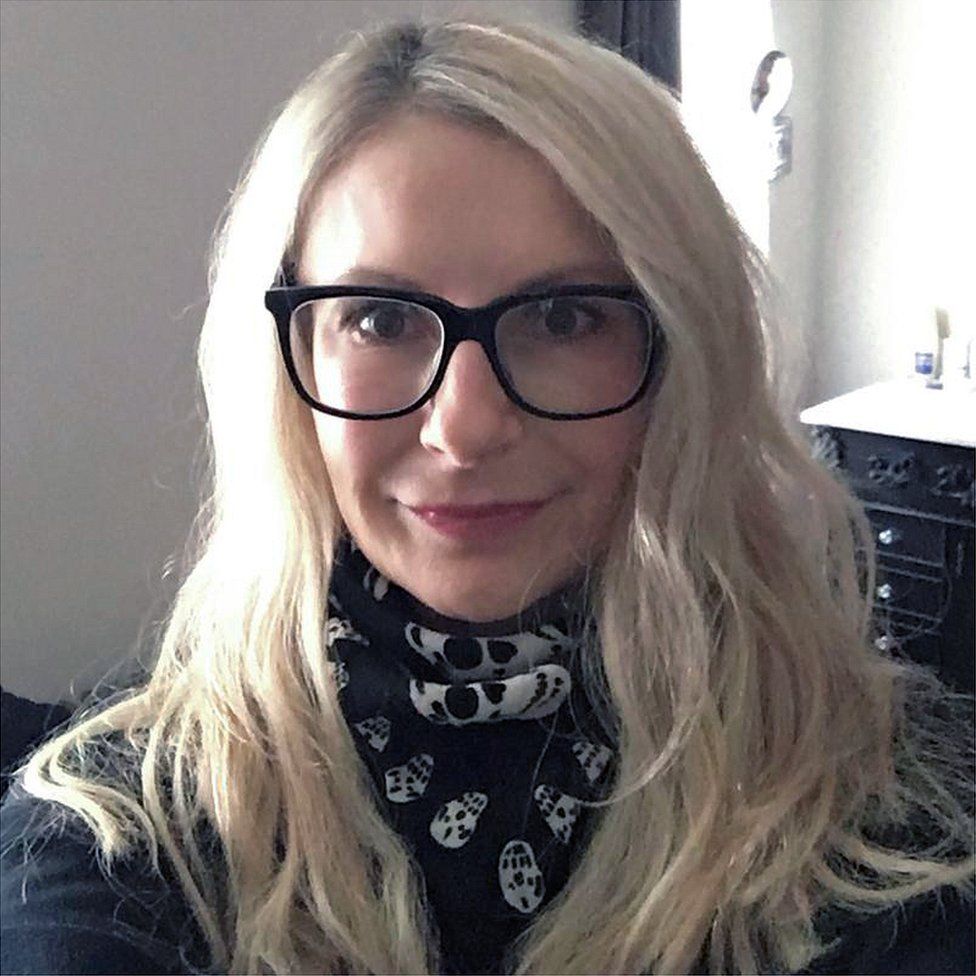 On the second day, Caroline mentioned that she had not received her breakfast, so he came back with a fruit salad. He was very friendly and chatty, she says, when he escorted her to and from exercise outside.
"And then I was in my room trying to do my Covid tests and he kept knocking on the door again. To start with it was all right and I was like 'Yes I'm just trying to do my Covid test', and then again a knock and he'd left a note outside the door."
The note asked her to WhatsApp him. It had kisses on it, and ended: "I think you're fit – love a lady in glasses."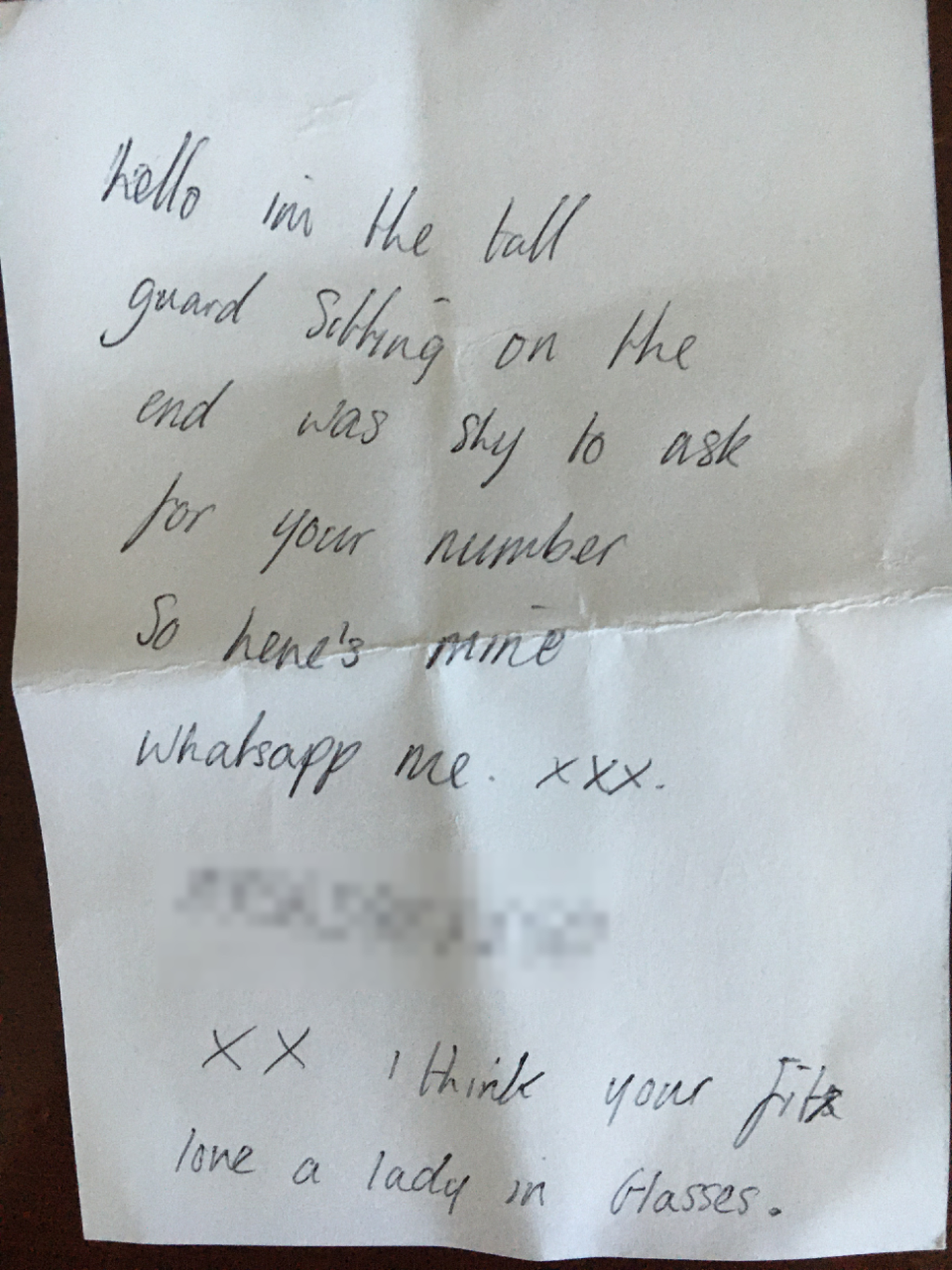 Caroline complained, and the head of security at the hotel – from the company, Mitie – told her that this was completely out of order. Caroline didn't see the guard again and assumed that he had been removed from the hotel.
But when the BBC asked Mitie to comment, the company said it had found that the handwriting and telephone number on the note didn't match those of the guard Caroline had described – or any of the other guards on shift that day.
Asked how the company thought the note had appeared, the company said it expected high standards from security officers, all of whom were fully trained "including on the behaviours required of them" in quarantine hotels. We asked whether the company accepted that a guard may have more than one phone, but Mitie didn't respond.
Guards are stationed in quarantine hotels to ensure that guests do not leave their rooms – and there are no non-quarantining guests – so other people in the hotel would have had little opportunity to leave the note.
"Do they think I am making it up? That I wrote the note myself?" Caroline says. "It's ridiculous."
A spokesman for the Crowne Plaza NEC said the company was unable to comment because security companies were contracted by the DHSC.
Caroline has heard nothing from the DHSC managed quarantine service complaints team.
A 20-year-old teaching assistant, Alice says she was walking past the Pentahotel in Reading on 3 June when G4S guards milling around outside it started wolf-whistling and cat-calling.
She wrote to the hotel to complain, but received no reply for three weeks. Then on 26 June – the day we published our first story – she wrote again, and immediately received two replies. One was from the hotel manager, who said he was escalating the complaint and sending CCTV footage to the DHSC's managed quarantine service complaints team.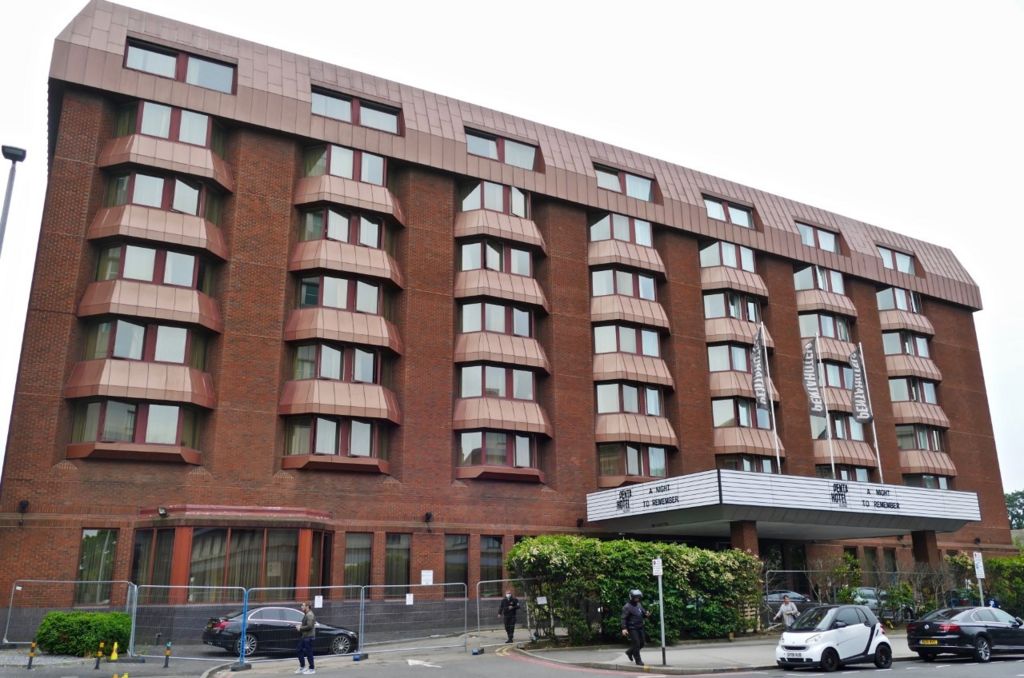 The reply from the DHSC said the complaint was being rejected because CCTV footage showed that Alice had entered hotel premises and that guards had had to escort her out. She wrote back saying that this was incorrect – she had not passed through the metal barriers used to seal the hotel off from the street while it was operating as a quarantine hotel. The DHSC replied again saying the CCTV footage had been reviewed, and the department was sticking to its original opinion.
"I'm so angry – they have called me a liar, they ignored me for ages. I think it's disgusting," she says.
Eventually the DHSC sent Alice the CCTV video, and it showed someone else entirely. She pointed this out to them and has not heard back since.
Penta Hotels said it was not responsible for the behaviour of guards, and the DHSC said it could not comment on individual cases.

Harriet Wistrich of the Centre for Women's Justice said hotel quarantine was an "incredibly oppressive situation" for many women, particularly those travelling alone.
"They are effectively imprisoned and there aren't enough female guards to stop these incidents happening. Just putting on an extra male guard isn't good enough – and it's also quite oppressive."
She said the government couldn't "privatise out" its responsibility for the safety of these women and reiterated a call she made last month for clear guidance to be given to everyone in hotel quarantine about who to contact for help if they feel unsafe.
The DHSC spokesperson said "Sexual harassment and abuse are abhorrent – and all allegations of this are taken extremely seriously… We will not hesitate to take immediate action to suspend staff where appropriate and report to the police if necessary."

A guard knocked on Pashmin Kinalekar's door past 10pm and asked if she wanted to get some fresh air with him – when she said No he asked if he could "watch a movie and chill" with her
Rosaria Lily Brenno says she and her sister were asked by guards about their sexual preferences – one speculated that they liked big penises, another knocked on their door after midnight
Maria (not her real name) says she was treated for a panic attack by one hotel-based paramedic and hours later received an unexpected visit from another – he tried putting his stethoscope inside her shirt, hugged her to "calm her down", asked to check her stomach, and returned twice the following day
Safia (not her real name) was pestered by a guard, who called her "beautiful" and "baby" on a four-hour bus journey from Heathrow to her hotel, before finally getting "too close" to her at 11pm in an alley leading to the hotel's service entrance, and asking which man had "got such a perfect woman"

G4S said it had a "zero-tolerance approach" to staff who failed to treat people with respect. A spokesperson said: "To provide additional assurance we have enhanced training, supervision and operational and safeguarding procedures. We have also established an oversight body comprising of women in senior executive roles."
One woman who is currently quarantining at a Heathrow hotel said she felt safe and the staff were friendly.
But she said that she had been given no information on how to make a complaint and was escorted for exercise either by a single female guard, or by a single male guard, never by two.
Another woman said she was asking specifically for a female guard when requesting an exercise break, and so far it seemed to be working.
Sexual harassment is any kind of unwanted behaviour of a sexual nature that makes you feel humiliated or intimidated, or that creates a hostile environment
Try to keep a record of your experiences of harassment including dates/times and details of what happened, in case you decide to report it
If you're in danger, call the police on 999