Lenders agree to change applications for loans involving buildings below 18m high, the government says.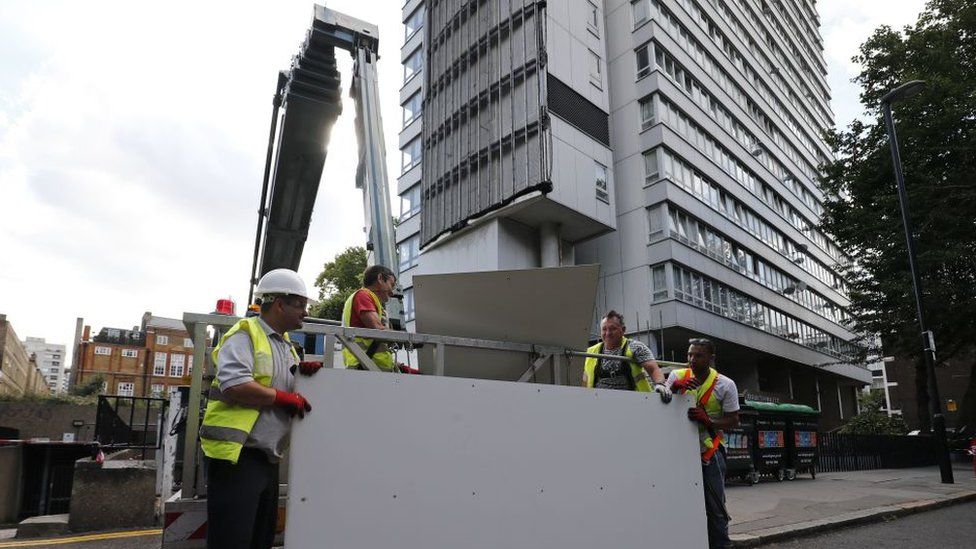 People buying flats in buildings lower than 18m (59ft) in England will no longer have to provide safety details on external walls to get a mortgage, the government has said.
Barclays, HSBC and Lloyds welcomed the change, and said it should pave the way for updated industry guidance.
It follows concerns over large bills to remove cladding facing many flat owners since the Grenfell Tower fire.
But Labour called the height-based stipulation "arbitrary".
After the 2017 fire in Grenfell Tower, west London, in which 72 people died, thousands of blocks of flats were found to be covered in similar dangerous cladding.
Work to remove the material, as well as fix other safety issues, meant many residents were charged thousands of pounds, often leaving them in negative equity and unable to sell their property.
Mortgage lenders began asking for assurances on the safety of external wall systems as a condition of approving mortgage applications.
Mortgage applicants were asked to get safety assessors to sign off a form – known as EWS1 – to prove their property is safe.
Lenders have been asking for the forms for many different types of buildings, including those without cladding.
To begin with, only those who owned flats in tall buildings with dangerous flammable cladding were affected.
After the government extended its advice to smaller properties in January 2020, mortgage lenders began demanding fire surveys from a much wider range of sellers.
But on Wednesday, Housing Secretary Robert Jenrick said this guidance would now be changed to exempt leaseholders in low-to-medium-rise blocks from this requirement.
He said the change followed new advice from fire safety experts commissioned by the government earlier this year.
Home fires were at an all-time low, he said, while 91% occurred in houses, bungalows or converted flats.

By BBC business presenter Sarah Corker
This is an attempt to unlock parts of the property market that have been paralysed by the cladding crisis.
It's estimated that up to 3 million flats have been left unsellable because lenders are demanding an EWS1 form.
It's left people in low and mid-rise buildings, where the safety risks are deemed as low, unable to move with properties valued at zero.
Even blocks with no cladding have been affected.
The problem has been compounded by a shortage of fire engineers to carry out the checks and flat-owners have faced long delays obtaining the paperwork.
There is an acceptance too that "extreme risk aversion" from lenders, insurers, and the wider property industry has resulted in flat-owners across the UK receiving massive bills for work that is not necessary.
Lenders have now committed to review their practices on this, but the response from leaseholders has so far been muted.
They are waiting for banks to actually change their policies – only then will this policy make a real difference to those caught up in the cladding scandal.

Mr Jenrick also said: "In the small number of cases [in purpose-built tower blocks below 18m] where there are known to be concerns these should be addressed primarily through risk management and mitigation."
He added: "Fire-risk assessors and lenders should not presume that there is significant risk to life unless there is evidence to support this.
"This would ensure that they respond only to the evidence and adopt a far more proportionate and balanced approach."
Mr Jenrick said he was pleased major lenders had agreed to change their rules, adding: "I hope and expect other lenders to follow suit swiftly."
The change, which will apply only in England, would influence mortgage lenders' attitudes across the UK, he added.
For Labour, shadow housing secretary Lucy Powell said there was a "cosy relationship between developers and the private inspectors they handsomely pay".
She added: "The government should think again about its arbitrary definition of high-risk buildings."