Golf ball-sized hail comes "thundering down" as the extreme heat warning for England continues.
Hail the size of golf balls fell in a thunderstorm damaging cars and smashing windows as extreme heat warnings stayed in place across England.
Katie Jaffar, from Kibworth Beauchamp, Leicestershire, said both of their family cars were a "total write-off" and "covered in big dents".
Several roads in the East of England also flooded as temperatures of 30C (85F) turned to heavy rain and hail.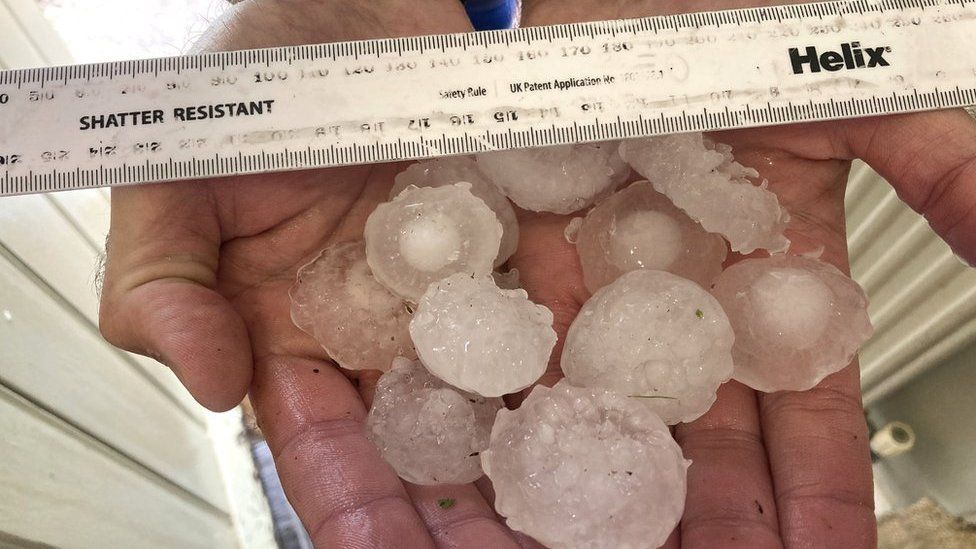 The hail storm hit Leicestershire at about 18:15 BST on Tuesday, with some car windows obliterated.
"One minute the kids were playing with their friends in the paddling pool and it was gloriously hot," Mrs Jaffar said.
"The next minute huge dollops of rain started falling and then it turned into hail – huge lumps of it thundering down.
"It was so fast, it was pretty terrifying."
Kibworth Court care home had to move all residents to the first floor after two lounges, the dining room and reception flooded.
Manager Caroline Harrison said: "We were watching it with the residents because it was massive hailstones, and we realised it was actually getting really close to the front door, and then all of a sudden it just [came] straight through all the windows.
"We had to get the residents upstairs [and] phoned the fire brigade, because by then we were under at least eight inches of water.
"They came out and pumped the car park – the car park was like a massive pond."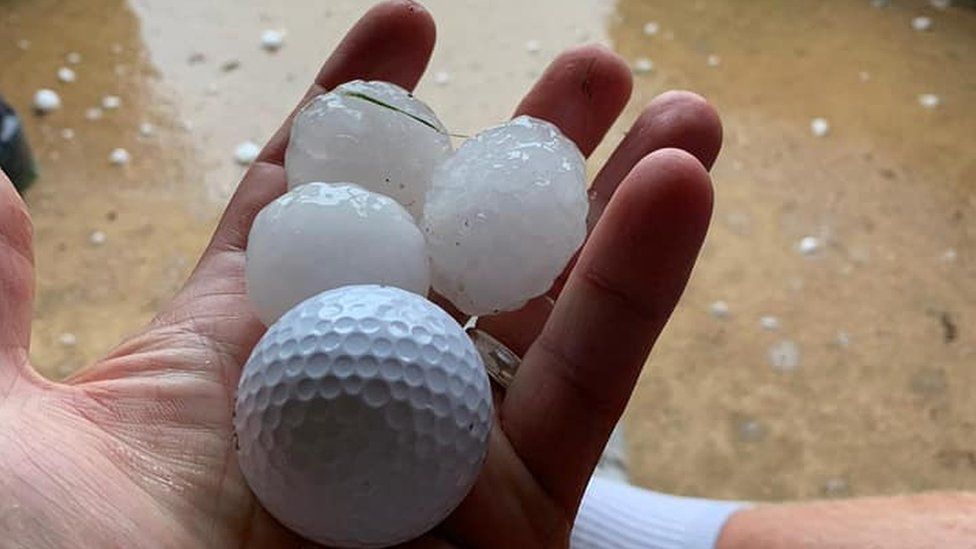 Ms Harrison said staff had worked through the night to clean up and were "all pretty exhausted" and "grateful" to villagers who dropped off towels and helped after an appeal on Facebook.
"Most of the staff came in to help us have a massive clean-up last night – we've been here all night," she added.
"We've lost all the carpet – it's not something I want to go through again.
"The back garden is absolutely devastated. The gazebos all have holes in them, the umbrellas have gone.
"The devastation's pretty gutting."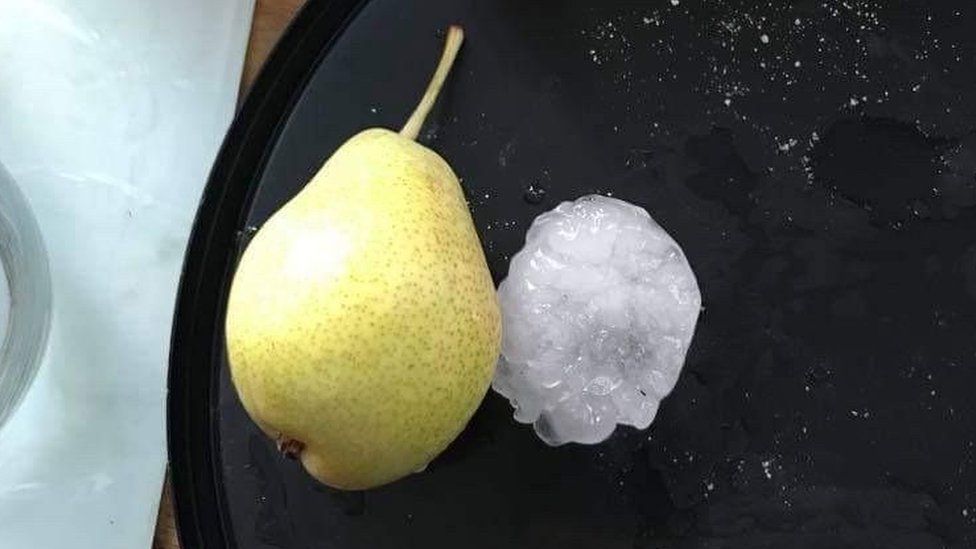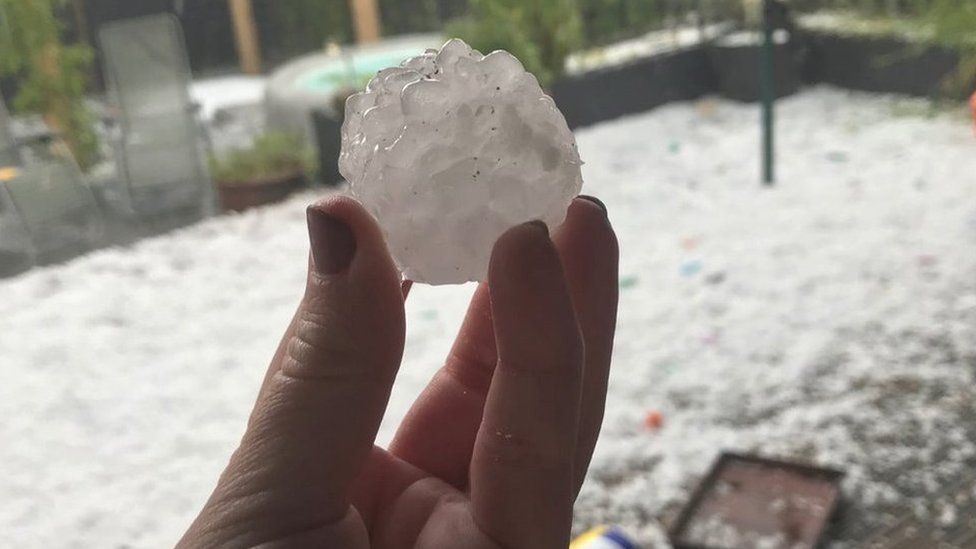 Although hail is not unusual in the summer, the size of it experienced in Kibworth and surrounding areas on Wednesday is uncommon.
It formed due to a number of factors. The atmosphere was highly unstable across the region yesterday, which led to strong updrafts in the cloud, allowing the hail longer to form and therefore get bigger.
The instability was also deep, with a large area of cloud above freezing.
The hail accompanied thunderstorms, which also caused flash flooding in places.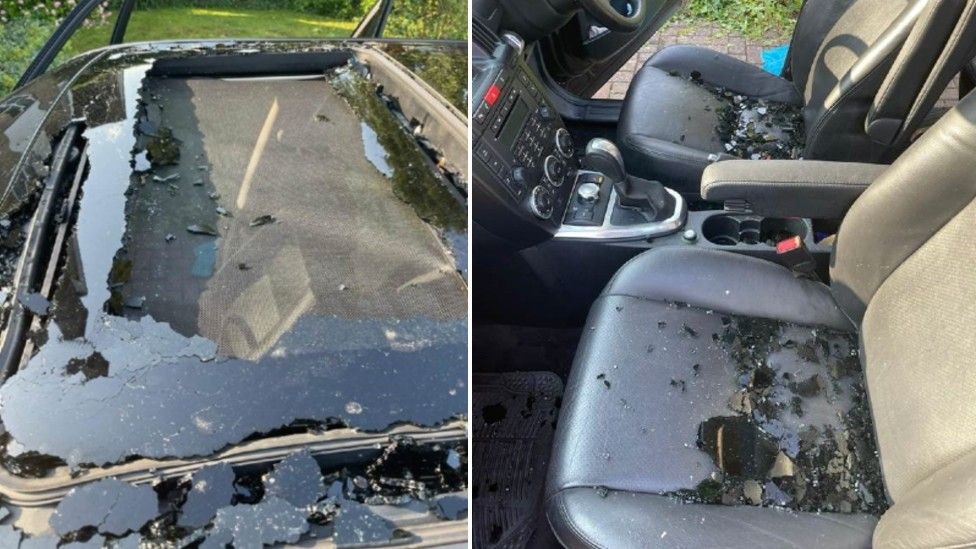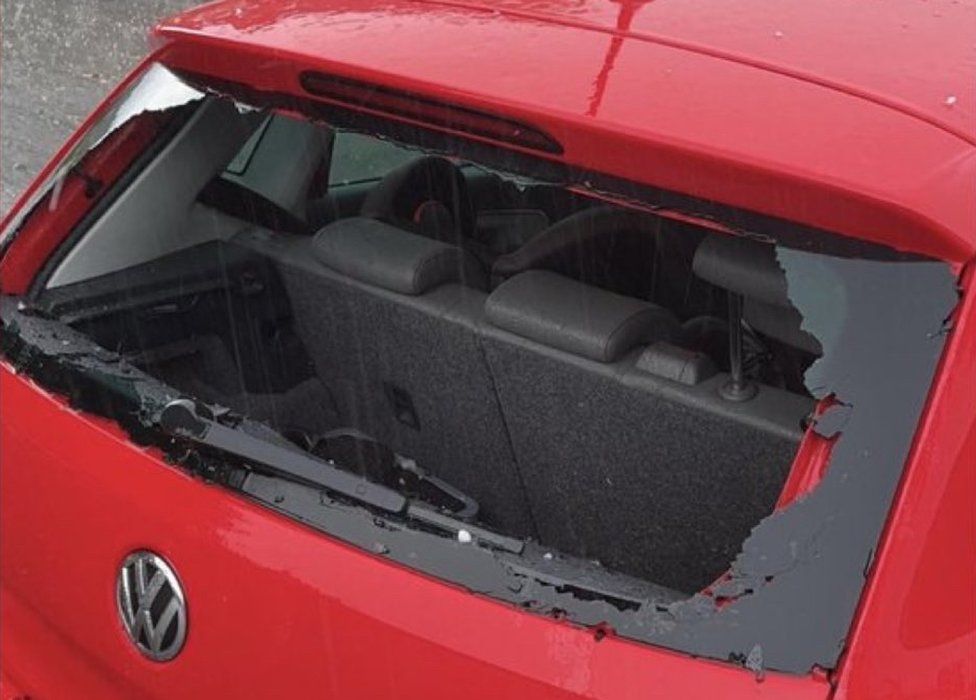 Several Twitter users posted videos of the torrential showers, pictures of the giant hail and smashed car windows.
Kevin Messenger saw his car damaged by the storm.
"It was a surreal experience to be honest," he told BBC Radio Leicester.
"One minute you are basking in the glorious sunshine, and then a little bit of rain started and all of a sudden the noise started echoing around the house.
"I woke up this morning almost feeling a bit fortunate and a bit grateful – [there are] definitely worse-impacted people than me."
Primary school teacher Phil Morrish, 53, who is an avid weather watcher, said he was sent pictures from friends in Kibworth village.
"People are shocked by it," he said. "There are quite a few cars being damaged by this huge hail.
"It is crazy weather. The hailstones are three to five centimetres big."
Paul Arscott, a market researcher and father-of-two from Kibworth, said: "The roads were nuts, everyone pulled up on grass verges and pavements trying to hide under trees or bridges from the A6 all the way to Kibworth, all at different angles. It was like some Armageddon film."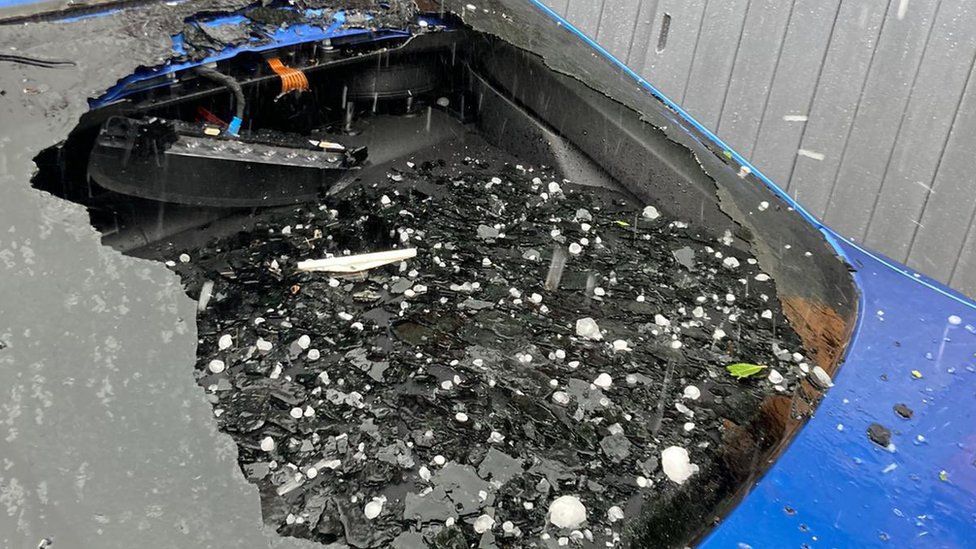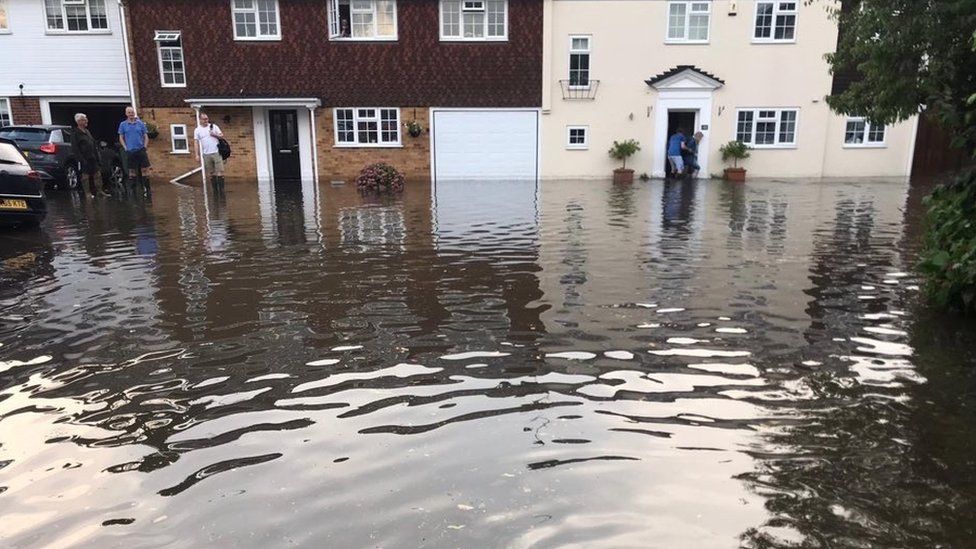 Elderly residents on the upper floor of retirement home Morrison Court, in Kibworth, were evacuated by fire crews after several skylights were shattered and water started flowing into the corridors.
One of the residents, Andrea Smith, 75, said: "It was horrifying. Water started coming through the lights in the corridor ceilings and it forced them to crash to the ground with live electric wires hanging down.
"One of the ladies who lives here nearly got smashed on the head with one of these lights – it fell down just in front of her.
"It was really scary because it was so noisy. It sounded like gunshots. There was glass everywhere."
Officers closed the A6 Harborough Road, at Kibworth, in both directions due to flooding.
Leicestershire Police said it was "dealing with an incident" and advised motorists to find alternative routes.
Leicestershire Fire and Rescue Service has warned people not to "attempt to drive through flood water".

The BBC is not responsible for the content of external sites.