The Labour leader tells the BBC his party has a "trust issue", after talking to some of its ex-voters.
Labour leader Sir Keir Starmer has vowed to "sweat blood over months and years to earn respect" from voters.
Speaking to the BBC after taking questions from ex-Labour voters in Blackpool, Sir Keir admitted "there is a trust issue" for his party.
He also said he had been "utterly frustrated" the pandemic had stopped him meeting voters around the country.
Sir Keir took over from Jeremy Corbyn as Labour leader in April 2020, vowing to lead the party into "a new era".
After initially enjoying high approval ratings, Sir Keir has had a bruising 2021, with the loss of a traditional stronghold, Hartlepool, to the Conservatives in a by-election, and Boris Johnson's party opening up a large lead in the opinion polls.
He launched a policy review, and a reshuffle of his top team, after the Hartlepool defeat, and the party managed to hang on to Batley and Spen, in West Yorkshire, in another by-election.
He has embarked on a summer tour of Britain, to listen to voters' concerns and sell Labour's message.
At the first event, in Blackpool, which has two Conservative MPs, he was grilled about the benefits system, trust in politicians, employment and education, among other subjects.
But several panel members, former Labour voters selected by an independent polling company, said that they had never heard of him before the event.
He found this "utterly frustrating", he told BBC Political Editor Laura Kuenssberg, but added: "I never thought that this would be turned around in a year or 18 months.
"I never thought that in one evening, I'd persuade 12 people to change their vote.
"This is a slow, long, hard road. But every vote has to be earned."
The Labour leader outlined three policies to the audience – a jobs guarantee for workers under 25, a recovery fund for children's education after the pandemic, and a "buy British" plan for public spending.
The plans received a mixed reception, with some of the panel saying he was "wasting his time", but others welcoming the idea of more support for children who had lost out during the pandemic.
Asked about the reception from the ex-Labour voters, he said: "I'd much rather the sort of robust discussion I had tonight, than the warm bath of simply talking to people who already agree with me."
"To turn this into an argument about Jeremy Corbyn is to do exactly what I want the Labour Party to stop doing." Sir Keir told Laura Kuenssberg after the event.
"We have been looking internally, we need to turn ourselves inside out, and be talking to and engaging with voters."
The Labour leader refused to say whether or not he would allow Mr Corbyn to sit as a Labour MP again saying only that there was a process being run by the party's chief whip.
Mr Corbyn was suspended both as a Labour MP and party member over his response to a human rights watchdog on anti-Semitism in Labour.
He has since been reinstated as a party member but has not yet been readmitted into the parliamentary Labour party.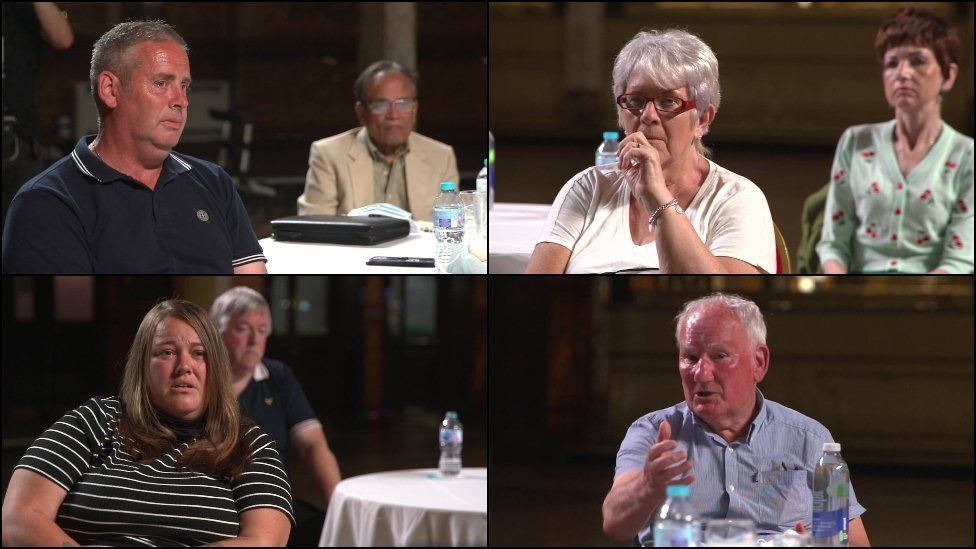 Catherine said her family had been miners and that she was a dyed-in-the-wool Labour voter, but the leadership of Tony Blair had put her off the party.
She said "in her heart of hearts" she wanted to be Labour again but wasn't sure if she could believe Sir Keir.
Josephine said the Labour leader came across as "a nice guy" but said people hadn't "got a chance to get to know him", given the pandemic.
She added that she sometimes wondered if Blackpool had been "forgotten about" and asked Sir Keir how he would tackle child poverty in the area.
Frank said he stopped voting Labour following the Iraq war. He also brought up then-Labour Prime Minister Gordon Brown calling a Labour voter a "bigot" after she expressed concerns about immigration.
He added that Sir Keir had been "outflanked on the charisma side" by Boris Johnson. "Boris Johnson gets away with murder," he added.
Zacky told the Labour leader that he needed to "get rid of all those bickering people" within the party and reach the voters "who have been with you before".
Natalie admitted she had had "no idea" who Sir Keir was. Asked what she thought of when someone said Labour, she said "debt".
Following the event, she said: "I felt listened to, which is an absolute delight".