Doctors and midwives warn Covid poses a greater risk to women in the later stages of pregnancy.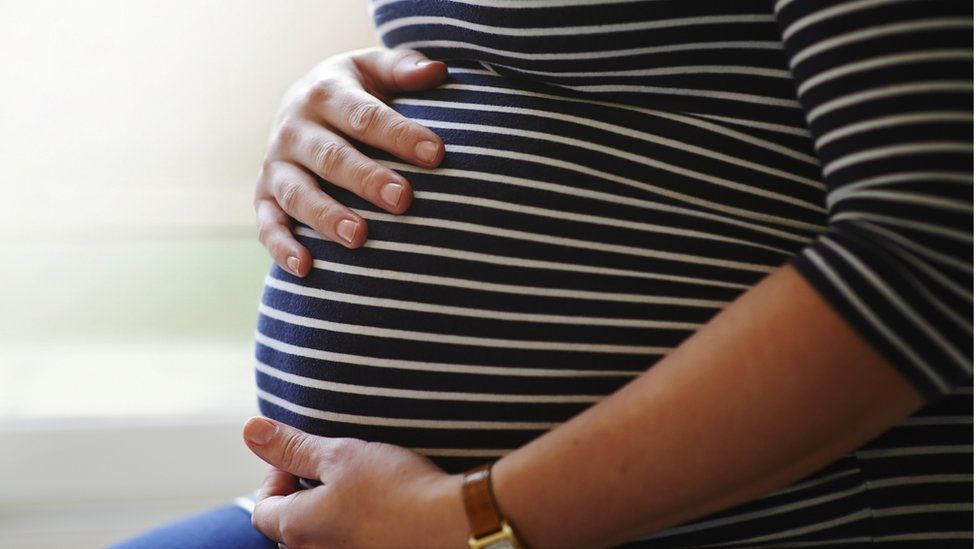 Doctors and midwives fear next week's relaxation of Covid restrictions will lead to a big increase in infections among pregnant women.
The warning comes from the Royal College of Obstetricians and Gynaecologists (RCOG) and the Royal College of Midwives (RCM).
They say the easing, combined with rising infection rates and vaccine hesitancy, poses a serious risk.
Pregnant women are at greater risk of getting severely ill with Covid.
The risk is particularly high in their third trimester, in part due to the pressure exerted on the lungs by the growing foetus..
Mothers who give birth while infected are more likely to need an emergency Caesarean and had higher rates of stillbirth, although the actual increases remain low.
The RCOG told the BBC its data shows 58% of women have declined a Covid vaccine.
It acknowledged "mixed messages" about the safety of the vaccine at the start of the programme had caused confusion – but said it was disappointed there had not been more direct campaigns targeted at pregnant women by the government and NHS England, since vaccination was approved for the group in April.
The RCOG says pregnant women were the only clinically vulnerable group not prioritised for vaccination.
The Joint Committee on Vaccination and Immunisation now advises that pregnant women should all be offered the Pfizer-BioNTech or Moderna vaccines where available, at the same time as the rest of the population.
Research from the US, involving more than 90,000 pregnant people found no risk, and experts say there is no reason to think there is any increased risk of miscarriage – as the vaccine does not appear to cross from the mother to child via the placenta.
Both colleges are urging those who are pregnant or considering pregnancy who have not yet been vaccinated to consider getting a jab as soon as possible and book their second doses as soon as they are eligible.
Unvaccinated or partially vaccinated pregnant women should take steps to avoid infection by continuing to practice social distancing, particularly in their third trimester, they say.
Dr Edward Morris, RCOG president, said: "We are concerned that increasing rates of Covid infection will adversely impact pregnant women.
"We know that those who are pregnant with Covid are at an increased risk of becoming severely ill, and the vaccine is the safest and most effective way of protecting women and their babies."
Gill Walton, RCM chief executive, said: "Along with mask wearing, hand washing and social distancing, vaccination is a vital tool in the fight to protect yourself against this virus.
"If you are unsure or worried about this, do speak to your midwife or doctor to get the facts so that you can make an informed decision.
"All the evidence is showing that having the Covid jab is safe during pregnancy, and I do urge you to have the vaccine to protect yourself, your baby and your family."