Bookseller is one of the first major chains to state policy for shops, but its stance attracts a mixed response.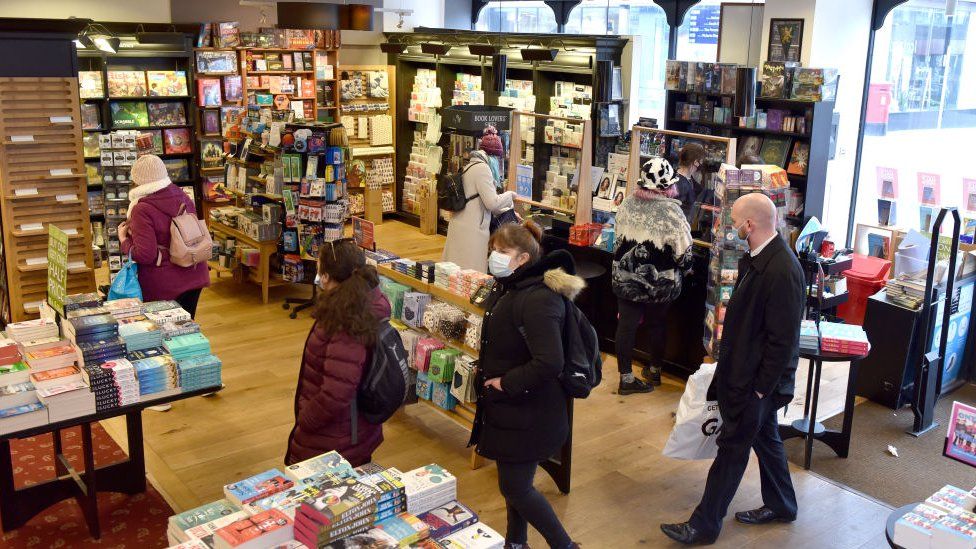 Waterstones says it will encourage its customers to continue wearing face coverings in its stores after they cease to be compulsory after 19 July.
It is one of the first major chains to state a firm policy on mask wearing.
Businesses are weighing up what approach to take once Covid measures become a matter for them to decide.
Some shop workers and staff are worried that abandoning masks will put their health at risk, but others have reacted with anger at Waterstones' move.
"Given our enclosed browsing environment, we encourage our customers to wear face masks and observe social distancing, respecting the safety of staff and fellow book lovers."
Managing director James Daunt told the BBC this would be communicated by signs, but staff would not enforce this: "If you are wearing a mask and you don't want to be in the company with someone who isn't wearing a mask, we expect people will use their common sense and move away."
He said current safety precautions would remain in place, with screens up between booksellers and customers and staff wearing masks.
The tweet has attracted a mass – and mixed – response. Many are in favour of its position. The tweet had garnered 22,000 "likes" by lunchtime.
Critical care nurse Kimberley Anne said: "@Waterstones ! As an ITU nurse, I am so exhausted with all these waves of Covid and I personally feel more at ease bookshopping with a mask. I am freaking out already using the tube."
But Talk Radio presenter Julia Hartley-Brewer said: "I make a point of buying books at my local @Waterstones rather than ordering on Amazon because I want bookstores to thrive, but if I go into your store and a member of staff asks me to wear a mask, you will lose my business forever."
From Monday 19 July, the government has said, wearing face coverings in England will be recommended but not mandatory.
Transport companies have been the most forthright in setting out their policies. London Transport said on Tuesday it would require passengers on the Tube, bus and its Overground railways to wear masks.
Airlines including BA and Ryanair have already confirmed face masks will still be compulsory after 19 July.
But most retailers have taken a more cautious approach, while many, including leading supermarkets, have not yet said anything concrete.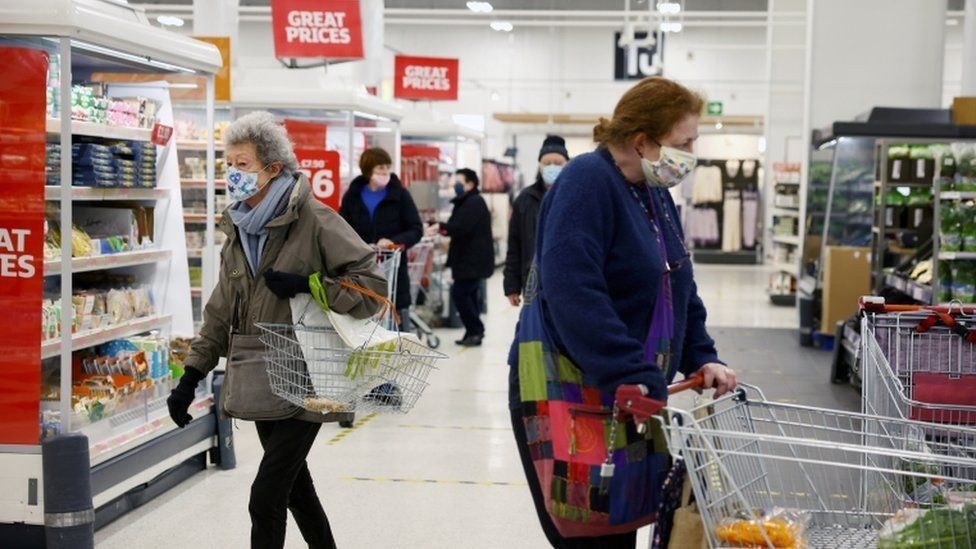 Timpsons shoe repair and key cutting chain, which has more than 2,000 shops, is leaving mask wearing as a matter of personal choice for customers.
Sir John Timpson, its boss, said: "I don't think the way it's going we've got any right, we shouldn't expect them to do so, that's entirely up to the customer."
But he said his staff would be asked to wear masks.
Jewellery retailer Beaverbrooks is going further. It told the BBC it would keep all of its current safety measures in place, including welcome barriers, hand sanitisation stations and serving screens.
It said staff would still be wearing visors or masks. But it added that although it could not force customers to wear masks, it would prefer them to continue to wear masks in its stores.
Aside from Sainsbury's, which said last week that mask wearing would be a matter of personal choice for customers, leading supermarkets have not so far publicly stated their approach. Morrisons says it is waiting for further guidance from the government.
Some shoppers are uncomfortable with anything other than a clear safety policy. Commenting on Waterstones' move, Denys Whitley tweeted: "'Encourage' is not strong enough. Mask-wearing must be mandatory. Non-masked are not respecting the safety of staff or fellow book-lovers… With this policy, I'll be sticking to the pathetic selection on Amazon."
Shop workers' union Usdaw had previously urged the government not to lift Covid safety measures in shops.
According to a recent survey, it found violence, verbal abuse or threats of violence towards shop workers had increased 25-50%, with face coverings the trigger for 15% of the incidents.
Paddy Lillis, Usdaw general secretary, said: "Shop workers already face violence and abuse when enforcing these measures and we are concerned that, when restrictions no longer have the force of the law behind them, this could result in further abuse, threats and violence towards retail workers."

Should shops ask their customers to keep wearing masks after 19 July, when they are no longer compulsory? Get in touch and let us know.
Or use this form to get in touch:
If you are reading this page and can't see the form you will need to visit the mobile version of the BBC website to submit your comment or send it via email to HaveYourSay@bbc.co.uk. Please include your name, age and location with any comment you send in.