Why is football coming home? Who was Jules Rimet? And what's a penalty shootout? Read on…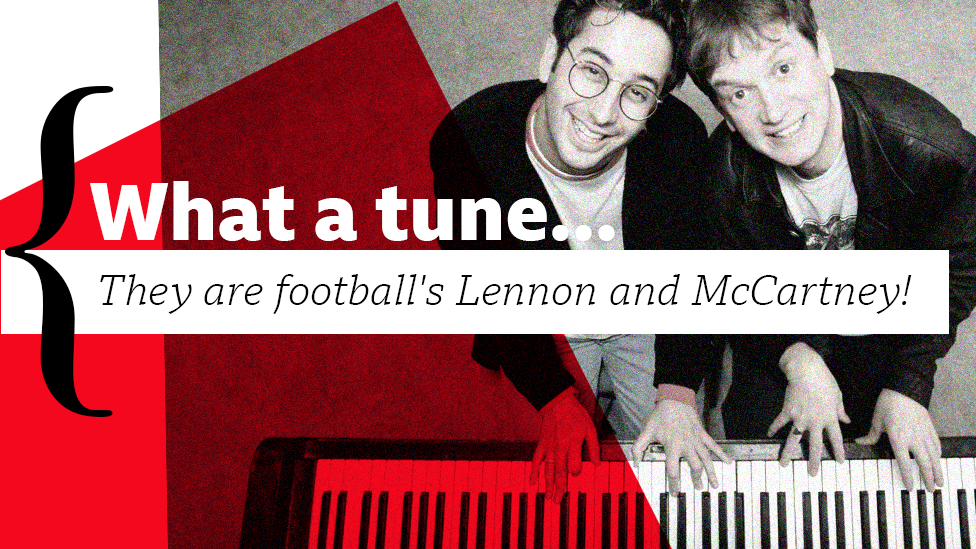 For the first time since 1966, England's men's football team has reached the final of a major tournament.
More than 23 million people watched the 2-1 semi-final win over Denmark, with the TV audience for Sunday's final against Italy expected to be even bigger. But as football dominates the national conversation, how does the new or non-football fan cope?

A phrase immortalised in Three Lions – the song released when England (the home of football, of course) hosted the European Championship in 1996. Just after the home side was knocked out in the semi-final, the song hit the top of the charts for the second time, and it has returned to the national consciousness in every tournament since.
Do say: What a tune! Frank Skinner and David Baddiel's song is a heartwarming anthem about an English fan's hope and despair. They are football's Lennon and McCartney! I do not resent them having tickets for every match.
Don't say: Isn't it all a bit jingoistic? And of course, football wasn't actually invented in England, merely codified here in the 19th Century, so this isn't really home at all.
The trophy that England lifted in 1966 when they won the World Cup, was in 1946 named after the French former president of Fifa, which is the sport's governing body. The trophy is namechecked in the chorus of Three Lions.
Do say: Three Lions on a shirt, Jules Rimet still gleaming.
Don't say: Three Lions on a shirt, jewels remain still gleaming.
England's winning goal in Wednesday's semi-final against Denmark came after a controversial penalty, when the Dutch referee – and his assistant watching on TV – decided that midfielder Raheem Sterling had been fouled in the 18-yard box.
Do say: There was definitely contact – not once, but twice – and besides, we were dominating the game! A goal was coming.
Don't say: Why did he fall over so easily? You would never see a rugby player do that. Perhaps they should replay the game?
Midfielder/forward Jack Grealish is one of England's most exciting players, but has started only one game in the tournament, something debated at length – great length – by fans across the country.
Do say: Grealish dribbles beautifully and makes things happen – but don't question England team boss Gareth Southgate. The manager knows what he's doing.
Don't say: Oh – you mean the one with a hairband who falls over a lot? To be honest, I'm indifferent as to whether he plays or not. Not bothered!

England's likeable manager is a former player who, in 1996, missed the crucial penalty in the semi-final against Germany, ensuring the trophy did not "come home".
Do say: He's more than a manager – he's a kind, intelligent, and empathetic ambassador for a new generation of down-to-earth footballers. Makes you proud to be English.
Don't say: You do know, in his only management job in club football, he actually got Middlesbrough relegated from the Premier League.
As well as Three Lions, England fans sing Sweet Caroline (by Neil Diamond), the national anthem (not by Neil Diamond), and, for reasons not fully known, Whole Again, the fifth single from early-2000s English girl group Atomic Kitten.
Do say: Southgate you're the one, you still turn me on, football's coming home again.
Don't say: Turn me on? Is that appropriate to sing about a 50-year-old football coach who looks like a successful – but not too successful – chain store regional manager?

England's only major trophy came in 1966, when they beat West Germany 4-2 in the World Cup final at Wembley. Geoff Hurst scored a hat-trick; Bobby Moore lifted the trophy; Kenneth Wolstenholme, the TV commentator, said: "They think it's all over – it is now." You may have heard the game mentioned once or twice since then.
Do say: Harry Kane is the new Bobby Moore; Raheem Sterling is the new Geoff Hurst; Jordan Pickford might – at a stretch – be the new Gordon Banks.
Don't say: Did other countries even play football in 1966? Was it the World Cup or the Euros? And how long ago was that anyway?
The chorus of Three Lions – that song again – goes: Three Lions on a shirt / Jules Rimet still gleaming / 30 years of hurt / Never stopped me dreaming.
The clock is still ticking, and it's now 55 years since 1966.
Do say: 2021 could become a year that – like 1966 – evokes an image, a memory, a feeling, all of its own. A milestone in English history! A totemic moment! And we were there!
Don't say: Technically the hurt didn't start until 1968, when we were knocked out of the European Championship – our first major tournament after 1966 – so really it's only 53 years of hurt…
Since England's first match in 1872 (a 0-0 draw against Scotland) they have worn a badge featuring three lions – itself taken from the ancient royal arms of England. Since 1996, the Three Lions has been used by some as a nickname for the English team.
Do say: Just seeing the badge makes makes my hairs stand up – simple but elegant; ancient but timeless; a beautiful baton being passed through generations of proud Englishmen and women.
Don't say: Are lions even native to England? Wouldn't Three Cows be better? Or even Three Red Squirrels?

Football teams generally line up with four dedicated defenders or three. It's a matter of choice. England have used both systems in the tournament so far, and could use either in the final.
Do say: It's really refreshing to see an England team able to switch between formations so easily. Kyle Walker, who can play right-back or centre-back, is really crucial here.
Don't say: Why not play eight defenders, then no-one could score past them?
If the scores in the final against Italy are level after 90 minutes, 30 minutes of extra-time is played. If it's still level, the match is decided by a penalty shootout – each team taking five penalties apiece, and then going to sudden-death if needed. England have been knocked out of six major tournaments in this way (1990, 1996, 1998, 2004, 2006 and 2012) and won a shootout only twice (1996, in an earlier match, and 2018).
Do say: We beat Colombia in 2018 on penalties. It's a new era! The modern-day England player has the technique and mentality to withstand the pressure.
Don't say: Didn't Harry Kane actually miss his penalty against Denmark on Wednesday? And besides – why do they need penalties? If it's a draw, let them share the trophy. That way, no-one has to miss like Southgate in 1996. And what's a few more years of hurt, anyway…