The transport secretary says the app's sensitivity may need to be reduced as restrictions change.
The NHS Covid contact tracing app used in England and Wales may need to change as coronavirus restrictions change, Transport Secretary Grant Shapps said.
England ending the 1m-plus rule on 19 July may mean the app's sensitivity needs to be reduced, he said.
The app detects the distance between users and the length of time spent in close proximity – currently 2m or less and more than 15 minutes.
It comes amid a huge rise in alerts as infections surge.
The system allows people who test positive to anonymously share their test result, triggering alerts for those detected as close contacts in the days before the test.
Under current rules, those who receive an alert are asked to stay at home for up to 10 days, although the Department of Health said the app "is, and always has been, advisory" – unlike the requirement to isolate if you are contacted directly by NHS Test and Trace.
The hospitality industry and NHS trusts have warned MPs the knock-on effect for the economy and workplaces could be huge.
One possible solution could be to change the sensitivity of the app, so it would tell people to self-isolate only after closer and more prolonged contact.
But sources at the app developers told the BBC they have not yet been asked to do this, although they are planning a change from 16 August when people would be able to record that they were fully vaccinated to turn off the self-isolation countdown timer.
Mr Shapps told BBC Breakfast: "As our restrictions change, of course the app needs to change. Things like replacing the 1m-plus rule on 19 July might well lead to a review of the way the app itself needs to function."
But he said the app was still "very important as one of the tools in our armoury". He said there were still large numbers of people downloading it and said he had not seen any data showing people were deleting it.
The most recent figures for the last week of June show an extra 300,000 downloads, bringing the total to more than 26 million, but it is not known how many people are active users.
"It's in our interests as a society to carry on doing the things that protect each other," Mr Shapps said.


New Covid infections continue to rise in the UK, which means the risk of coming into contact with a positive case, and getting pinged, is also increasing.
Current figures from the Office for National Statistics, which will update later today, suggest one in every 250 people you meet may now be infected. Daily new infections stand at more than 32,000.
Ministers have warned, with more unlocking, coronavirus cases could hit 100,000 a day this summer. Potentially, that could mean millions more people having to self-isolate.
It's not until mid-August that people who have had two jabs will no longer be required to isolate if they come into contact with a case.
High vaccine uptake – although not perfect – is key to building a wall of protection against people getting very sick with Covid and needing hospital care.

A Downing Street source stressed people were still being encouraged to self-isolate if they got an alert, adding the Department of Health's statement that the app was advisory was consistent with the government's message to "act cautiously, especially as we know cases will rise".
Dr Jenny Harries, the head of the new UK Health Security Agency, told MPs on Thursday she was "aware that people are choosing not to use the app" when asked about concerns people have been deleting it to avoid being "pinged".
Hinting at a change, she added there was "work ongoing at the moment because it is entirely possible to tune the app to ensure that it is appropriate to the risk".
A source close to Health Secretary Sajid Javid told the BBC "we are looking at the sensitivity of the app" and pointed out the sensitivity had been changed before.
But they did not say exactly what would change. At present, if two phones running the app are close for long enough, and one of the two users later shares a positive coronavirus test via the app, then the other will receive an alert.
You can also use the app to "check-in" to venues so you can be notified of any positive cases you may have encountered there, although the requirement to check-in will be lifted in England when lockdown rules ease further on 19 July.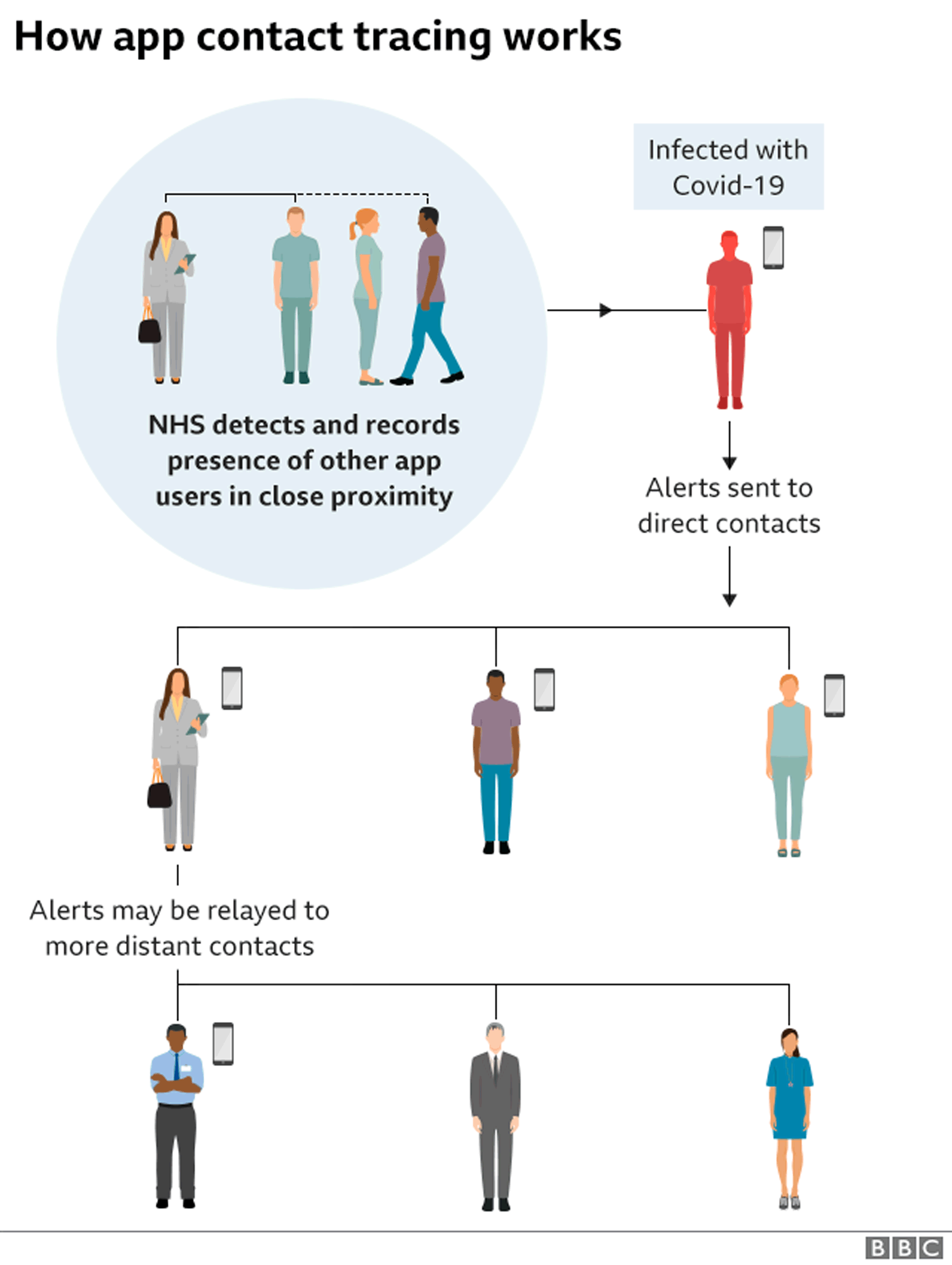 Just 496 venue alerts – which use the check-in data to alert people to potential contact with a positive case – were sent between 24 June and 30 June.
But alerts for people coming into close contact with someone testing positive soared by more than 60% in the last week of June to 360,000.
At the end of May, there were only 16,000 alerts in a week.
A BBC analysis has estimated 4.5 million people could be asked to self-isolate between this week and 16 August, as the number of infections continues to rise.
The NHS Covid-19 app is used in England and Wales. Wales, Scotland and Northern Ireland have their own powers to set coronavirus regulations and separate test-and-trace programmes.
Chancellor Rishi Sunak told the BBC on Thursday the government was considering a "more proportionate and balanced approach" to isolation for Covid contacts.
He acknowledged there was "frustration" at how the NHS contact tracing app could continue to order the double jabbed to isolate.
Prof Sir Jonathan Montgomery, a healthcare law expert from University College London who advised the government on the initial launch of the app, said it could still be useful but the government needed to issue new guidance.
He told Times Radio the app could allow people who have been double-vaccinated to manage the risk they might still get infected and pass it on, even if they were unlikely to get seriously ill themselves.
If they were alerted that they had been in contact with an infected person, they could be given recommendations to work from home if possible, avoid contact with vulnerable people and only socialise outdoors, Prof Montgomery suggested.
"The real reason we shouldn't abandon the tool is because so many transmissions of Covid happen before people realise they are unwell," he said.
"What the app does is enable you to be careful, and what the government needs to say is 'what does care look like in the new world?'."


Meanwhile, Prime Minister Boris Johnson said the country was "moving to a system of testing rather than self-isolation".
"I rely on the NHS app, as many people do," he said.
"I know how difficult it has been for people and I'm sorry for the hassle that people experienced as a result of this – it is coming to an end."
A further 32,551 new coronavirus cases were recorded on Thursday, alongside another 35 deaths within 28 days of a positive test.