Head of a Bear is more than 500 years old and has set a new record for a Leonardo da Vinci sketch.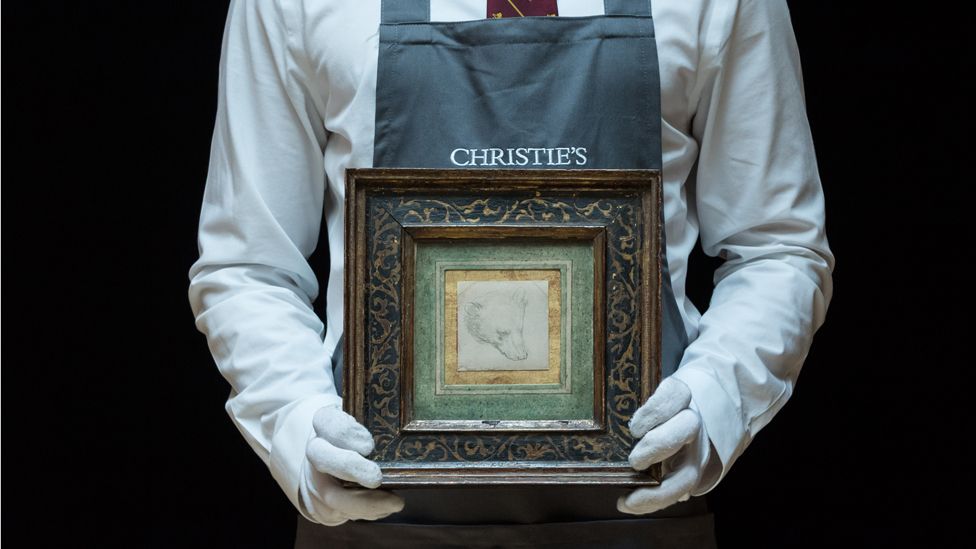 A drawing of a bear's head by Leonardo da Vinci sold for a record £8.8m ($12.1m) at a London auction.
Measuring just 7x7cm, Head of a Bear is more than 500 years old.
The sale has surpassed the previous record for a Leonardo drawing, set by the Horse and Rider, which sold for £8.1m in 2001.
According to Christie's auction house, which held the sale, it is among just a few drawings by the Italian Renaissance master which are still privately owned.
The auction house did not reveal the identity of the buyers. However, it was sold to a single bid from a man and a woman.
The drawing was created using silverpoint on pale pink-beige paper and is among a number of the artist's small-scale drawings of animals, which date back to the early 1480s.
Laetitia Masson, an expert in old master drawings at Christie's, described silverpoint as "a very difficult technique, because it doesn't really admit any mistake". It involves applying a silver stick to a specially prepared paper to leave marks and lines, requiring delicate touch and pressure.
The sketch previously belonged to British painter and collector Sir Thomas Lawrence, before being sold at Christie's in 1860 for £2.50.
It has been included in a number of exhibitions, notably a major show at the National Gallery in London in 2011.
Leonardo da Vinci, who was born in 1452 and died in 1519, is famous for both his art and inventions.
In 2017, a 500-year-old painting of Christ believed to have been painted by Leonardo sold in New York for a record $450m (£341m).
Known as Salvator Mundi (Saviour of the World), the sale represented the highest auction price for any work of art.