Eighty firefighters and 14 appliances tackled the fire at Railway Street in Strabane.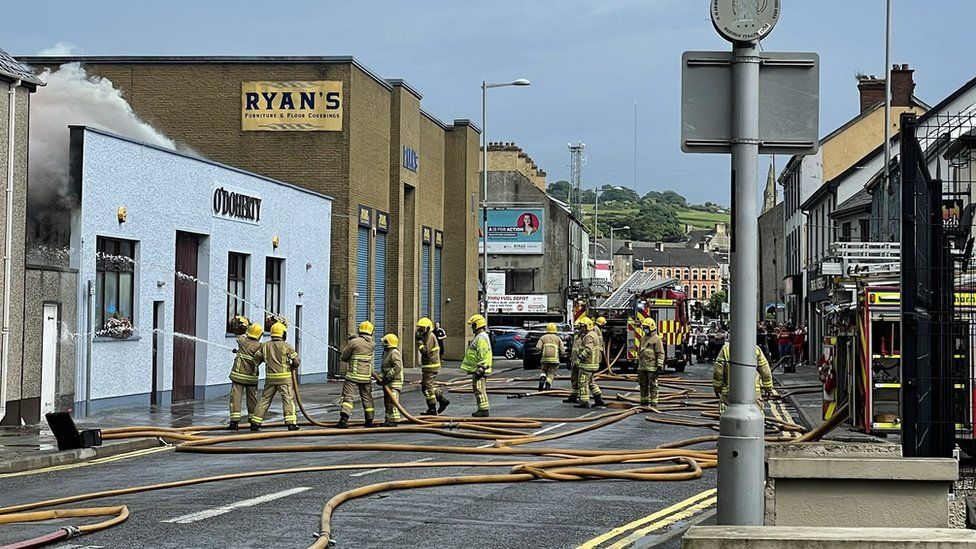 Firefighters remain at the scene of a large fire at a coffin makers in Strabane, County Tyrone.
Eighty firefighters, 10 fire engines and four special appliances were at the blaze at O'Doherty's on Railway Street.
West Tyrone MLA Daniel McCrossan was nearby when he heard an "explosion" and said there had been a "very loud lightning strike in the wider area".
There were thunderstorms in the area at the time, but the cause of the fire has not been confirmed.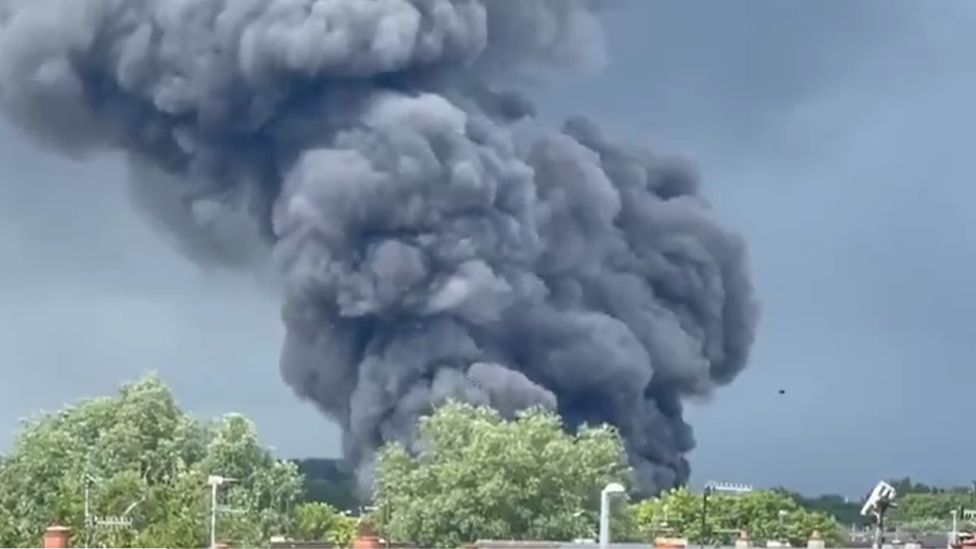 The Northern Ireland Fire and Rescue Service said it received a call about the fire at 16:10 BST.
The operation is expected to continue on Monday, with people asked to stay out of the area due to the high level of activity.
NIFRS has asked those in the nearby area to keep their windows and doors closed.
Railway Street is likely to remain closed overnight to allow for a structural inspection of the building to take place.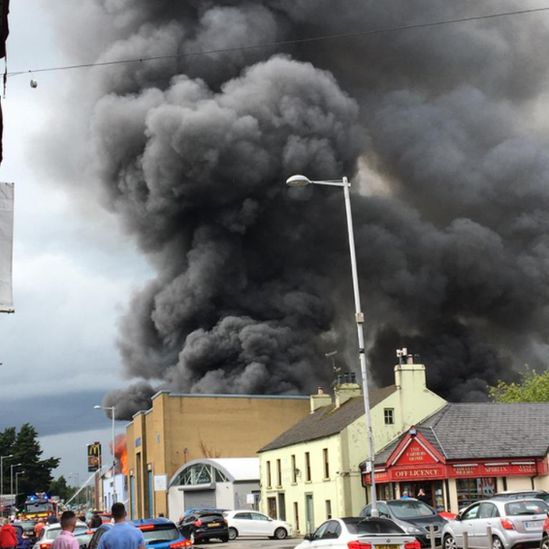 Speaking to BBC News NI, Mr McCrossan, who owns a pub near to where the fire is, said fire crews had managed to contain the fire to O'Doherty's, protecting surrounding properties and businesses.
"It is quite a significant blaze," he said.
"Luckily no one is hurt. There is a house next door, thankfully they weren't home and they weren't hurt either."
Derry City and Strabane District Council has warned the public to be cautious of flooding across the area.
The lower deck of the Craigavon Bridge in Londonderry is obstructed from the Duke Street direction by a car in flood water.
The council's mayor, DUP councillor Graham Warke, tweeted a picture showing flooding on the lower deck.
Motorists are being advised to take alternative routes.
Portstewart Promenade is closed due to structural damage caused by heavy rain.
Police said they expected the road to remain closed for some time.
A yellow weather warning from the Met Office is in place across the west of Northern Ireland until midnight on Sunday.