How drama built as Labour retained its Batley and Spen seat by a narrow margin.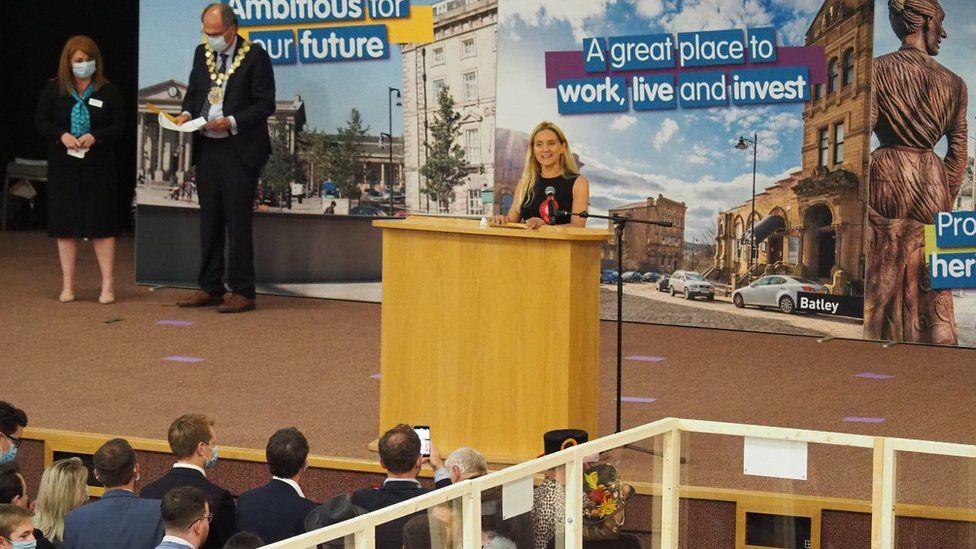 The Batley and Spen campaign trail may be remembered for some ugly flare-ups and instances of intimidation on the streets, but the finale at the count provided a dramatic conclusion with Labour retaining its seat by a narrow margin.
In her acceptance speech on stage in Huddersfield, Kim Leadbeater said she was "absolutely delighted that the people of Batley and Spen have rejected division and they've voted for hope".
Candidates said it was the first time they had seen police officers at an election count.
Drama built throughout the night at Cathedral House, as rumours spread throughout the press balcony about how narrow the contest had become.
At about 05:00 BST, counters began to check the bundles of ballot papers twice – extending the anticipation.
As George Galloway, who finished third and represented the Workers Party of Britain, addressed a small crowd outside the building, Ms Leadbeater was whisked away in a black car.
She now represents the seat previously held by her sister Jo Cox, who was murdered in the constituency in 2016.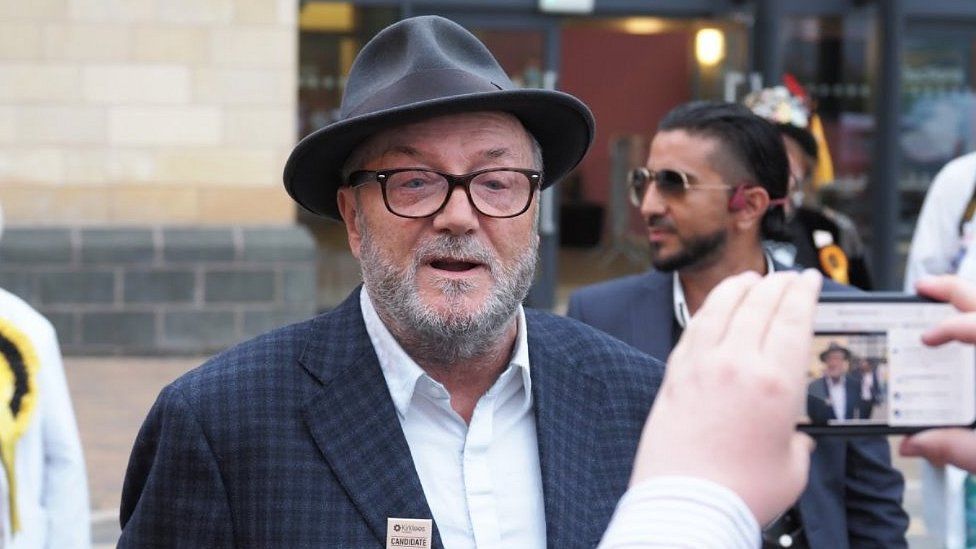 Labour Bradford West MP Naz Shah, who has been among those supporting Ms Leadbeater on the campaign trail in recent weeks, said the by-election had been "exhausting on all levels".
"This is no normal election and to have to protect Kim knowing that here is a woman standing for election that lost her own sibling on these streets… it has not been easy for people and it makes it much more than just winning an election for us."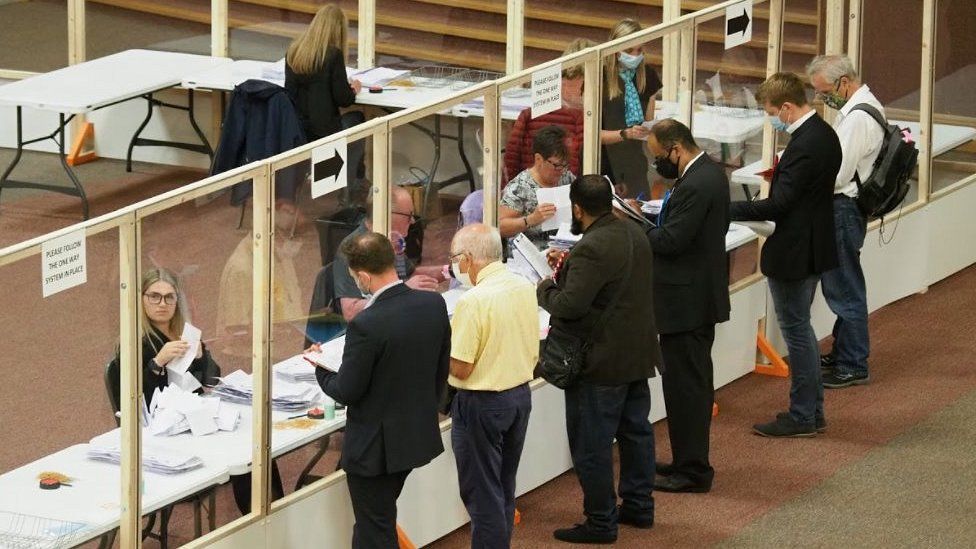 The one-way signs at the count's venue – a 1,500-capacity church and home of the Huddersfield Christian Fellowship – still showed directions for those heading for their Covid jab, which it had been used for before Thursday night.
Split into two giant pens, with candidates nervously patrolling a central reservation area, the counters patiently piled up the unusually long ballot papers, with 16 options available to those living in the West Yorkshire constituency.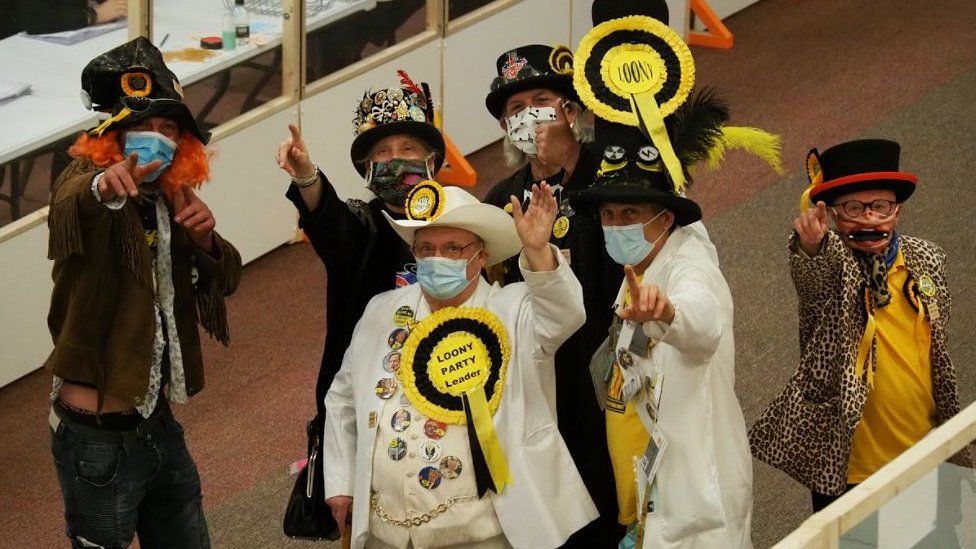 With a field of runners to rival the Grand National, it was the Labour candidate who won by a nose, or 323 votes, despite strong competition by Conservative Ryan Stephenson.
Mr Galloway said he would take legal action to get the result set aside, claiming his election effort had been damaged by a "false statement" that he had laughed while Ms Leadbeater was abused on the campaign trail.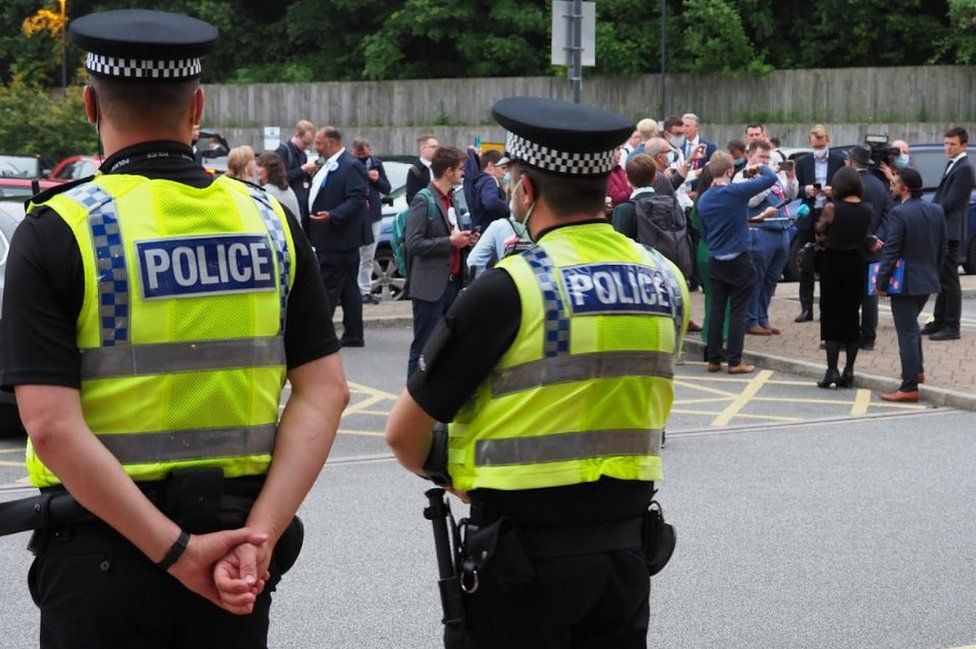 Speaking about his concerns during the campaign, Tom Gordon, Liberal Democrat candidate, said: "I don't think it felt particularly safe, the fact that we've got police at an election count is a new experience.
"I was doing an interview in a park in Batley and a man wearing a balaclava was filming us, which in itself is a little worrying and odd."
He said on Thursday night it was the first time he had seen police officers attend a count.
Corey Robinson, of the Yorkshire Party, said: "We saw people coming into the constituency both Kim and I grew up in and causing that division.
"It's not right and it's not what Batley and Spen needs."
Turnout was 47.6%, with some 37,786 verified ballots cast out of a total electorate of 79,373, Kirklees Council said.