Dozens have died as Canada sees a new record – 49.6C (121.3F) – for the third day in a row.
Canadian Prime Minister Justin Trudeau has offered condolences to the dozens of people who have died in a record-setting heatwave.
"Our thoughts are with people who have lost loved ones" to the heat, he said, calling the recent weather a reminder of the need to address climate change.
Abnormally high temperatures have been recorded across North America.
Mr Trudeau's comments come after Canada saw a new record – 49.6C (121.3F) – for the third day in a row.
"It's just unbearable. It's impossible to be out," one British Columbia resident told BBC News.
The heat over western parts of Canada and the US has been caused by a dome of static high-pressure hot air stretching from California to the Arctic territories. Temperatures have been easing in coastal areas but there is not much respite for inland regions.
The intense heat has "scorched bushes," says farmer David Mutz in Abbotsford, BC, who added that the heat had prevented his raspberries from turning red.
"They're just scalded from the UV and heat damage," he said about his sun-bleached fruit.
In Calgary, a worker installing air conditioning units says that typically the highest temperatures do not hit until later in the summer.
The rate of new installations "is about four times what we typically see," says Ryan Wandler.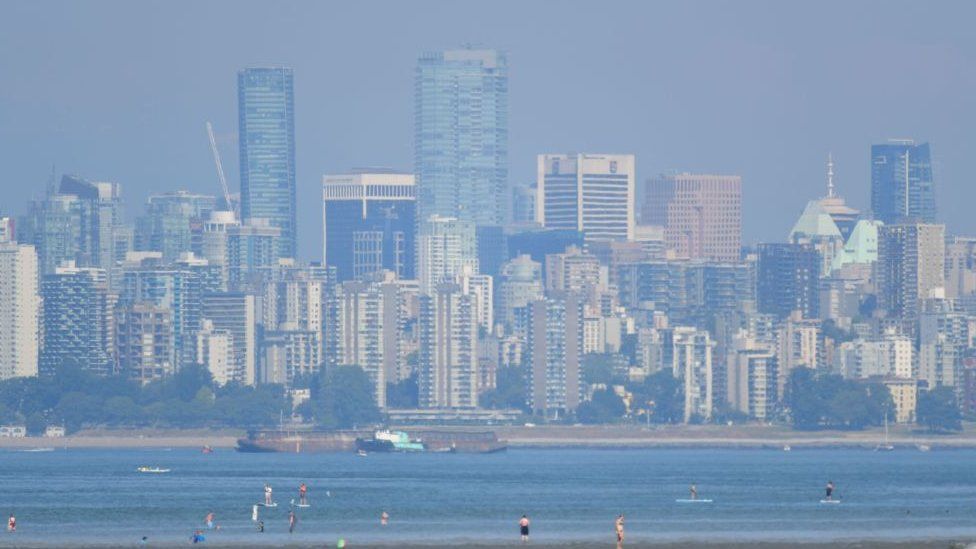 At an affordable housing event in Kanata, Ontario, Mr Trudeau paid tribute to the victims and described heatwaves as a growing problem.
"The federal government, as always, is here to help in any way we can," he said.
In Vancouver alone, heat is believed to have been a contributing factor in the unexpected deaths of 65 people since Friday.
Mr Trudeau said that prolonged periods of high temperatures had been growing more common in recent years, "so realistically we know this heatwave won't be the last".
He then went on to talk about Canada's commitment to combat climate change to "make our air, and our economy, cleaner for now and for future generations".
Canada's southern neighbour, the United States, has also seen extreme temperatures.
In the US Pacific Northwest on Monday, temperatures hit 46.1C in Portland, Oregon, and 42.2C in Seattle, Washington, the highest levels since record-keeping began in the 1940s, the National Weather Service said.
US President Joe Biden said this latest heatwave – that extended into Washington and Oregon – was linked to climate change in a speech on Tuesday.
However, linking any single event to global warming is complicated. Experts say climate change is expected to increase the frequency of extreme weather events, such as heatwaves.


I've heard from scientists who say that in just a few days they'll be able to determine just how much human driven warming has contributed to the searing temperatures seen in British Columbia.
One interesting piece of evidence is the lack of respite that night brings – recent temperatures at midnight in BC have been 2C warmer than the normal summer daytime figure.
Researchers say this combination of day and night-time heat is very dangerous for humans – a study published last year indicated that these compound events are closely linked to emissions of greenhouse gases.
Natural variability and local factors such as sea breezes can raise or limit the impacts of extreme heat. But the bigger picture is the rising thermometer of global heating is impacting all events.
"Every heatwave occurring today is made more likely and more intense by human-induced climate change," Dr Friederike Otto from the University of Oxford told the BBC.
"Climate change is definitely one of the drivers of the intensity of this Canadian heatwave – but it is not the only one and determining how much it impacts it, is a work in progress."
Even if they can't directly attribute this heatwave to climate change, experts say the fingerprints of global heating are all over it.

Both Mr Trudeau and Mr Biden have warned of another consequence of the heatwave – increased chances of wild fires.
On Wednesday Mr Biden met with governors of western US states and fire officials, as the annual North American wildfire season begins.
Mr Trudeau expressed a similar fear on Wednesday.
"The temperatures recorded this week are unprecedented. Lives have been lost and the risk of wildfires is at a dangerously high levels," he said.
Jodi Hughes, weather presenter at Global News Calgary, told the BBC that firefighters were extremely concerned at the possibility of wild fires, possibly sparked by thunderstorms that could occur as the weather pattern changes.
Across western Canada officials have reported dozens of sudden deaths linked to the extreme heat and at least a dozen deaths in Washington and Oregon are believed to be linked to the heatwave.
Deaths can in part be attributed to a lack of preparedness for such extreme temperatures.
Many homes in British Columbia do not have air conditioning as temperatures are usually far milder during the summer months.
One Vancouver resident told AFP news agency that hotels seemed to be sold out, as people flocked there for air-conditioning, adding: "I've never seen anything like this. I hope it never becomes like this ever again."
Officials in British Columbia have warned residents against leaving their doors open, after a spate of bears wandering into people's home.
In Vancouver, residents have reported car windows cracking and melting, even when they are not parked in the sun.
The city has seen 98 sudden deaths since Friday, with 53 recorded on Tuesday alone.
About two-thirds of the deaths have been in people over the age of 70, according to Vancouver police.
The country's weather service, Environment Canada, has issued heat warnings for the provinces of British Columbia and Alberta, along with areas of Saskatchewan, the Northwest Territories and Manitoba.
An electrical utility in Spokane, Washington, has also introduced rolling blackouts to cope with huge power demand as residents run air conditioners.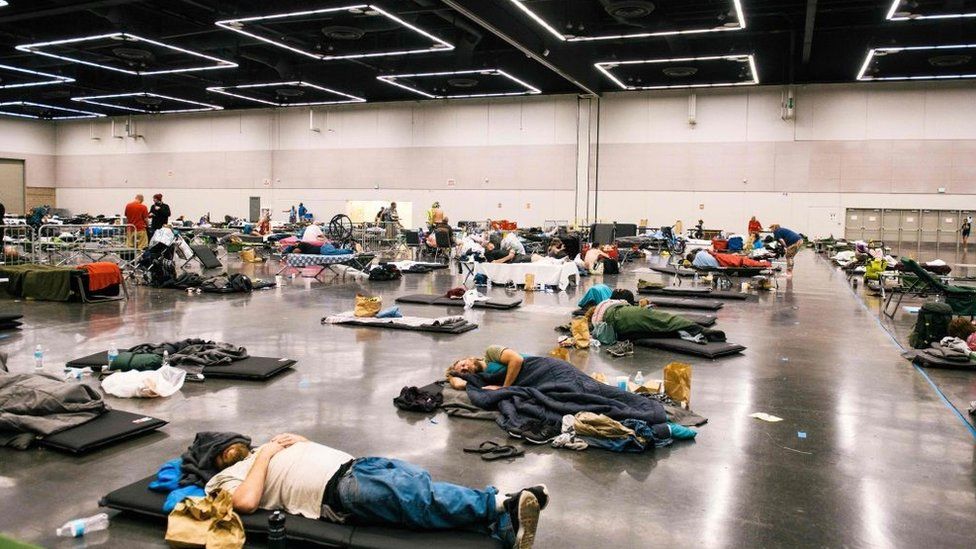 Amazon allowed members of the public into areas of its Seattle headquarters as a cooling-off location on Monday, while people in Portland also flocked to cooling centres.
The heat has been intense enough to melt cables, shutting down the Portland Streetcar Service on Sunday.
Mr Biden's comments about climate change on Tuesday came as he pitched his plan to update the country's infrastructure network.
Dozens of officers have been redeployed in the city, while the increased volume of emergency calls has created a backlog and depleted police resources.
Hospital officials have likened the surge in hospital visitations due to the heat to the early days of the coronavirus pandemic.
"The air is like fire," Sergiou Riverso told CTV News during a visit to Lytton, the Canadian village that recorded the all time highs.
"It's pretty crazy hot," added Lytton resident Erin Aleck.
"As soon as you come outside, it's like a punch in the throat," she said.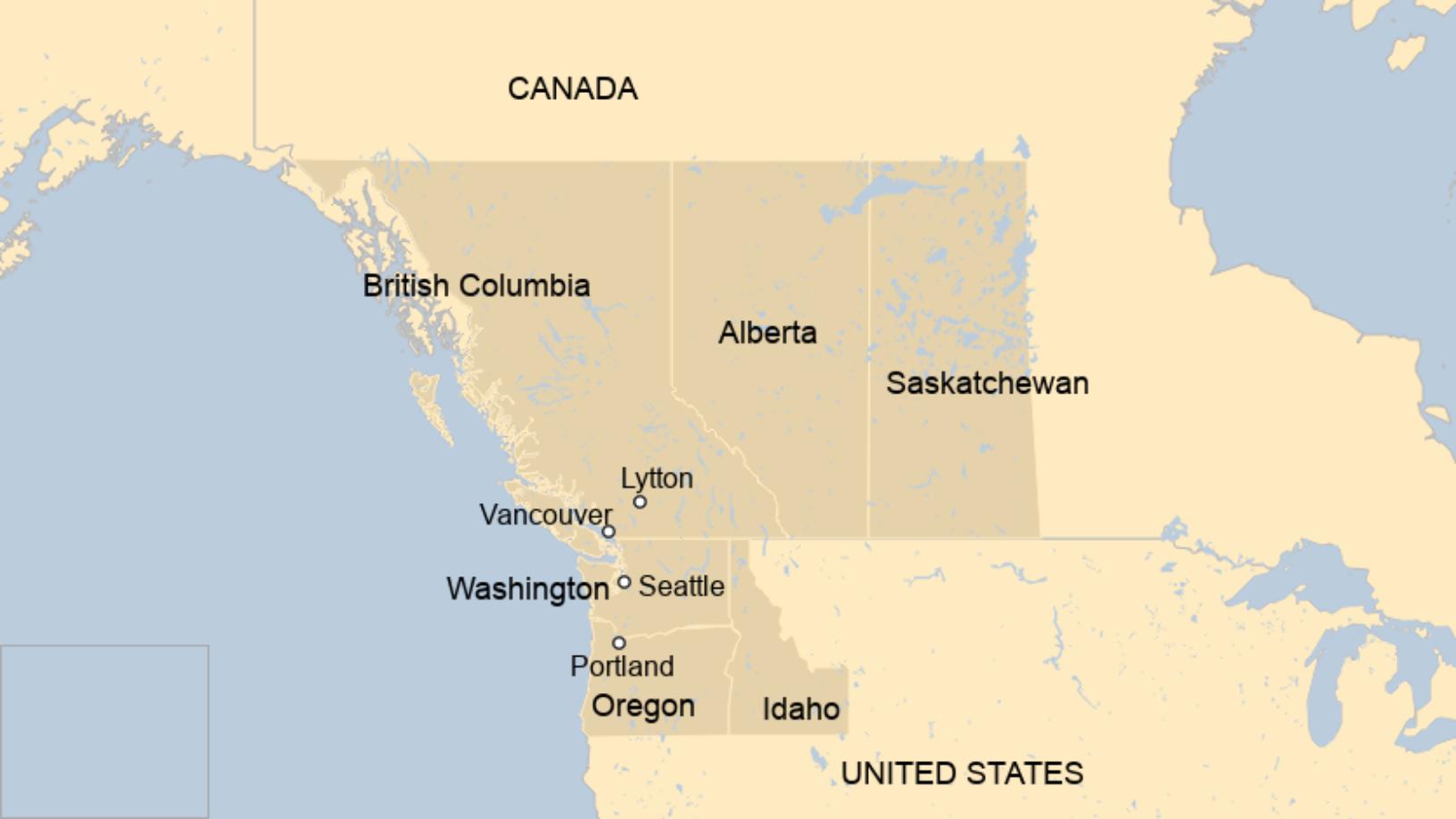 Have you been affected by the high temperatures? Share your experiences by emailing haveyoursay@bbc.co.uk.
Please include a contact number if you are willing to speak to a BBC journalist. You can also get in touch in the following ways:
If you are reading this page and can't see the form you will need to visit the mobile version of the BBC website to submit your question or comment or you can email us at HaveYourSay@bbc.co.uk. Please include your name, age and location with any submission.