Parents' frustration is mounting over the disruption to children's education and their own working lives.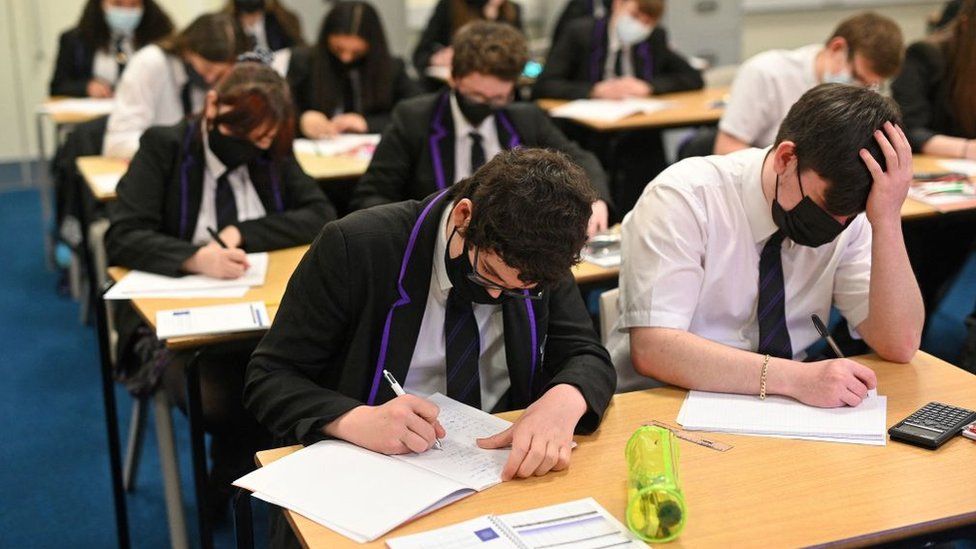 The Covid control system in England's schools, where groups of pupils have to self-isolate if one tests positive, could be scrapped in the autumn.
Ministers are looking at asking schools to introduce daily testing instead.
Official figures showed that in England alone this month, 172,000 children were self-isolating having potentially been in contact with a positive case in school.
Health Secretary Sajid Javid has pledged to address the issue.
Frustration among parents and teachers is building over the disruption because a rising number of children and their households currently have to quarantine.
The Department for Education said that in order to keep as many children in face-to-face classes as possible, it has written to secondary schools asking them provisionally to prepare for a change after the summer break.
England's Children's Commissioner Dame Rachel de Souza said there was an urgent need for children to get back to normal as lockdown restrictions had been a "real trauma" for many young people.
Grouping pupils into bubbles – often made up of their year group or form which has to quarantine when one child tests positive for Covid – should end as soon as possible, she told the Daily Telegraph.
Schools minister Nick Gibb told BBC Breakfast the government had brought in "important measures to help us deal with this pandemic" but would be looking at the data before making a decision on whether to end the self-isolation policy – and assess if bubbles were needed in future.
Daily on-site testing is currently being trialled in a small number of secondary schools and colleges.
The pilot scheme will end this week, and ministers are not expected to make a final decision on self isolation until the results have been examined.
But there is a recognition that any change must be announced before the end of term, so it can be implemented after the summer break.
Steve Chalke, founder of the academies group Oasis Schools, told BBC Radio 4's Today programme that 10% of his pupils – about 3,000 children – were currently off due to Covid, adding it was a "pretty alarming situation and we would say that something needs to be done about this now".


Like almost all responses to Covid, automatic self-isolation for pupils who come into close contact with an infected case has both costs and benefits.
When it was established in September it was considered vital to control cases and save lives.
But now vaccines offer the most vulnerable very good protection the benefits of the policy have been reduced.
Meanwhile, the costs have increased because greater numbers are being asked to self-isolate because we are more comfortable about letting Covid spread.
That's why many, from child health experts to teaching unions, are beginning to question the approach. The costs seem disproportionate to the benefits.
But the problem is that it's not clear what it can be replaced with. Rapid testing is being trialled in some secondary schools as an alternative to self-isolation, but we already know these tests have their limitations in terms of being able to spot infection.
Vaccinating children remains an option, but one that government advisers have yet to give the green light to. It is said to be a finely-balanced decision.
It is about finding the least worst option – and that is a very difficult task.

The policy, which sees children sent home for 10 days if they are classed as a close contact of a confirmed case, was established last September – well before the vaccines were rolled out.
Currently, for every one confirmed case there are more than 20 pupils isolating at home as a precaution.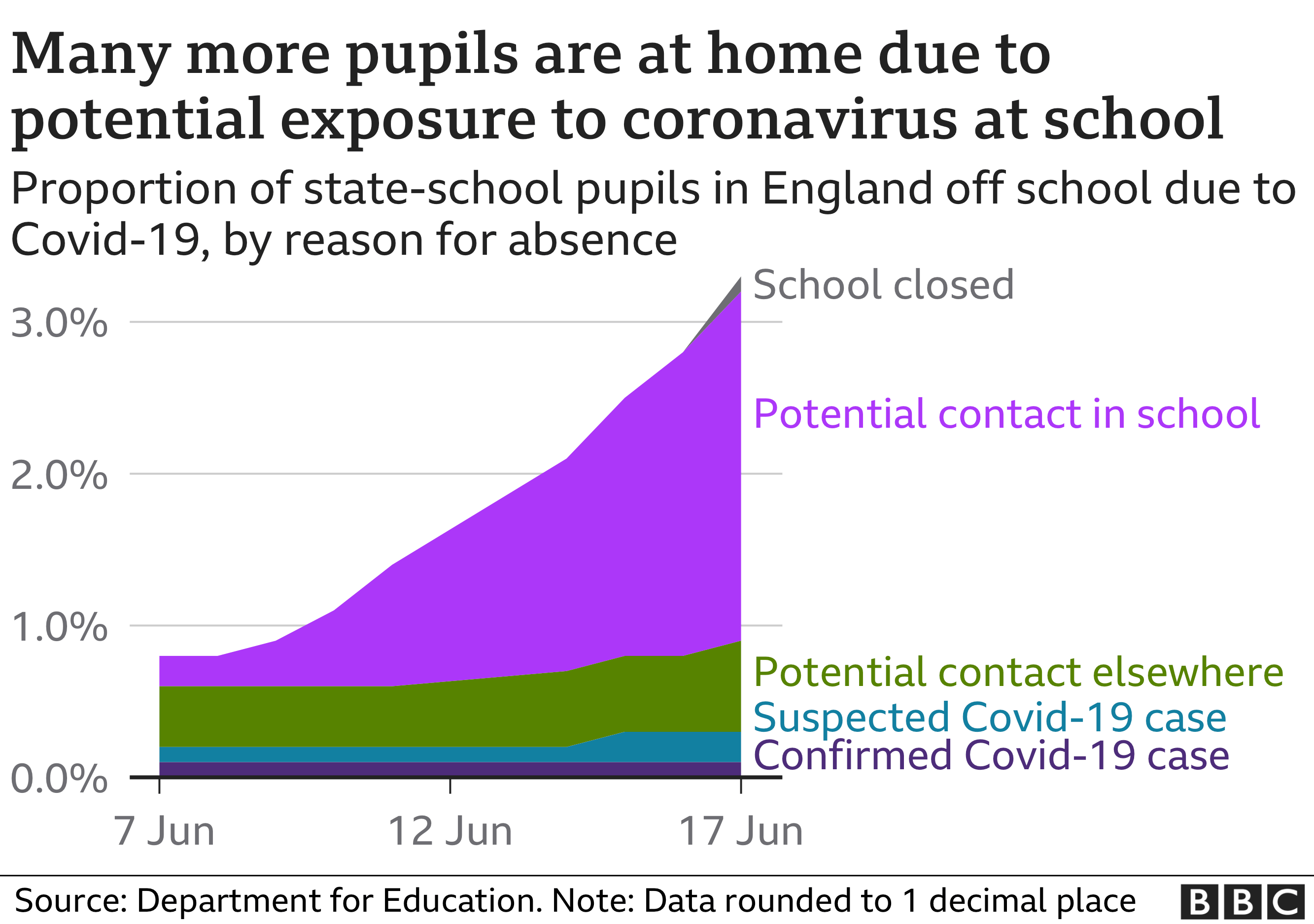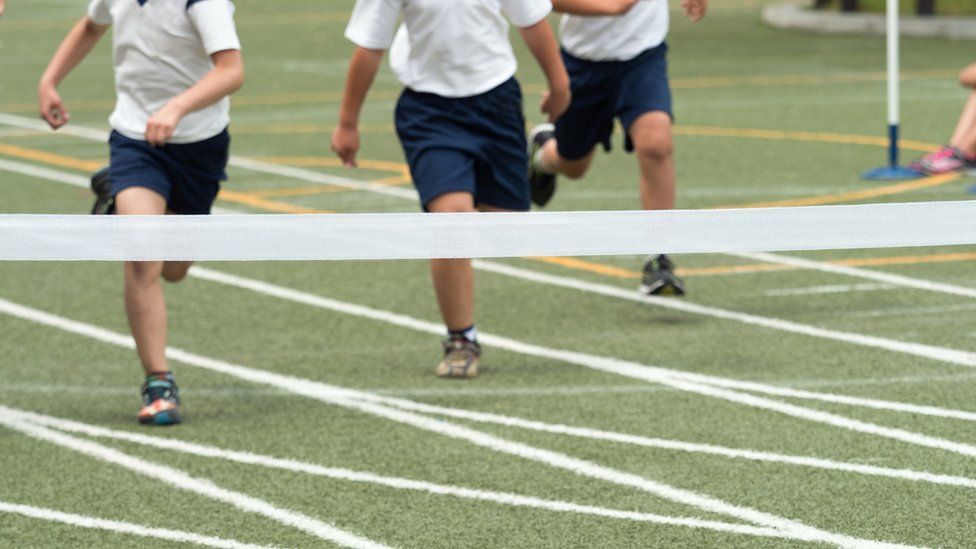 Nina Yates, a parent of two boys at primary school in Essex, is frustrated by the current rules on isolation which she says "make no sense".
After an email on Sunday evening telling her older son, in Year 6, to stay at home until next Tuesday because of a positive rapid test result in his class, she is angry.
As a single mother it's been a "logistical nightmare", she says, arranging for her sons to be looked after while she works.
Both boys share a bedroom – but that's also not supposed to happen if one is isolating.
"I'm stuck between a rock and a hard place," she says.
Nina says her son, who is in his last year at primary school, has "really missed out, particularly on all the inductions for secondary school".
"I feel like this summer term has just been written off."
Describing the tears and stress of home learning earlier this year, she adds: "He is so done with Zoom lessons."

Dr Sunil Bhopal, an expert in child health at Newcastle University, said suggested the guidance about what constitutes close contacts could be tightened so fewer children are asked to isolate.
Prof Russell Viner, from the Institute of Child Health at University College London, said: "If all adults are vaccinated, or we get close to it, we need to think carefully before we put restrictions on the one part of society – our children – that is not vaccinated."
Teachers are also questioning the current policies.
Geoff Barton, general secretary of the Association of School and College Leaders, said it was vital the disruption of the past year was brought to an end "as a matter of urgency".
Chris Dyson, head teacher at Parklands Primary school in Leeds, agreed, saying it was having a damaging effect on the children at his school.
He has recently had to shut one Year 5 class bubble of nine to 10-year-olds because of a positive case.
The children, who will miss extra summer activities like swimming and archery, are "devastated to be at home", he said.
Mr Dyson knows the impact on working parents after his own four-year-old daughter was also sent home from school to isolate.
"My wife who's also a teacher had to stay at home with her and couldn't work for three days," he says.
The Scottish government is reviewing its approach to self-isolation for school children, who return to lessons in August.
In Wales, the education minister has said he is looking at best practice to ensure the number of pupils isolating is not disproportionate.

Please include a contact number if you are willing to speak to a BBC journalist. You can also get in touch in the following ways:
If you are reading this page and can't see the form you will need to visit the mobile version of the BBC website to submit your question or comment or you can email us at HaveYourSay@bbc.co.uk. Please include your name, age and location with any submission.
The BBC is not responsible for the content of external sites.