The former chancellor replaces Matt Hancock, who quit after breaching Covid rules by kissing a colleague.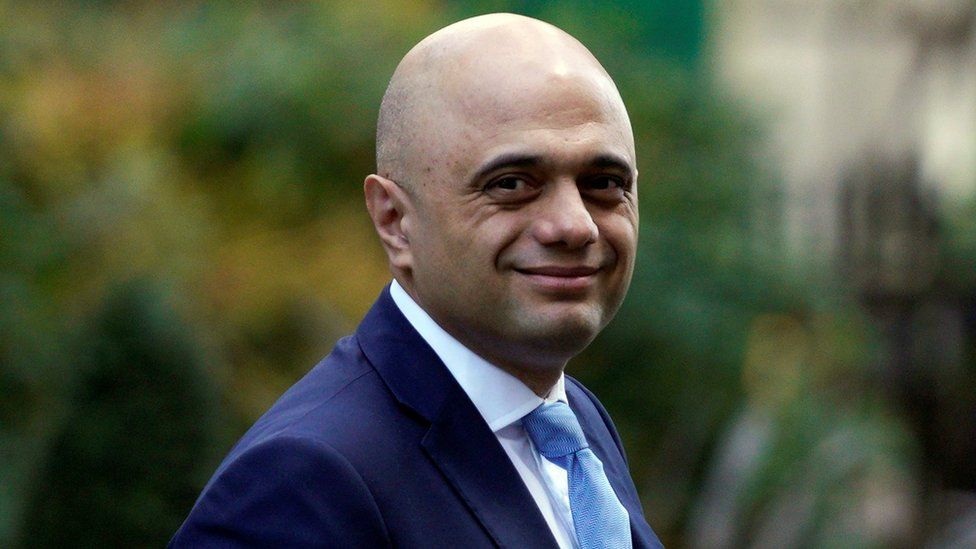 Sajid Javid has begun his job as health secretary after Matt Hancock resigned for breaching social distancing rules by kissing a colleague.
Mr Javid, who has held several key roles in government, said he was "honoured" to be asked to serve.
Labour has criticised the appointment, saying he had been an "architect of austerity" that weakened the NHS.
The newspaper said the images had been taken inside the Department of Health and Social Care (DHSC) on 6 May.
Following the revelations, a number of Conservative MPs, as well as Labour and the Covid-19 Bereaved Families for Justice group, had called for Mr Hancock to go.
Ms Coladangelo is also leaving her role as a non-executive director at the DHSC.
Mr Hancock has ended his 15-year marriage to his wife, Martha, and the relationship with Ms Coladangelo is understood to be a serious one.
Mr Javid's return to a senior cabinet role comes after he abruptly left government in February last year, a month before he was due to deliver his first Budget.
At the time, the prime minister ordered him to fire his closest aides and replace them with advisers chosen by Number 10 if he wanted to remain in post – conditions he said he was "unable to accept".
Mr Javid, who had clashed with the prime minister's former chief adviser, Dominic Cummings, chose to quit instead and was replaced by his former deputy at the Treasury, Rishi Sunak.
Following news of his new appointment, Mr Javid tweeted: "Honoured to have been asked to serve as Secretary of State for Health and Social Care at this critical time.
"I look forward to contributing to our fight against the pandemic, and serving my country from the cabinet once again."


It is, of course, stating the obvious to say Sajid Javid has a full in-tray as the new health secretary in England.
While we may be over the worst of the pandemic, there is still some way to go before life returns to normal.
For one thing hospital admissions for Covid are rising – not enough to overwhelm the NHS but enough to disrupt the recovery of other services like cancer care and routine surgery.
The NHS in England is also in the process of recruiting a new chief executive, while the UK Health Security Agency is being set up and absorbing some of the work of key agencies involved in the pandemic response, such as NHS Test and Trace and Public Health England.
Then there is the long-term reform of the NHS that was announced earlier this year, which is overhauling some of the management structures of the health service by creating integrated organisations bringing together hospital and community teams.
If that was not enough, there is growing pressure on the government to finally come up with plans for the funding of social care – something governments of all colours have been promising to do since the turn of the century.

In a video on Twitter explaining why he had resigned, Mr Hancock said he understood the "enormous sacrifices that everybody in this country has made, that you have made, and those of us who make these rules have got to stick by them and that's why I have got to resign".
In his resignation letter, he apologised to his family and loved ones for "putting them through this".
In response, the prime minister said Mr Hancock "should leave office very proud of what you have achieved – not just in tackling the pandemic, but even before Covid-19 struck us".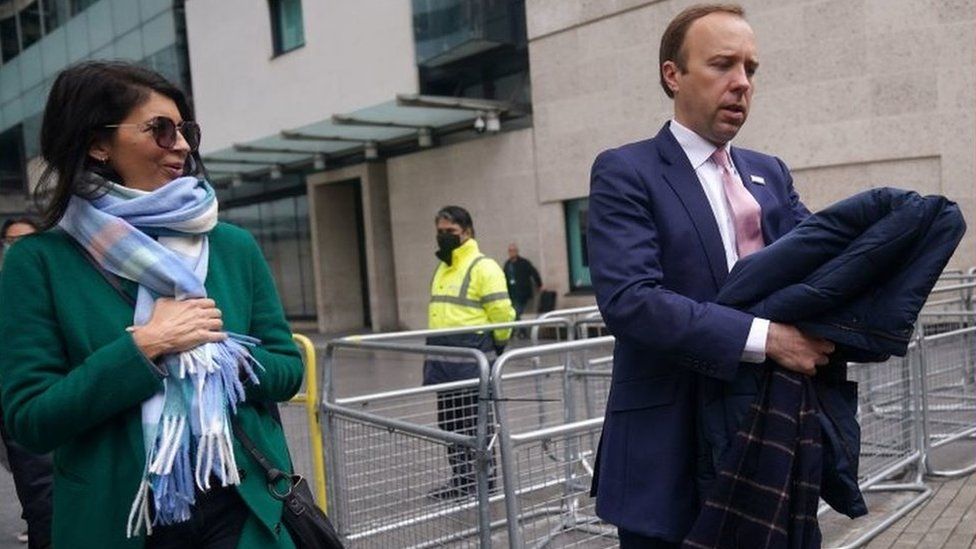 But Labour's shadow health secretary, Jonathan Ashworth, said the prime minister should have sacked Mr Hancock on Friday, when the revelations first emerged.
"Boris Johnson should have had the guts, the spine, the awareness, the judgement to sack [Matt Hancock] on Friday," he told BBC Breakfast on Sunday.
Mr Ashworth added that Mr Hancock's record on care homes, PPE, test and trace and sick pay for those isolating during the pandemic was "a damning legacy".
He also criticised Mr Javid's appointment, saying "given his record on austerity, it's a bit like putting fox in charge of the chicken coop".
Shadow housing secretary Lucy Powell told Sky News that Labour MP Fleur Anderson had referred Mr Hancock to the police to find out if any laws had been broken.
Meanwhile, Northern Ireland Secretary Brandon Lewis said the DHSC will investigate how the footage from Mr Hancock's office was leaked.
Speaking on Trevor Phillips On Sunday on Sky News, he said "it's something we need to get to the bottom of", adding that what happens in government departments can be "sensitive and important".
He also defended Mr Hancock's decision not to resign immediately, saying it was "a credit to Matt (Hancock) that his first thought is around making sure the country and the government can continue to do the work we need to do as we are moving out of the Covid pandemic".

Before serving as chancellor, Mr Javid was home secretary.
He has also led the housing, communities, business and culture departments.
One of his first jobs as health secretary will be to examine the data ahead of England's proposed end to Covid restrictions on 19 July.
Former health secretary Jeremy Hunt described his appointment as an "excellent choice", saying it was the best possible news for social care because his time at the Department for Communities and Local Government meant he "gets it".