Police are treating the blaze at Graeme Stewart's property in Fortrose Gardens, Motherwell as suspicious.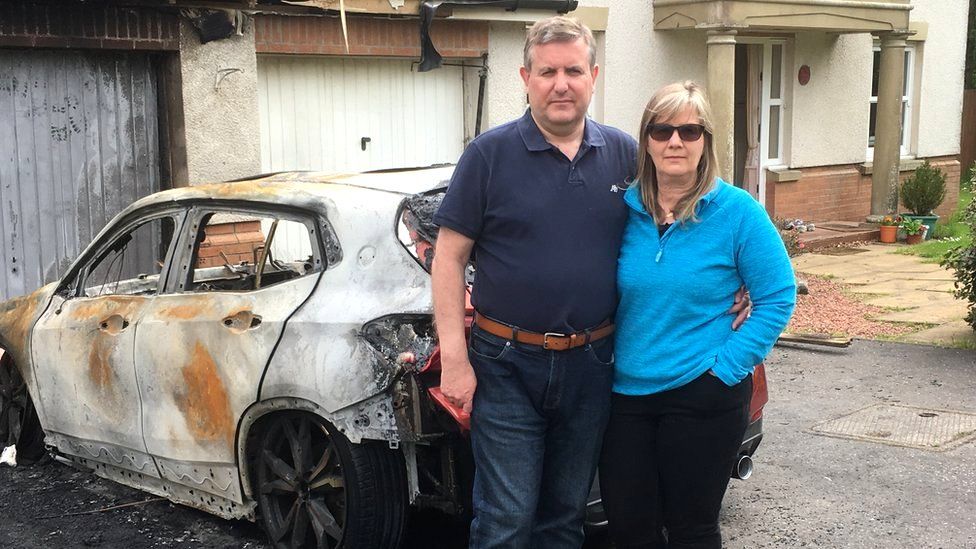 A councillor's home and cars have been set on fire in South Lanarkshire following multiple similar attacks.
Police are treating the blaze at Graeme Campbell's property in Fortrose Gardens, Strathaven, as suspicious following reports at about 00:20 on Saturday.
It is the third time Mr Campbell has been targeted since 2019, when he claimed he was "lucky to be alive".
The Conservatives have blamed organised crime for the "disgusting" attack.
Police said that in the latest attack, both cars had been set alight, resulting in the house also catching fire. No-one was injured.
A spokeswoman said inquiries were ongoing after the cars and house sustained "significant damage".
A man in dark clothing was seen in the area around the time the fire started.
Detectives are also checking for CCTV footage which could assist in the investigation and urged anyone with information to contact Police Scotland's non emergency line.
Det Ch Insp Martin McGhee said: "I would ask any motorists or taxi-drivers with dashcam devices to check their footage as the device may have captured images which could assist our investigation.
"Any small piece of information could assist us in identifying who is responsible for this attack."
Mr Campbell, of the Conservatives, was elected in 2007 to represent the Avondale and Stonehouse ward.
In 2019 he claimed his car was deliberately set on fire because of a planning case he had been working on for 18 months.
The car was burnt out and damage was also caused to another car on the drive and to the garage.
At the time Mr Campbell said he knew who was behind the attack and that he and his wife Fiona were "lucky to be alive".
Last year, two of his cars were also vandalised with a corrosive substance.
Russell Findlay, community safety spokesman for the Scottish Conservatives said the latest attack could have been fatal, calling it "disgusting and cowardly".
He said: "I will be seeking assurances from the Scottish government, Crown Office and Police Scotland that this attack is investigated to the fullest possible extent.
"There must be zero tolerance towards any attack of this nature.
"Organised criminals prey on communities across Scotland. Fire is indiscriminate and even where the intent is to intimidate, it can kill."