He says he shares Labour's values and that the government "needs to be replaced".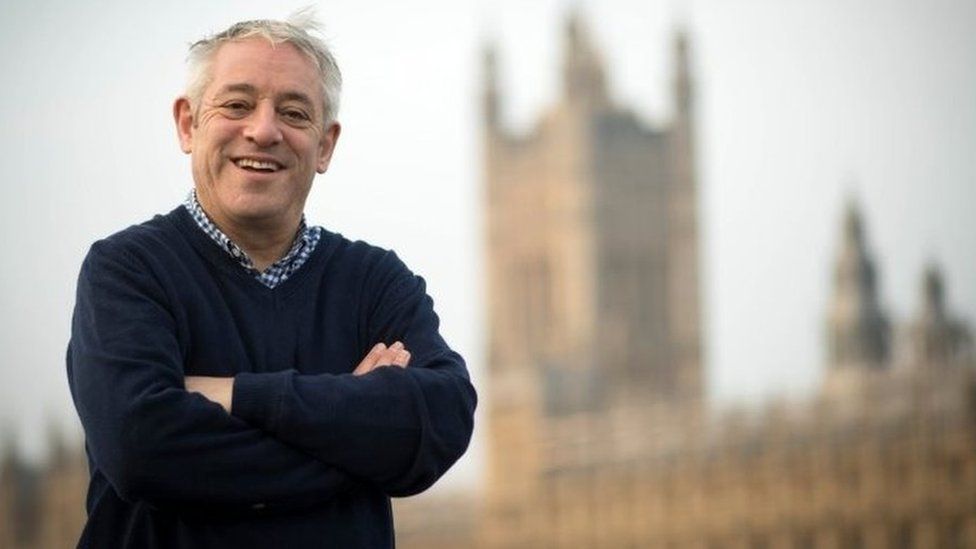 Former Speaker of the House of Commons and Tory MP John Bercow says he has changed allegiances to join Labour.
He told the Observer the Conservatives under Boris Johnson were "reactionary, populist, nationalistic and sometimes even xenophobic".
The government "needs to be replaced", said Mr Bercow, who made controversial procedural decisions over the Brexit process during his time as Speaker.
A senior government source said: "This will surprise nobody."
It "shows Labour is still the party of Remain", the source added.
Mr Bercow stood down as Speaker in October 2019 after a decade in the job.
During this time he gave unprecedented powers to backbenchers to hold ministers to account.
He also had several run-ins with the Conservative Party, including in 2015 when he survived an attempt by Conservative whips to oust him just before the election.
The role of Speaker has to be politically impartial, so on his election in 2009 Mr Bercow had to resign from the Conservative Party. He had been a Tory MP for 12 years.
In an interview with the Observer, Mr Bercow said: "I am motivated by support for equality, social justice and internationalism. That is the Labour brand.
"The conclusion I have reached is that this government needs to be replaced. The reality is that the Labour Party is the only vehicle that can achieve that objective. There is no other credible option."
He told the newspaper he joined the party a few weeks ago.
On his retirement as Speaker, Downing Street refused to put forward Mr Bercow's name for consideration for a peerage by the House of Lords Appointments Commission. Instead, the Labour opposition nominated him.
He said it was "blindingly obvious" that there was a "concerted campaign" to prevent him from being given a peerage.
Asked if there is the possibility of being recommended for a peerage by Labour leader Sir Keir Starmer, Mr Bercow told the Observer: "There has been no such discussion and I have asked for no such thing.
"This isn't about revenge. That is not what motivates me."
John McDonnell, Labour's shadow chancellor under Jeremy Corbyn, said Mr Bercow had been "scrupulously fair" in his treatment of MPs, including the former Labour leader.
"He won our respect, especially for his fight to protect the rights of Parliament," he said. "I wholeheartedly welcome him into the Labour Party."
The Labour leader's office declined to comment.
Tory pensions minister Guy Opperman said: "Labour are welcome to Bercow."
In response to Mr Bercow's interview, a senior government source said: "The prime minister has an ambitious agenda to build back better from the pandemic and level up across the UK."
The source said the impact of the pandemic had "forced us to take tough but necessary decisions on how we spend taxpayers' money".

2014: He enrages David Cameron and his allies when he cuts him off during Prime Minister's Questions and tells him to sit down
2015: He survives an attempt by Conservative whips to oust him just before the election
2017: He suggests Donald Trump is not welcome in Parliament during state visit
2018: He is accused of calling cabinet minister Andrea Leadsom a "stupid woman" in the Commons
2019: He is accused of "unilaterally changing" parliamentary rules after a row over a government Brexit defeat