Thousands of Scotland fans are enjoying the atmosphere in London ahead of the game against England.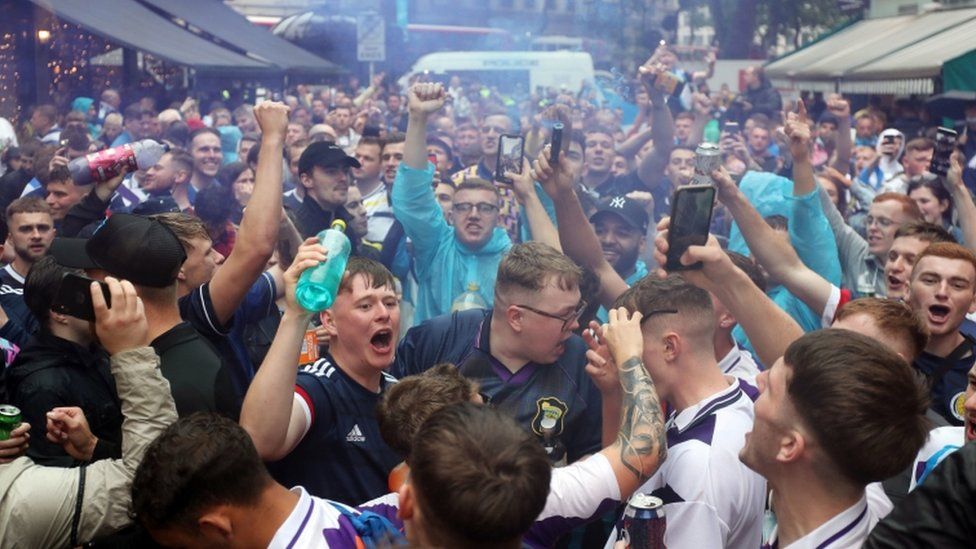 Thousands of Scotland fans have gathered in pouring rain in central London ahead of the team's Euro 2020 clash with England.
Many fans have travelled despite warnings they should not go to London unless they have a match ticket.
Scotland were only allocated about 2,600 tickets due to Covid restrictions, and no fan zone has been set up.
The match at Wembley Stadium kicks off at 20:00.
Large groups of supporters wearing kilts, Scotland shirts and flags have been chanting, singing and playing bagpipes at Leicester Square, King's Cross and Hyde Park.
Estimates that 20,000 Scotland fans would travel south for the match have been been described as "very conservative" by a London Assembly member.
A dispersal order has been issued for central London, giving the police extra powers to break up groups of people where they believe their behaviour is causing a nuisance, harassment or distress.
There have been no reports of any significant disorder – although there have been claims on social media that some fans have been singing offensive anti-English songs.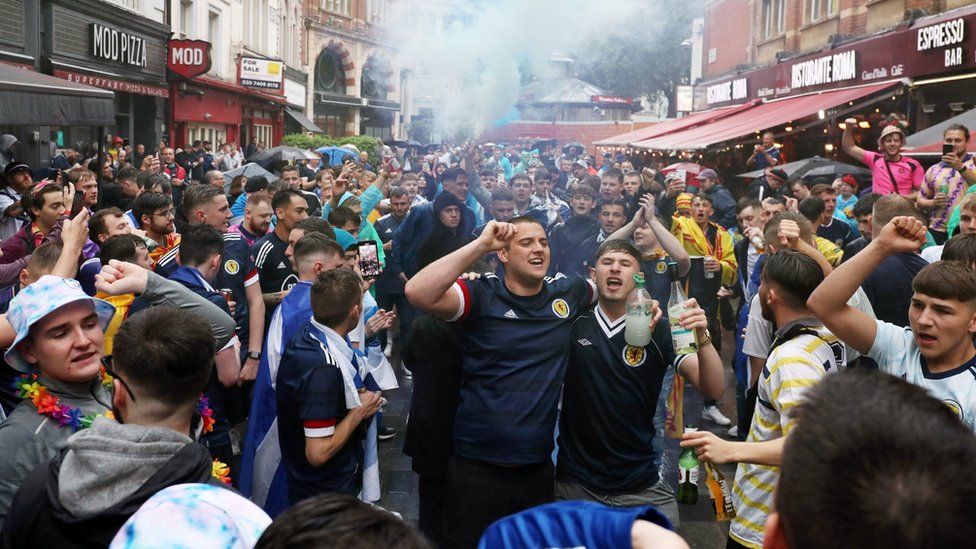 First Minister Nicola Sturgeon has urged fans to "be respectful to our hosts" in London, and said they should not behave in a way that was going to make the Covid problem worse.
She also said she would "abhor and condemn unreservedly" any anti-English behaviour.
Ali Brawley, 55, from Galston in East Ayrshire, said he had arrived with a group of friends in London at midnight on Wednesday, and had spent the time since "sightseeing" around the city's pubs.
Mr Brawley and his friends will be watching the game from a pub which they booked, but he believes it would have easier for fans – and the police – if there had been a dedicated fan zone for the Tartan Army.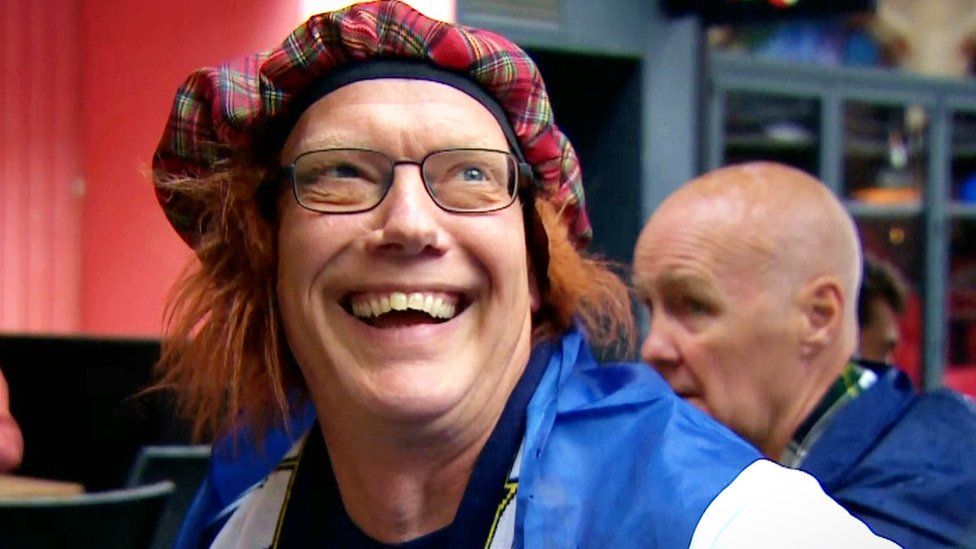 He added: "We had our first train cancelled, our hotel closed last week for refurbishment – we had to rebook the hotel. We just thought we weren't getting to get here.
"The organisation has been horrendous because of Covid, it's been tough to try and get somewhere to watch the football.
"I do believe they should have had big screens, herd us all together so we're all in the one place but now all the Scots are going to be everywhere."
Scotland fan Michael McLean, from Inverness, told BBC Scotland he had decided to travel after booking travel and accommodation several months ago.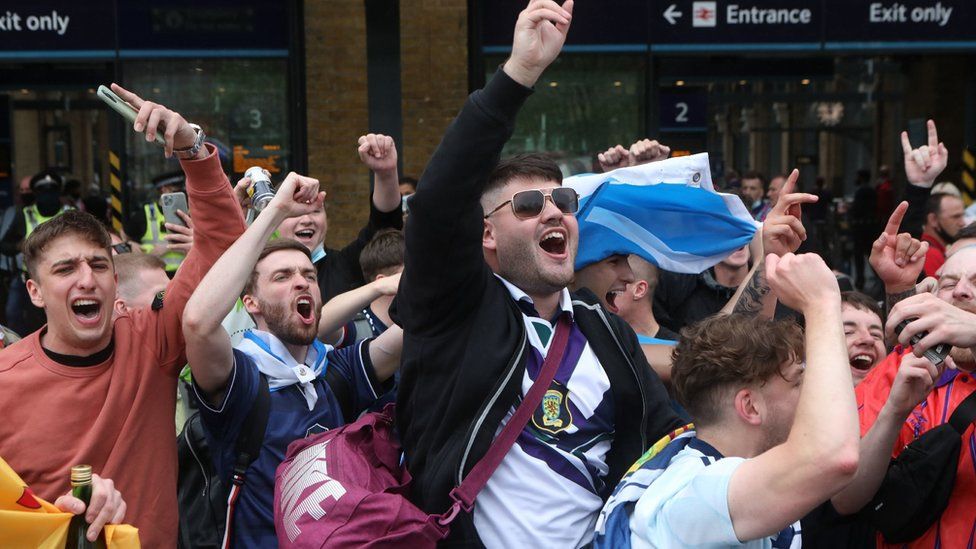 "It's an amazing atmosphere so far. I think it seems that they've underestimated how many would travel down for the game," he said.
"It feels like a normal football occasion. It doesn't feel like there's a pandemic on, which I don't think is good in a way, but it's definitely good to enjoy an occasion after a year-and-a-half."
Mr McLean said the trains had been packed on the way down, with crowds of Scottish fans gathering and chanting outside King's Cross station on Thursday afternoon.
He told BBC Radio Scotland's Drivetime he had heard London Mayor Sadiq Khan's pleas for fans to stay away, but said much of the travel he had booked was non-refundable.
"£600 in total for all of us would be a lot to lose just to decide not to go down. Fair enough if it was refundable – but I don't want to lose the money."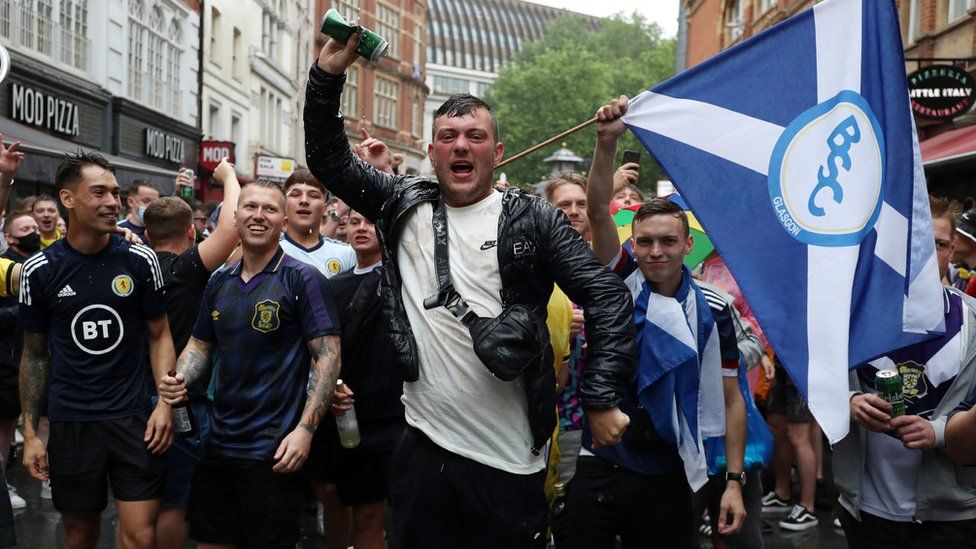 "We've had a steady flow of fans trains heading south for the game at Wembley," he said.
"The trains to London have been very busy over the last two or three days but we have been a wee bit quieter today.
"We are still telling passengers if you are heading for London please book your ticket in advance, please have a seat reservation because the trains are very busy ahead of the match."
He said that a queueing system was in place for the day for football fans both for London and for tonight's game at Hampden between the Czech Republic and Croatia.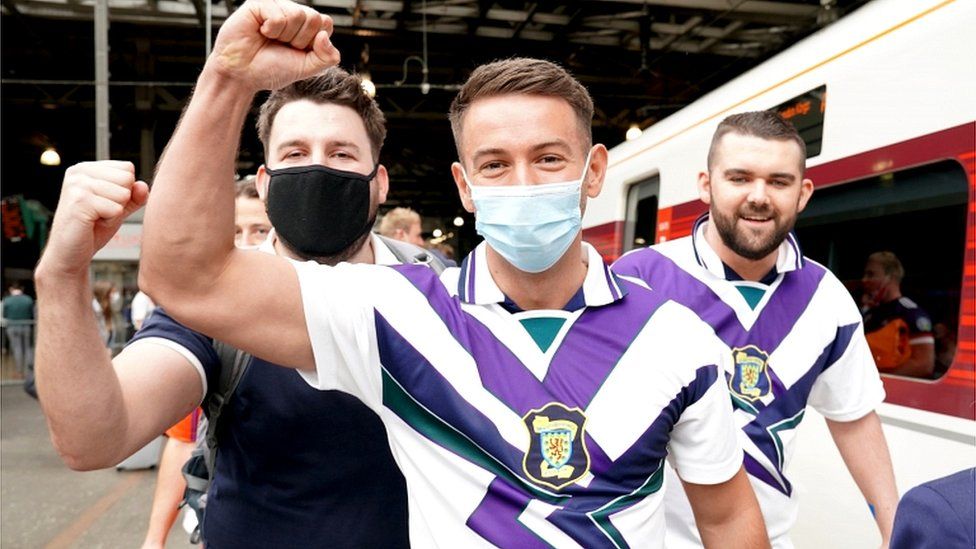 Scotland lost their first game 2-0 against the Czech Republic on Monday.
Wembley and Hampden are among 11 venues across Europe hosting the games in the tournament, which was delayed for a year because of the pandemic.
Scotland have never made it past the group stage before, but the top two – or possibly three – teams will go through to the knockout phase.
After the match at Wembley, Croatia will visit Hampden on Tuesday for Scotland's second match on home soil.
Emma Best, a member of the London Assembly and the Conservative group's spokeswoman on health, said she believed an estimate that 20,000 Scotland fans would travel might turn out to be a "very conservative" estimate.
Asked about plans for fans to gather unofficially in Hyde Park, Ms Best said: "I think it is concerning and we do need to do what we can to control the Delta variant.
"Like it or not, Scottish fans – and we must say English fans as well from across the country – will be in London in their thousands and so we do need a plan to manage that as carefully as possible."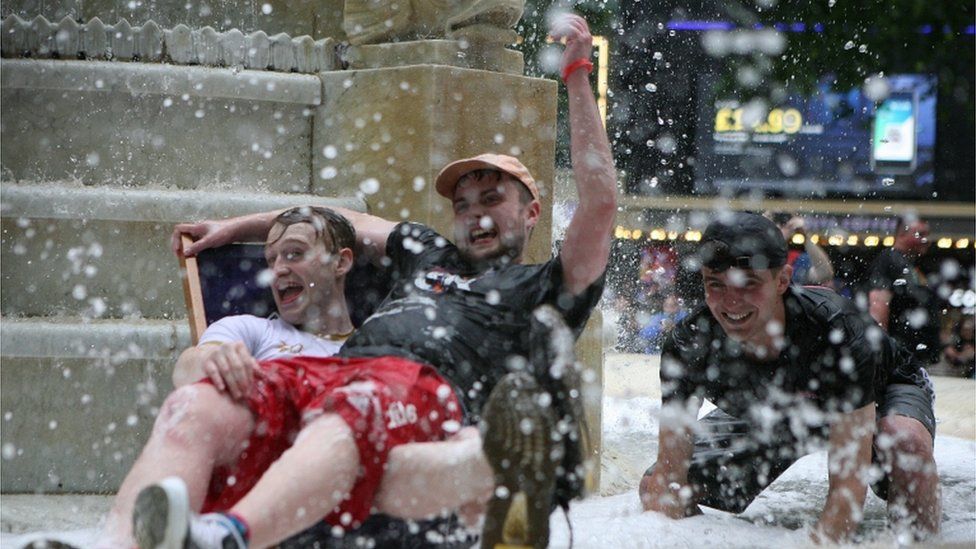 But Ms Best added that the Tartan Army had been creating a "really good-natured atmosphere" throughout the city.
"The Boogie song is being played everywhere I've been walking. It's a lovely atmosphere and you could be forgiven for thinking we are not still in the midst of a pandemic, and I I think that sums it up.
"What a shame that we can't have this match in normal times and really enjoy this occasion, but we are where we are and I do hope it's as safe as it can be."
Wembley will be open at 25% capacity for the match, with supporters having to show either proof of vaccination or a negative lateral flow test before entry.
Pubs and bars in London are also expected to limit numbers allowed in.

Where are you watching the Euros this evening? Have you set up camp at home or away? Were you lucky enough to secure stadium tickets? Please share your stories and pictures with us.
You can now get in touch with BBC Scotland on the phone messaging service, WhatsApp.