The government is accused of breaching the Equality Act by failing to provide sign language interpreters.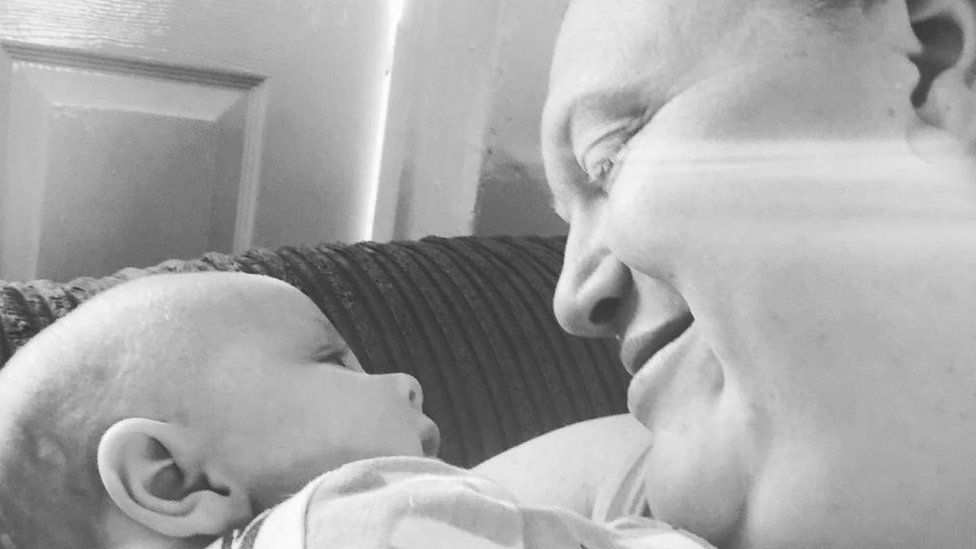 A deaf campaigner is taking legal action against the government, after complaining that it failed to provide in-person British Sign Language (BSL) interpreters at No 10 Covid briefings.
Katherine Rowley, 36, from Leeds, says the government breached its obligations under the Equality Act to make broadcasts accessible to deaf people.
She says the failure to convey vital facts led to "stress and frustration".
The government said it was "committed to supporting disabled people".
A spokesperson said BSL interpretation of the No 10 coronavirus briefings was available on the BBC News Channel and BBC iPlayer, which could be accessed via Freeview.
"We continue to work across government to ensure that information and guidance is fully accessible," he added.
Ms Rowley was 25 weeks pregnant when she started the claim for a Judicial Review, which will focus upon two Covid briefings in September and October 2020.
During those two briefings there was no sign language interpreter at all, either in person or superimposed by broadcasters.
She says the stress she suffered in being unable to access government information during the briefing, impacted on her pregnancy and her wellbeing.
Speaking to the BBC through an interpreter, Ms Rowley said: "It was frustrating. Why wasn't there an interpreter on the television?
"It's important to get that information – the world should know – and for me, on my own, where is that information?
"I feel ashamed – I'm deaf, I can't access information – but really it isn't my fault, not at all."
At the High Court on Wednesday, Ms Rowley's barrister Catherine Casserley argued there has not been a BSL interpreter present in the room with the speakers at any of the UK government Covid briefings in England, unlike in Scotland and Wales.
She said providing "on-platform" interpretation would have been more inclusive than broadcasters superimposing an interpreter, because it means the sign language is visible wherever and whenever footage of the briefing is shown.
The government was failing to meet the obligations of equality legislation and it should be ordered to provide on-platform legislation, Ms Rowley's barrister said. She is also seeking compensation for injury to feelings, the barrister added.
Zoe Leventhal, the barrister representing the Cabinet Office, said the claim should be dismissed.
She said "damages for injury to feelings" were "not merited here".
Mr Justice Fordham, who oversaw the online trial with sign language interpreters, said he would deliver a ruling at date to be determined later.
The High Court heard that there are 70,000 deaf people in England who use British Sign Language.
Ms Rowley's solicitor Chris Fry said he is also representing 350 other deaf people who have made similar claims to Ms Rowley, but their cases are on hold until this one is decided.
Many who use BSL as their first language say they cannot rely on subtitles because the average reading age for deaf people is nine years – much lower than those in the hearing population.
"I have dyslexia myself – I am a slow reader – so that means when I was reading the subtitles, I would miss so much information and [it] would just mess up my head. It would be so difficult – it became impossible," Ms Rowley told the BBC.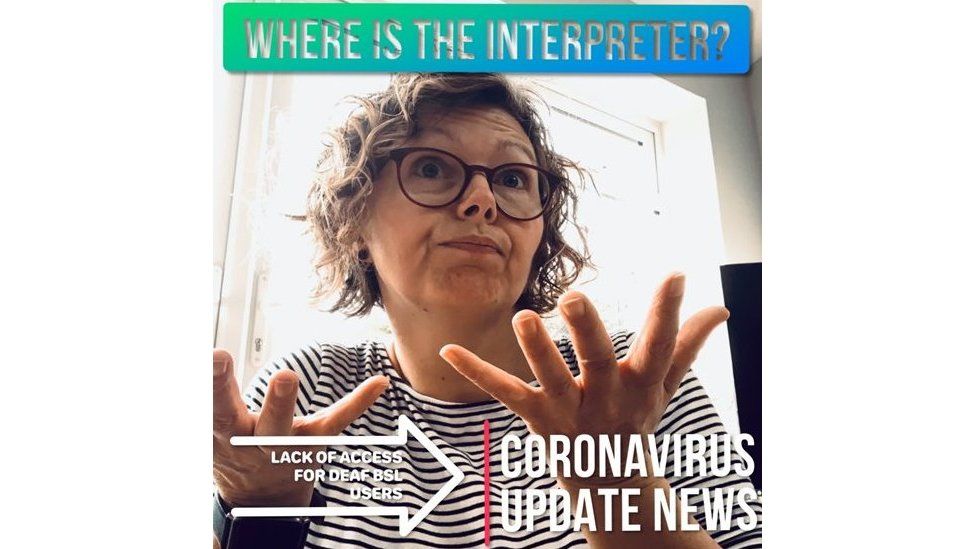 Lynn Stewart-Taylor started the #WherestheInterpreter campaign after the first Covid briefing in March 2020.
Despite watching it, she said she came away with nothing of what had been said, as there was no interpreter.
"Lots and lots of other countries have managed to get the interpreter in the same room. It's accepted that members of the deaf community get the information at the same time as the hearing members of the community.
"We seem to be the only country that haven't been able to make that happen and we feel very separated and segregated.
"We don't feel accepted, we don't feel that our language is respected and recognised. It's almost as if we don't exist."
Mr Fry, the solicitor representing hundreds of deaf people in their claims, said: "Ensuring that information is provided in an accessible format can rarely be more important than in the midst of a pandemic.
"This case has brought deaf people together in the most remarkable way to challenge the government to do better, and to fulfil what we say are its obligations under the Equality Act."
Amanda Casson-Webb, joint chief executive of the Royal Association for Deaf People, said this was the first time the deaf community had joined forces to litigate a Judicial Review on the provision of sign language interpreters.
A government spokesperson said: "We are committed to supporting disabled people through every stage of this pandemic and have established BSL interpretation at the No 10 press conferences via the BBC News Channel and iPlayer, available on all TV packages as part of Freeview.
"The BBC has also made their video feed for the BSL interpreter available to all other broadcasters and for use on No 10 social channels."
But deaf people supporting the Judicial Review say having an in-person interpreter at briefings avoids any technical issues and ensures that a BSL-interpreted version is available on any channel.