Reports claim the French president had said Northern Ireland was not a part of the UK.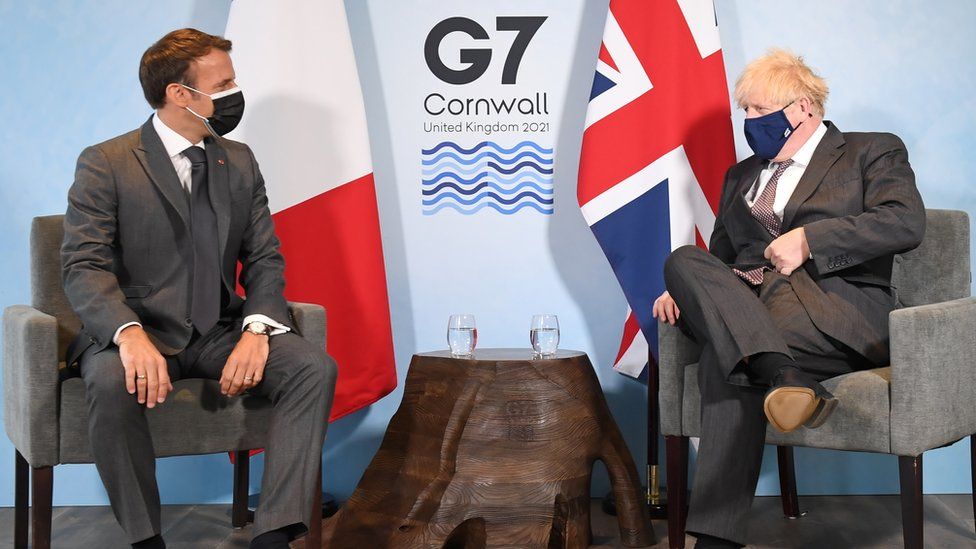 Foreign Secretary Dominic Raab says a comment by the French president, reportedly claiming Northern Ireland is not part of the UK, is "offensive".
Emmanuel Macron is alleged to have made the remark during a G7 summit meeting.
The Telegraph said Boris Johnson was "infuriated" by the words, after asking Mr Macron how he would feel if sausages from Toulouse could not move to Paris.
Mr Raab said EU figures had for "years" characterised Northern Ireland "as somehow a separate country".
The row comes amid ongoing problems with the post-Brexit Northern Ireland Protocol.
The policy was designed to ensure a border would not be introduced on the island of Ireland to protect the Good Friday Agreement – and sees Northern Ireland continue to follow many of the EU rules on trade.
But as a result, it created a regulatory border in the Irish Sea, leading to additional checks on items moved between Great Britain and Northern Ireland.
So-called "grace periods" were introduced after the post-Brexit trade deal came into force, allowing goods to continue to move as normal while people adjusted to the new way of working.
But as it stands, controls will be introduced from July on chilled meat products like sausages and mince – effectively banning them from entering Northern Ireland unless the UK agrees to match EU standards on its products.
The UK has already unilaterally extended some grace periods – leading to legal action from the EU.
Ahead of meetings at the G7, top EU official Maros Sefcovic said the bloc's patience was "wearing thin" with the UK, insisting it needed to follow the rules it agreed on the Northern Ireland Protocol.
But Mr Johnson told the BBC there was "quite a lot of misunderstanding around the EU about the situation in Northern Ireland [and] the balance of the Good Friday Agreement" and he hoped the two sides would find "pragmatic solutions".