The health secretary accuses the PM's former aide of briefing journalists against him last year.
Matt Hancock has said he knew Dominic Cummings wanted him to be fired as health secretary last year.
Appearing before MPs, Mr Hancock accused the PM's former aide of briefing journalists against him.
He also rejected a string of accusations levelled at him by Mr Cummings about his handling of the Covid pandemic.
He insisted he had always had the "wholesome support" of Boris Johnson.
In his own appearance before MPs last month, Mr Cummings said he had repeatedly called on Mr Johnson to sack Mr Hancock.
The aide said Mr Hancock should have been fired for "15 to 20" different things, accusing him of lying to the PM on several occasions – something Mr Hancock has firmly denied.
Asked on Thursday whether he knew Mr Cummings had wanted him gone, Mr Hancock replied: "Yes, because he briefed the newspapers at the time."
He then added: "Somebody briefed the newspapers – I now have a better idea of who it was."
He said he had "no idea" why Mr Cummings appeared to have so much animosity towards him, but he took a swipe at Mr Johnson's former top aide, who left Downing Street in December after losing an internal power struggle.
"I think the best thing to say about this, and this will be corroborated by lots of people in government, the best thing to say, is that government has operated better in the past six months."

While Dominic Cummings tried to skewer Matt Hancock with attacks on his ability and competence, Hancock is trying to side-step any mention of the former adviser.
He is relying on the backing of the PM for cover and trying to diminish the impact of Cummings at the time.
Responding to Cummings' claim that the 100,000 a day testing target was "criminal", Hancock says he put himself "on the line" by setting it and on the advice of his team.
But the MPs questioning him want to know why others in government were so sceptical. Hancock is taking full responsibility for it.
"I've never been to business school" he says, under pressure to explain why he set the target.
But he insists it was the right decision to force Whitehall to ramp up capacity.

Mr Hancock also denied an accusation from Mr Cummings that he had blamed initial difficulties in buying protective equipment during the pandemic's first wave on Chancellor Rishi Sunak and NHS England chief Sir Simon Stevens.
Mr Hancock said this was "not a fair recollection of the situation," adding he had asked the chancellor to remove a price cap on buying kit, which Mr Sunak then "rapidly" agreed to do.
He said he could not "recall" whether Mark Sedwill, the UK's most senior civil servant at the time, launched an investigation into the matter – another claim by Mr Cummings.
He once again rejected Mr Cummings's claim that he had lied to the PM that hospital patients were being tested before being discharged into care homes.
He told MPs he had pledged patients "would be tested" once enough testing capacity had been developed – and had delivered on this promise.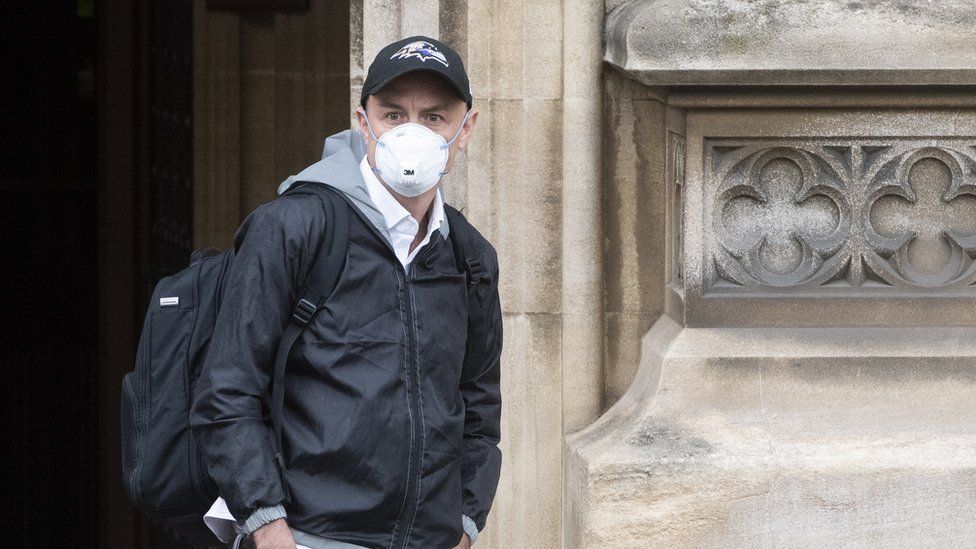 The health secretary also defended the government's initial advice to care homes that Covid testing would not be required before they could receive patients from hospitals.
Adding that ministers had always "followed the clinical advice," he said that early on in the pandemic there were worries that testing asymptomatic people could provide "false assurance" due to incorrect negative results.
He also added clinicians were worried about people picking up Covid in hospitals during the 4-day turnaround period to receive a laboratory test result.
However, Mr Hancock said he "bitterly regrets" not pushing back harder against initial scientific advice that Covid was unlikely to spread asymptomatically.
He said he had asked scientists in January to look into evidence from China that the virus could transmit in this way – but was told during a World Health Organization call this was "highly likely" to have been down to "translation issues".
He added he had an "instinct" the advice was wrong, but said it was hard to overturn this when "you don't have the evidence that you're right, and the scientific consensus is wrong".
Mr Hancock is giving evidence to the Commons health and science committees, as part of their joint inquiry into the government's handling of the pandemic.
But he added that they had not yet received any, "nor any explanation" from Mr Cummings. Mr Hancock told the committee this was very "telling".