Greek fifth seed Stefanos Tsitsipas beats Russia's Daniil Medvedev to set up a French Open semi-final against Germany's Alexander Zverev.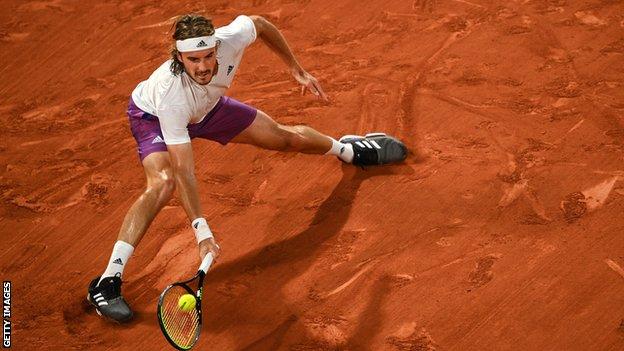 Medvedev opted for an underarm serve on match point – which Tsitsipas dubbed "a very millennial shot" after putting it away to seal a 6-3 7-6 (7-3) 7-5 win.
It ended Medvedev's surprisingly deep run on clay and put Tsitsipas into a third straight Grand Slam semi-final.
Tsitsipas, 22, faces German sixth seed Alexander Zverev in the last four.
Zverev advanced to the last four for the first time with a 6-4 6-1 6-1 win over Spain's Alejandro Davidovich Fokina, who later said he had been hampered by a back injury.
Like Tsitsipas, Zverev is also aiming to win his first Grand Slam by lifting the title in Paris on Sunday.
"It is very nice to be in the semi-finals but just being there doesn't satisfy me," Zverev, 24, said.
"I am playing pretty OK and hope to play the same way – and even better – in the semi-finals."
Tsitsipas keeps a cool head for rare win over Medvedev
After Zverev's victory, attention swiftly turned to the highly-anticipated evening match between Tsitsipas and Medvedev, whose contrasting personalities on and off the court have added to a burgeoning rivalry.
A fast-paced match packed with beautiful shot-making, energetic rallies and momentum swings – even before that sensational moment which enabled Tsitsipas to secure victory – ensured the pair delivered a compelling contest.
Second seed Medvedev, 25, had won six of their seven previous meetings, but has never felt as comfortable on the surface as his opponent.
Tsitsipas has won three of his seven ATP titles on the red dirt, including Monte Carlo and Lyon this year, while Medvedev had not won a match at Roland Garros until this year.
The Greek looked intent on making a fast start and suffocated Medvedev in an opening set which he won with a minimum of fuss.
Another break early in the second set seemingly put Tsitsipas in command, only for the Russian to shift momentum back his way – almost out of nowhere – to level and then tee up two set points at 5-4.
Medvedev had a look at a second serve on the first but hit a weak backhand into the net, then pushed a forehand wide as the chances were lost.
After Tsitsipas dominated the tie-break for a two-set lead, Medvedev rallied in the third by breaking for a 3-2 advantage before the Greek fought back again.
Frustration bubbled over as the set began to slip away from Medvedev, who told the umpire at 5-4 that "If I lose the match it is your fault" after a dispute over a flashing scoreboard where the Russian felt he should have got another first serve.
But he could only blame himself when he blew a 40-0 lead on serve in the final game and allowed the Greek to secure victory with a passing backhand following his misjudged underarm serve and volley.
"That was the most important game of the match. I was trying to stay mentally there, mentally conserved. I didn't give up. I could have easily given up and thought about the tie-break but I stayed there," said Tsitsipas, who has dropped only one set in the tournament.
"I'm happy I came through it.
How Medvedev's 'tactic' on final point backfired
Medvedev said his decision to go for the underarm serve was a not a "mistake", it was something he "dared" to do.
He had approached the net, aiming to finish the point with a volley, but Tsitsipas read it too quickly and fired past him.
"I was thinking about it during the whole match, like that maybe in the important point I could do it because my opinion that he was quite far back in the court, so that can always work," the Russian said.
"But I didn't see the opportunity before, and this one I felt that he was kind of on top of me, so I thought it's going to be a good choice to bring him surprise.
"But well, it didn't work out at all. He had an easy ball to finish. He made it. But again, as I say, it was tactical."
"Maybe next time I won't do it knowing that he's read [it]."
Zverev still looking for improvement after one-sided win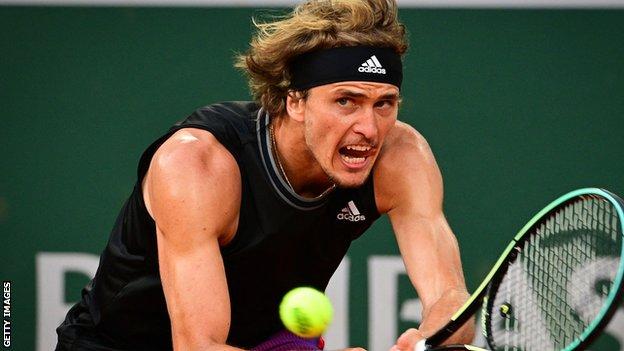 Zverev has long been touted as a future Grand Slam champion, coming the closest to achieving it when he lost to Dominic Thiem in the 2020 US Open final after leading by two sets.
With Tsitsipas able to stop him reaching a second major final, plus the prospect of facing Novak Djokovic or Rafael Nadal in Sunday's showpiece, there is still a tricky path ahead for the German.
Those opponents are likely to provide many more problems than 46th-ranked Davidovich Fokina, who produced an error-strewn performance.
Afterwards the 22-year-old told Spanish journalists the back injury had left him unable to put on his socks on the morning of the match.
Neither man could find fluency in a low-quality opening set and both struggled on serve.
The pair landed less than 45% of their first serves and shared seven breaks, with the set tipping in favour of Zverev when his opponent meekly surrendered again in the 10th game.
After exchanging holds in the first two games, Zverev won the next seven games to clinch a two-set lead and go a break ahead in the third.
Confidence had long been drained from the Spaniard, who looked to be struggling physically and mentally, as Zverev continued to be ruthless.
Heavy and precise hitting from the back of the court enabled him to win what proved to be the final four games, landing a perfect backhand winner to claim victory in one hour and 36 minutes.
"After the first set, I think my baseline game improved a lot and I started dominating the points a lot more," said Zverev.
"In the beginning I don't think I played that well. I think I can play a lot better."