The Lagan Valley assembly member will replace Arlene Foster, who was ousted as DUP leader in April.
Lagan Valley assembly member Paul Givan has been announced as Northern Ireland's new first minister.
Edwin Poots, NI's agriculture minister, replaced her as DUP leader amid tensions within the party.
Mr Givan had been widely tipped to replace Mrs Foster. He was first elected to the Northern Ireland Assembly in 2010, and, aged 39, he will be Northern Ireland's youngest first minister.
The fact that the appointment is taking effect from Monday will allow Mrs Foster to remain as first minister during the British-Irish Council in County Fermanagh on Friday.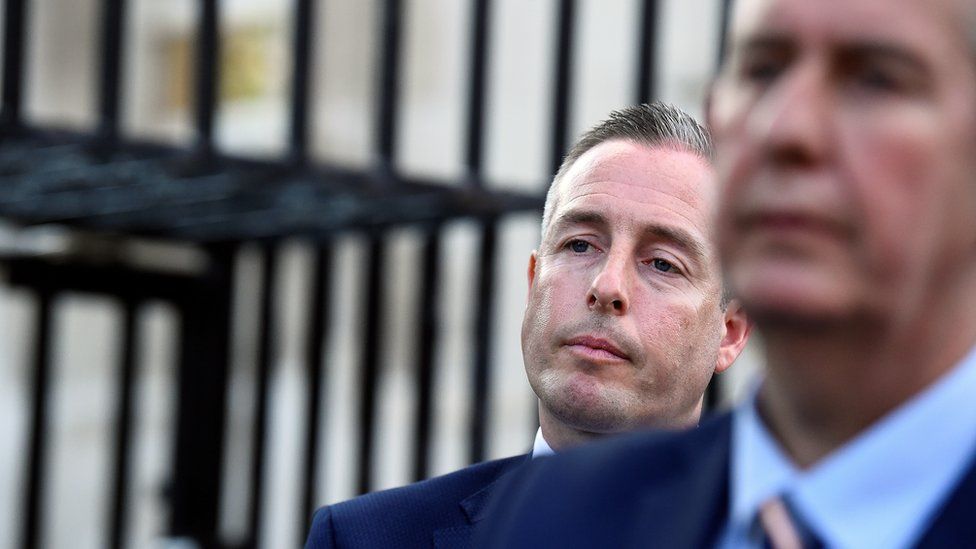 Mr Givan said there was a "huge responsibility that comes with the position".
"We have a huge task when it comes to tackling our waiting lists and we need to get to work," he said.
"What we now need is an effective transition that needs to take place next week so that we have that smooth delivery of governance."
Mr Givan said it was a huge task to follow DUP founder Ian Paisley, and his successors Peter Robinson and Arlene Foster, whom he referred to as "giants".
On Tuesday, Mr Poots also made the following ministerial announcements:
Foyle MLA Gary Middleton will be junior minister in the executive office
Strangford MLA Michelle McIlveen will be education minister, replacing Peter Weir
North Antrim MLA Paul Frew will be economy minister, replacing Diane Dodds

Paul Givan was one of the early names to be tipped for the post of first minister in the eventuality of Edwin Poots winning the DUP leadership contest.
He has previously served as a special adviser to Mr Poots, both when he was minister for the former Department of Culture, Arts and Leisure and when he was environment minister.
His own assembly career began in 2010, when he was co-opted in the Lagan Valley constituency to replace Sir Jeffrey Donaldson, who became an MP.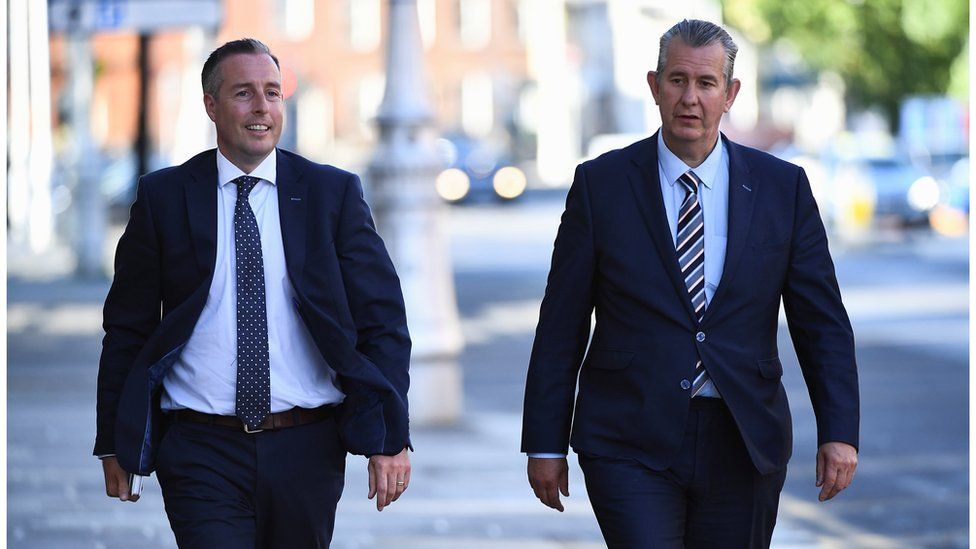 Prior to his appointment as first minister, he was chairman of the justice committee, although he has now been replaced in that role by Mervyn Storey.
He became communities minister in 2016, with his time in the post cut short by the collapse of Stormont in January 2017.
Mr Givan found himself at the centre of a political row in 2016 over his decision to cut funding for an Irish language scheme.
He has also previously supported schools teaching the theory of creationism.
Mr Givan endorsed Mr Poots' bid for leadership of the DUP.

The ministerial appointments have been made against a backdrop of tension within the party over the manner in which Mrs Foster was ousted, and the direction of Mr Poots' leadership.
DUP councillors Glyn Hanna and Kathryn Owen have resigned, along with others in the party's South Down association.
Mr Hanna said there was a "culture of fear" in the party and claimed he witnessed "bullying" at last month's meeting of the DUP executive, during which Mr Poots' election as DUP leader was ratified by party members.
He alleged that people who had put their hands up at the meeting in support of a secret ballot on the leadership were told to put them down.
That claim was backed up by party member Roberta McNally, who was also at the DUP executive meeting and has also resigned.
DUP deputy leader Paula Bradley, however, said she did not see this happening
On Tuesday, outgoing ministers Diane Dodds and Peter Weir criticised the ministerial appointments on Twitter as not showing signs of healing. Mrs Dodds' tweet was retweeted by Mrs Foster and Sir Jeffrey, while Sir Jeffrey also retweeted Mr Weir's comments.
SDLP leader Colum Eastwood said the changing political personnel in the executive will make "no difference to the lives of people across Northern Ireland unless there is a marked change in approach to government".
"The faces may be changing but the people in power are still the same. The DUP and Sinn Féin have been joint heads of government for 14 years. We have already started to see a lurch back to the same old politics of division and deadlock."
During a number of appearances in Stormont's Great Hall on Tuesday, Mr Poots also announced the following committee and assembly appointments:
Deputy leader Paula Bradley will remain as communities committee chairwoman
Gordon Lyons will be vice-chairman of the health committee
Jonathan Buckley and David Hilditch will be chair and vice-chairman of the infrastructure committee
William Irwin will be vice-chairman of the audit committee
Pam Cameron will be the chairwoman of the assembly and executive review committee
Meryvn Storey will be chairman of justice committee
South Belfast MLA Christopher Stalford would be the principal deputy speaker in the assembly
Tom Buchanan will be vice-chairman of procedures
Keith Buchanan will be chairman of the finance committee
William Humphrey will be chairman of the public accounts committee