G7 finance ministers have agreed to work together to create a "level playing field" on global taxation.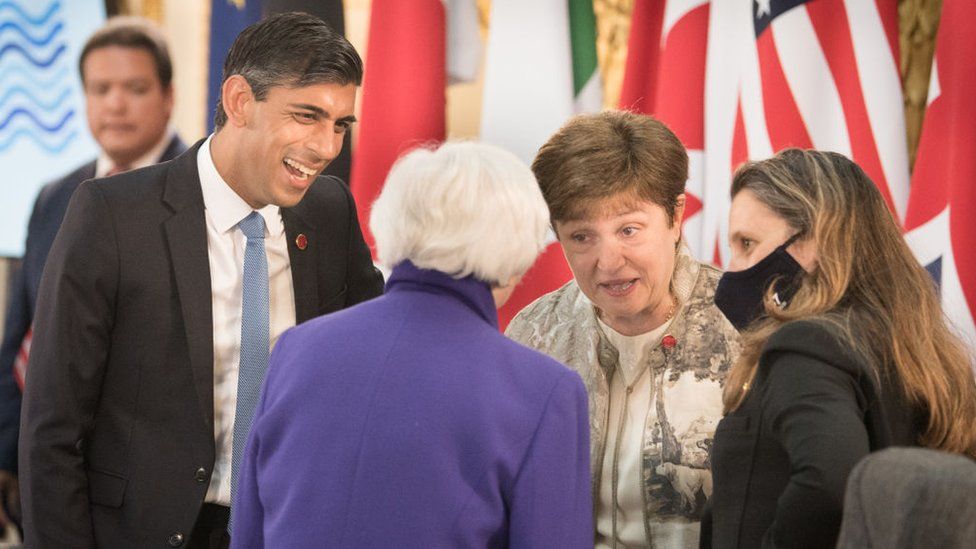 The G7 group of advanced economies has reached a "historic" deal on taxing multi-national companies, the UK's Chancellor of the Exchequer, Rishi Sunak says.
Finance ministers meeting in London agreed to commit to the principle of a minimum corporate tax rate of 15%.
Tech giants such as Amazon and Google could be among the companies affected.
The move could see billions of dollars flow to governments to pay off debts incurred during the Covid crisis.
Mr Sunak said the agreement was designed to create a level playing field for global companies.
"After years of discussion, G7 finance ministers have reached a historic agreement to reform the global tax system to make it fit for the global digital age," he said.
Governments have long grappled with the challenge of taxing global companies operating across many countries.
That challenge has grown with the boom in huge tech corporations like Amazon and Facebook.
At the moment companies can set up local branches in countries that have relatively low corporate tax rates and declare profits there.
That means they only pay the local rate of tax, even if the profits mainly come from sales made elsewhere. This is legal and commonly done.
The deal aims to stop this from happening in two ways.
Firstly, the G7 want a global minimum tax rate so as to avoid a "race to the bottom" where countries can undercut each other with low tax rates.
Secondly, the rules will aim to make companies pay tax in the countries where they are selling their products or services, rather than wherever they end up declaring their profits.