Chris Hopson says vaccines seem to have "broken the chain" between infection and serious illness.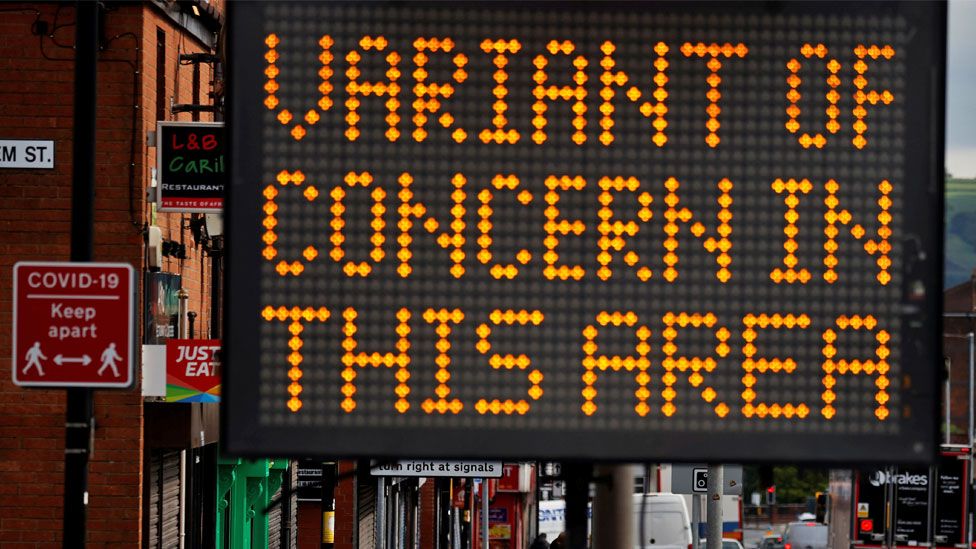 The number of people in hospital with the Covid variant now known as Delta is rising but not "very significantly," the boss of NHS Providers has said.
Chris Hopson said many of those in hospital in Bolton – the area worst hit by the variant – were younger, with "very few" fully vaccinated patients.
He said this appeared to show vaccines had "broken the chain" between infection and serious illness.
But a scientist pointed to "concerning signs" of the variant's spread.
Mr Hopson was speaking to BBC Breakfast a day after the latest national coronavirus statistics showed that there had been 6,238 new positive cases, and that daily rate has doubled in just three days.
That surge is being driven by the increased transmissibility of the Delta variant, which was first identified in India.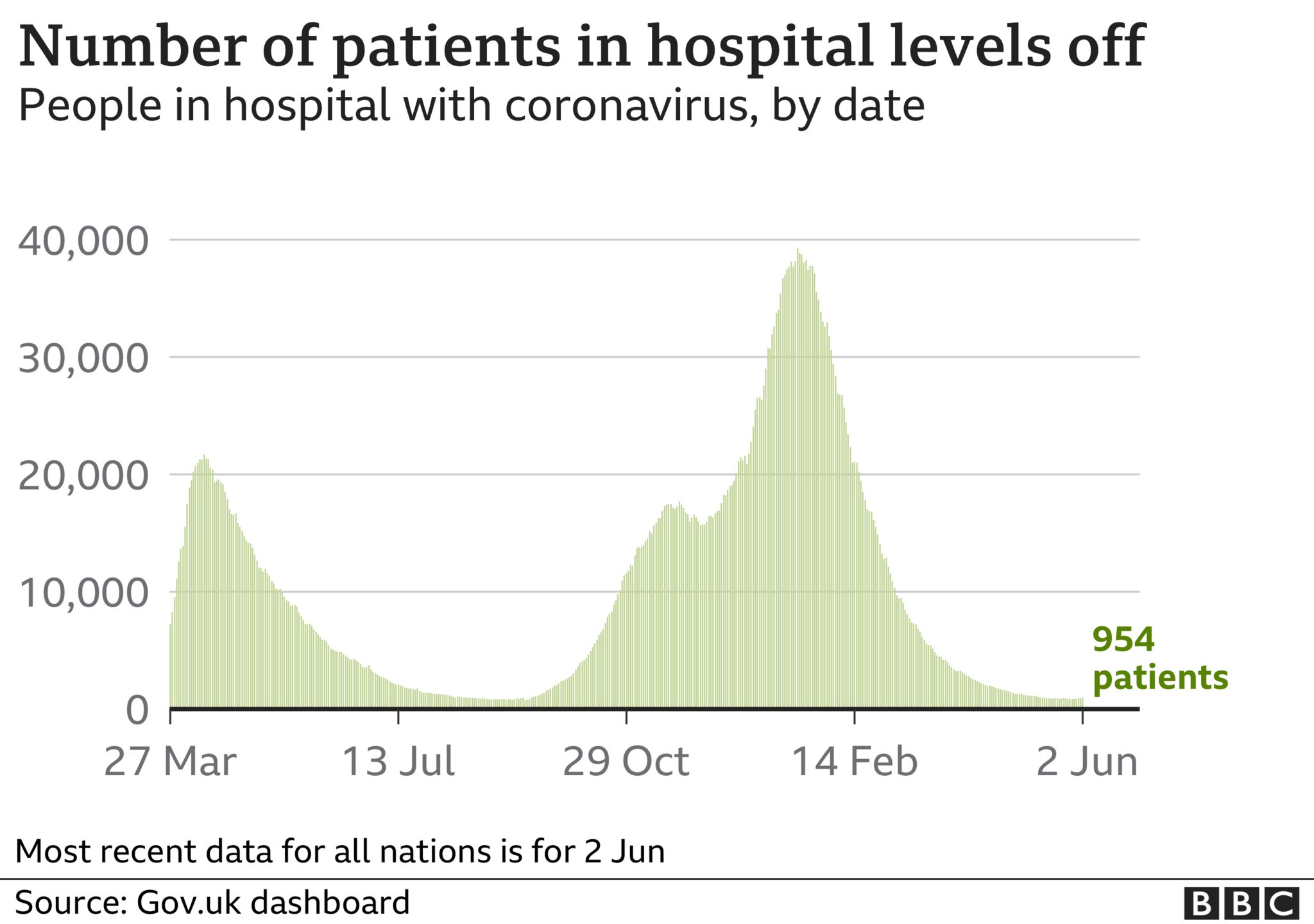 But Mr Hopson said that in Bolton, people in hospital with Covid were "a lot younger" than patients in earlier stages of the pandemic, which meant there was "less demand on critical care".
He added that there were "very, very few" people in hospital who have had both doses of a Covid vaccine, as they had had the "build-up of protection after those jabs".
Mr Hopson said in the latest phase of pandemic, the number of people in hospital in Bolton with Covid had not gone past 50, compared with a peak of 170 in November.
He added: "Infection rates have been increasing in a number of different places. We know that the hospitalisations are increasing, the rates of people coming into hospital in those areas are rising. But they are not rising very significantly."
But he warned that the backlog of care for non-Covid illnesses caused by the lockdown means that even a small rise in the number of Covid patients could see hospitals become overstretched.
Asked if the lifting of all restrictions on social contact on 21 June should go ahead as planned, Mr Hopson said the government's decision has become "significantly more finely balanced" due to the NHS still being busy, the Delta variant's increased transmissibility and because many people are still unvaccinated.
He said that he now suspects that, instead of 21 June being an "all or nothing" day when remaining lockdown restrictions are lifted, there may be some things that will be able to change from that day – but it will be "too high risk" to relax other measures.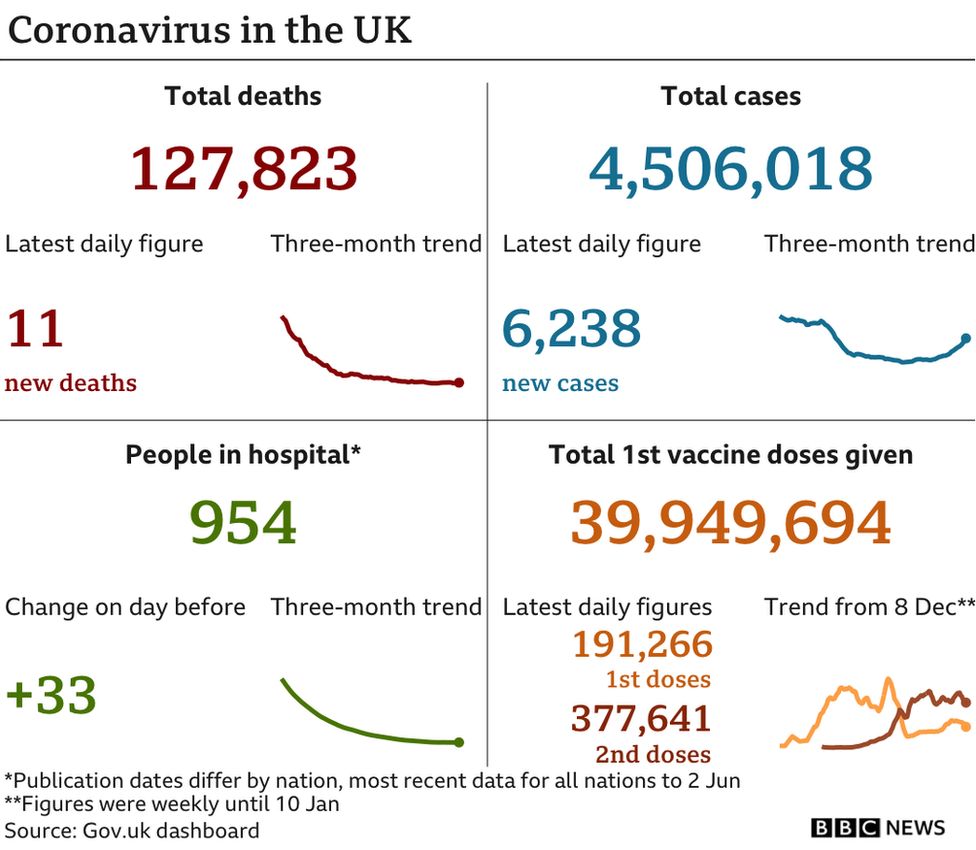 Meanwhile, Dr Adam Kucharski, a member of the Scientific Pandemic Influenza Group on Modelling (SPI-M) that advises the government, said there were a "number of concerning signs" following the earlier finding that vaccine first doses aren't as effective against the Delta variant and that people infected with the variant could be more likely to need hospital care.
He told BBC Radio 4's Today programme that the "increase in transmission" could potentially cause "considerable problems" and that it was "hard to be confident" that it would not lead to a "big number" of hospital admissions.
Asked for his view about the June lifting of restrictions, Dr Kucharski said the new variant had "changed" the equation.
"We are not facing the virus that we were facing two months ago. If we were facing the B.117 (Kent) variant as the dominant one, the fact it (the vaccines) is working very well, case numbers are coming down nicely, we could have some more confidence that there could be reopening without seeing those surges.
"But we're not… if say in two weeks we're in a situation where hospitalisations have been rising, where local health systems are coming under pressure, I think it will be quite difficult to justify adding more transmission to that kind of situation."
Everyone over the age of 12 who lives and works in specific postcode areas of Reading and Wokingham are being offered PCR tests for a fortnight from Monday.