From protests to exile, 22-year-old Maria tells Radio 1 Newsbeat what her home country is like.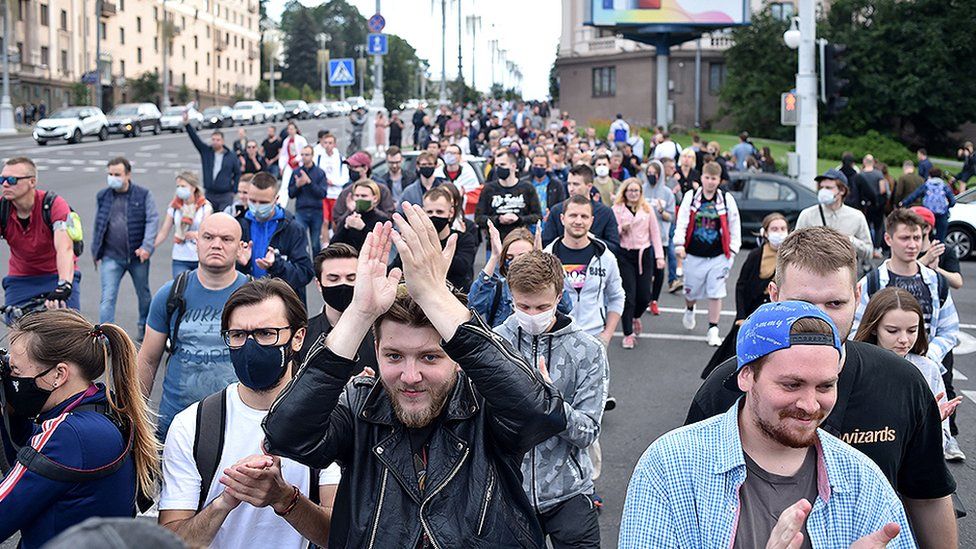 That's led to the threat of increased sanctions on the country by the UK, EU and US – and global protests.
So from protests to pandemics – what is life like in Belarus?
President Alexander Lukashenko has been in power for nearly 27 years and is nicknamed by some as "Europe's last dictator".
Officially, he won the election last year by a landslide – but the opposition movement and Western governments including the UK and EU say it was rigged.
President Lukashenko insists he won fairly and has said protests against him are a Western-backed plot.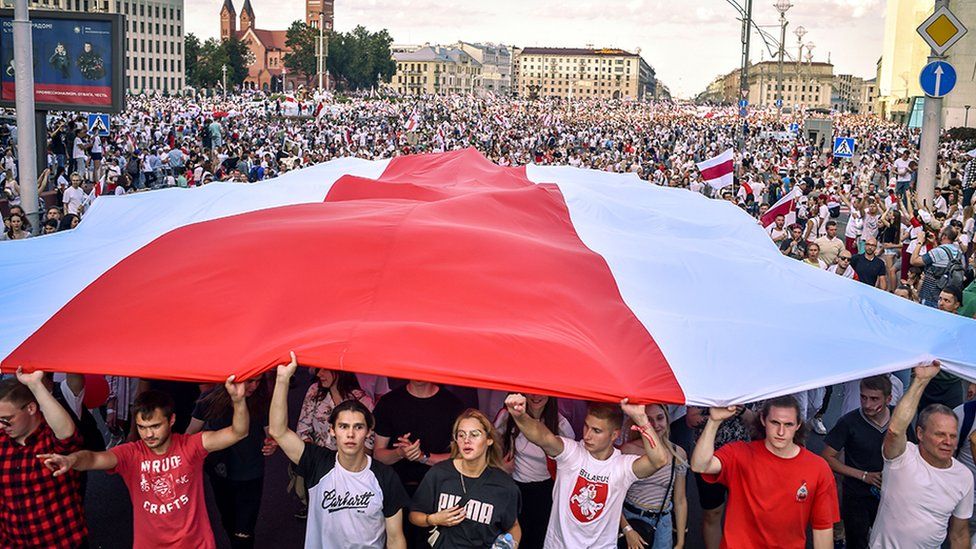 Maria was born and raised in the capital, Minsk – but is currently living in exile in Lithuania after protesting against the government.
The 22-year-old lived in Belarus for 20 years, before moving to London. But in the summer of 2020, Maria found herself going back "for democracy".
"I wanted to participate somehow in the future of my country, even though I couldn't vote [because of Lithuanian citizenship]," she tells Radio 1 Newsbeat.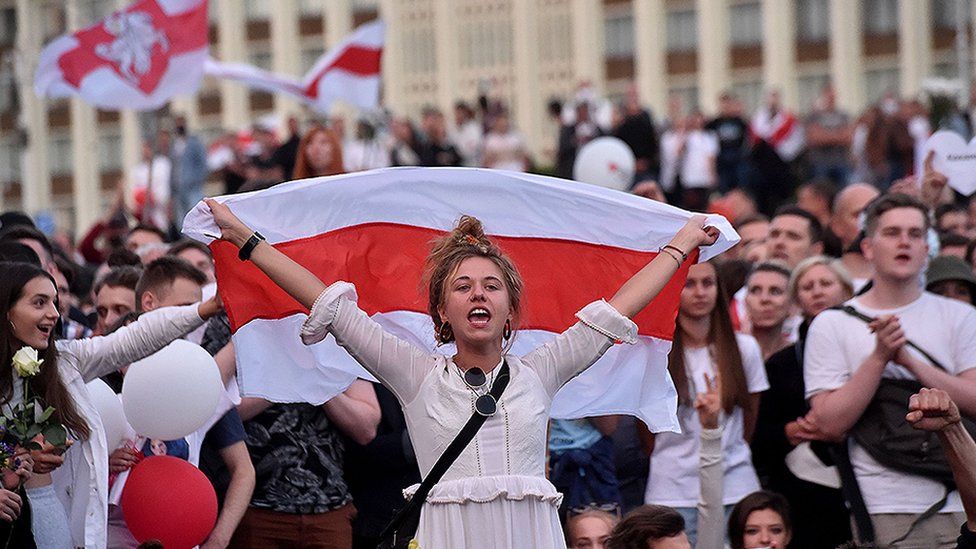 Maria says "outstanding alternative candidates" to the current president were "Belarusians that you'd want to follow and see as representatives of the country".
But many of those candidates were arrested for what Maria describes as "ridiculous" reasons – such as allegations of money laundering.
The crackdown on opposition politicians led people to the streets to protest across the country.
Maria first protested at the embassy in London – but it was seeing security forces arresting and beating people in her home country that sparked her return to Belarus.
"I took the decision to support my friends and relatives and participate in the protests. I didn't realise at the time how big this would be."
Maria was prepared for a few nights in prison, but "not for the amount of violence" she'd experience.
She says she was arrested and beaten by security forces.
"On one of the nights, I was lucky to escape. I was separated from my friends and they started to attack us with stun grenades and continued shooting," she said.
"It was just an awful night."
"We've seen terrible things, what they were doing to people, how violent and brutal they've been. We were lucky to survive."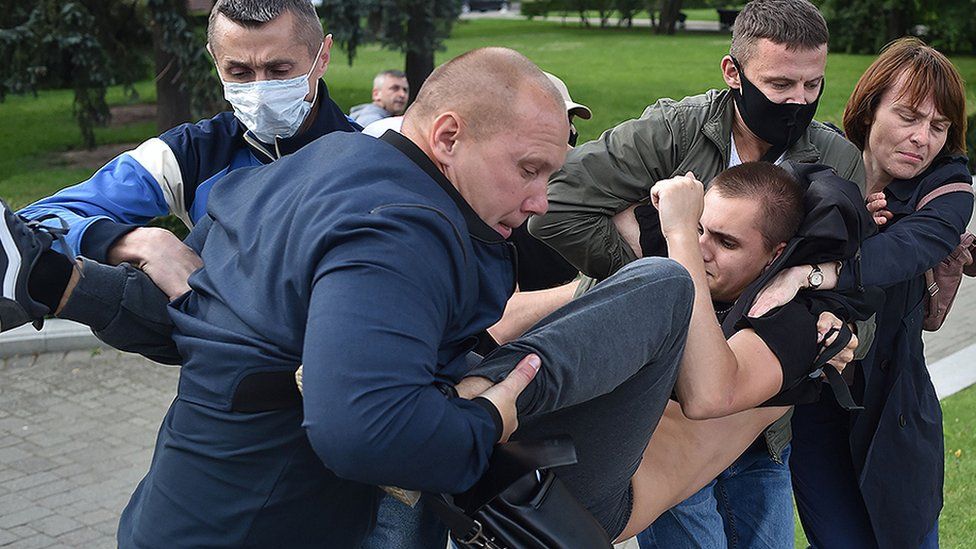 Maria says the violence she faced caused her to develop post-traumatic stress disorder.
Eventually she fled to Lithuania with her husband out of fear of persecution and further violence.
The EU and UK has imposed sanctions on members of the Belarus government for repression and intimidation against protesters, and called for new free and fair elections with all political prisoners released.
The Belarus government has denied widespread allegations of abuse.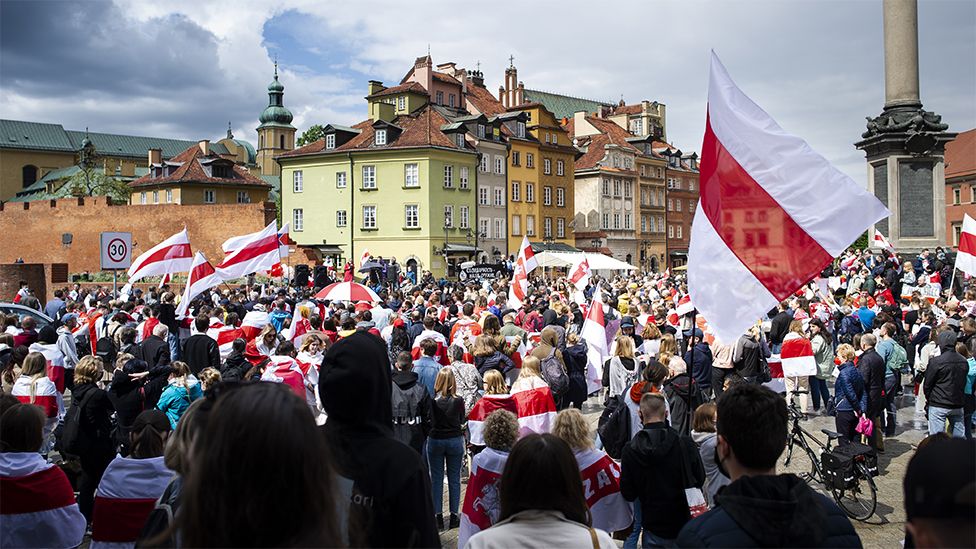 Maria says she was "raised as a normal kid".
"You're taught to be kind and caring towards others, but [you are] brought up in a system from kindergarten to university – unless you can escape," she says.
She says Belarus is "a strict country where you always have to fight for your rights".
This begins at school, "where you don't always get the right education because there's a lot of propaganda".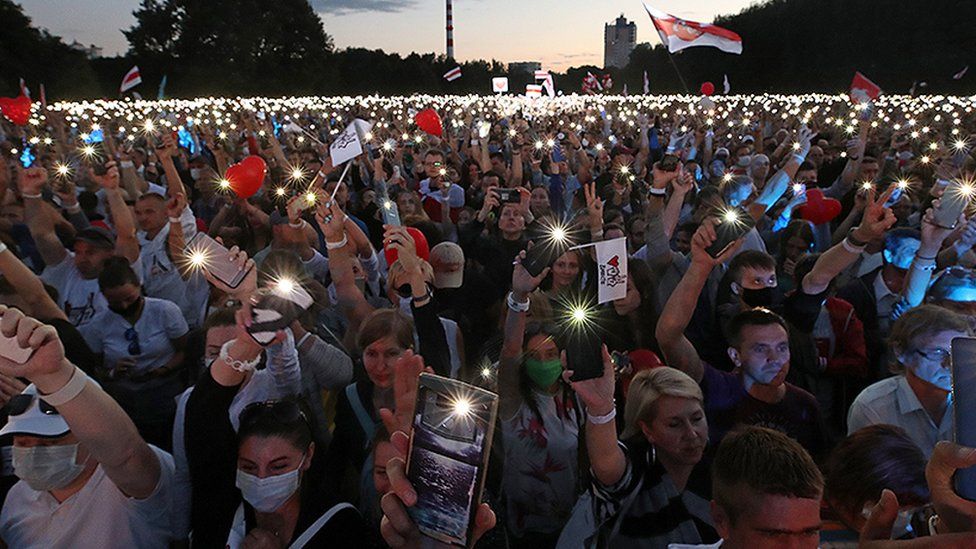 When Maria visited her grandma in England, at the age of eight, she felt "a massive difference" between the two countries.
"I'd seen the democratic atmosphere and the ways of education where teachers appreciate and try to help your ambitions," she remembers.
After that experience, she regularly compared life in Belarus with "the British way".
There are some similarities between the two countries – Maria feels people in the two countries share a caring nature and a desire to fight for individual rights.
But she says one of the big differences is "the freedom" individuals have.
"Not just outside, but your inner freedom – that you can be someone who you like and just depend on yourself," she says.
In recent months, the media has become a government target – with journalist Roman Protasevich making headlines across the globe when he was detained after a Ryanair plane was forcibly diverted to Belarus.
When the intercepted plane landed in Minsk, he reportedly told a fellow passenger: "A death penalty awaits me here."
Belarusian state TV said Roman faced up to 15 years in prison, primarily for "organising large-scale mass unrest" and "inciting hatred towards government and police".
But Belarus does still pass and carry out death sentences – it's the only country in Europe still to do so.
Maria says news of Roman's detention "was a massive shock to everyone".
"You don't feel safe anywhere. People who have had to flee the country and are still activists can't feel protected or secure."
President Lukashenko has rejected international condemnation that the plane diversion was an act of "air piracy" or "hijacking", staged to arrest a political opponent.
He insisted there was a genuine bomb threat and that he'd acted "legally" and to "save lives".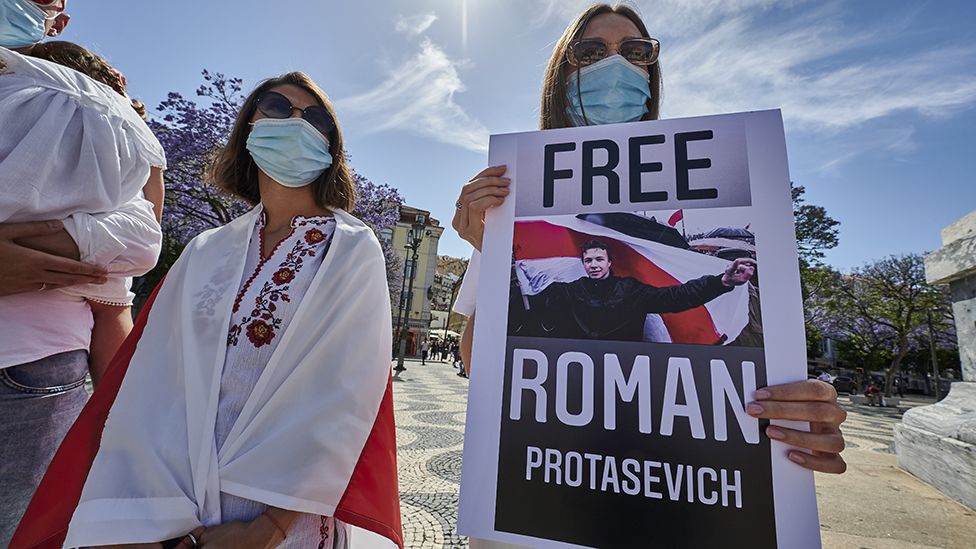 Maria says another stark difference between the UK and Belarus is how they've tackled coronavirus.
As the pandemic took hold and the UK went into lockdown, football matches and large gatherings in Belarus were still going ahead.
The president suggested vodka or a sauna could help to prevent infection.
Maria was in London at the start of the pandemic and felt there would "be no support or protection" from the virus if she returned to Belarus.
Though Maria is currently in Lithuania and says she's been banned from Belarus for five years, it hasn't stopped her campaigning for her country.
"I'm still connected with Belarus. It's a massive scar on my heart and mind, and it's not healing," she says.
"We need to bring changes in our country as quick as possible. It's not just about loud words."