Up to 10.8 million UK car journeys are predicted take place as the weather warms up this weekend.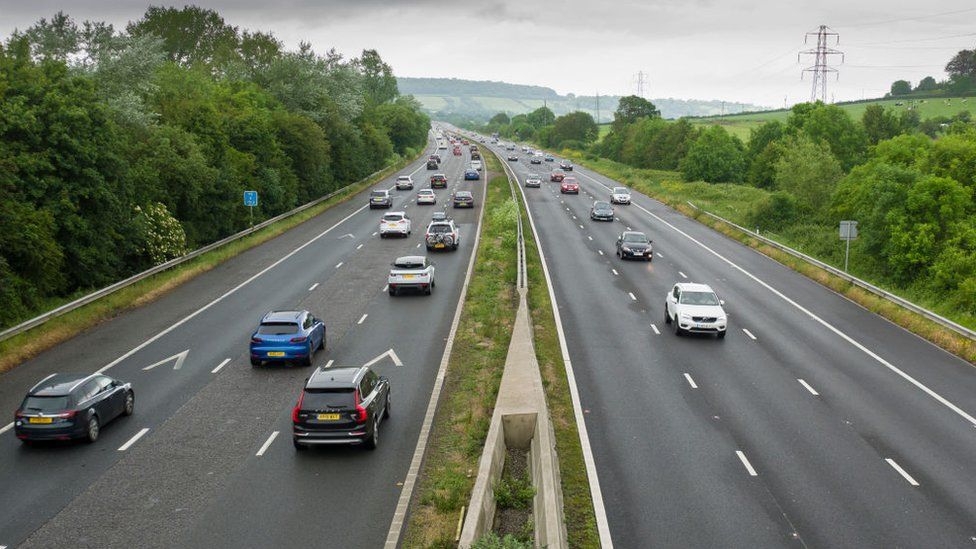 Summery weather is likely to lead to a surge in traffic over the bank holiday weekend, motoring experts say.
RAC research suggests up to 10.8 million car journeys will take place in the UK between Friday and Monday.
Forecasters say the sun will be out and temperatures will hit 20C in many areas on Saturday, with highs of between 21C and 25C by Monday.
It is the first public holiday since Covid rules on indoor hospitality and tourist sites were lifted.
The RAC said its research also suggests 11% of drivers are not planning a leisure trip this weekend due to the pandemic, compared to 18% over the early May Bank Holiday and 25% over Easter.
Its survey of the travel plans of 1,100 drivers conducted between May 17 and 24 found about 7.2 million trips are planned for the bank holiday weekend – with a further 3.6 million car journeys dependant on the weather.
The Rail Delivery Group, which represents the rail industry, said National Rail had reached roughly 40% of normal passenger numbers in the last few weeks, compared to under 10% during May 2020 when stricter lockdown restrictions were in force.
But it said some routes will be affected by improvement work over the Bank Holiday, including at London King's Cross, London St Pancras International, London Victoria and on the West Coast Main Line.
Robert Nisbet, director of nations and regions at the Rail Delivery Group, said: "Vital upgrades to make the railway more reliable will affect some journeys, so we're asking passengers to check before they travel and plan journeys for quieter times if they can."
Ben Aldous from the RAC said: "Our research points to Saturday and Monday being the busiest days, but in reality, there's a good chance the weather will have the final say as to how busy the roads get.
"An end to the recent wind and rain could spark a sudden surge in journeys and mean some routes, especially those to the coasts and hills, start to clog up."
The Met Office said March was slightly warmer than the long-term average, but April and May's below-normal conditions dragged the season's mean temperature one degree lower than would normally be expected, to 6.8°C.