Ministers want the unique 15th Century piece depicting mythical gods to be "saved" for the nation.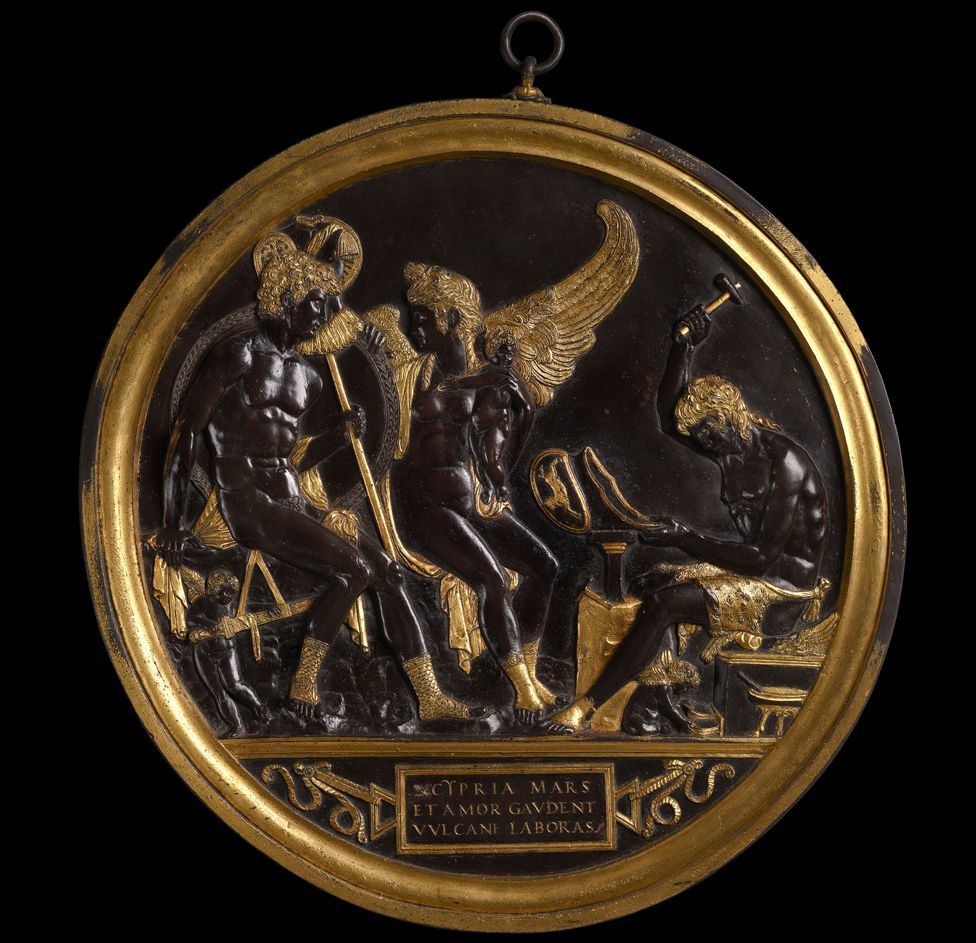 The UK has put a temporary export bar on a £17m Renaissance bronze roundel.
The unique piece was found at a Devon country estate and sold at auction in 2003 for a then-record £6.9m to Qatari royal Sheikh Saud al-Thani.
The artefact, depicting the mythical gods Venus, Mars, Cupid and Vulcan, was later lent to the Victoria and Albert Museum before being sold again.
The ban runs until 27 September in the hope that funds, plus £3.4m VAT, can be raised to keep it the UK.
This could be extended until 27 March 2022 if an offer to raise funds to buy has been made.
The panel of experts advises ministers on whether objects more than 50 years old and sold to buyers who want to take them abroad should be "saved" for the nation.
The committee praised the 15th Century roundel's "remarkable craftmanship", saying it was "breathtaking in both beauty and grandeur" and its "loss.. would be a misfortune".
About 42cm (16.5 inches) in diameter, the roundel depicts Vulcan forging a helmet surrounded his wife Venus – the goddess of love. Venus is holding her son Cupid, while flirting with her lover Mars, the god of war.
It thought to have been acquired on the Grand Tour by judge and MP George Treby III in the 1740s and kept at the family's Plympton estate. Passed down through generations of the family, they were reportedly unaware of its importance and value when uncovered by auctioneers Christie's.
The Department for for Digital, Culture, Media and Sport said: "The roundel is larger, more complex and more refined than other examples produced in Mantua at the same time which are currently in British collections. The decision to defer the export will give a UK buyer the opportunity to acquire the exceptional piece."
Culture minister Caroline Dinenage added: "This piece is a stunning combination of myth and mystery. I hope a UK buyer can be found so that researchers can reveal its secrets and the public can see this striking design on display."
Stuart Lochead, RCEWA committee member said: "While it shows clear links to Mantegna and Donatello [Renaissance artists], it is hoped that further study might reveal who designed and produced it and for whom and therefore contribute to advancing knowledge of the period."
The roundel was subject to an earlier export bar in 2003 following its initial sale. The V&A raised the funds to buy it, only to see the Qatar ruling family withdraw its application to take it aboard. They later allowed the museum to temporarily display it.
The DCMS says the roundel was purchased by its current owner in 2019 but has not named them.