Gina Ingles and four-year-old Milo Ingles-Bailey died in a fire after a row over drugs debts.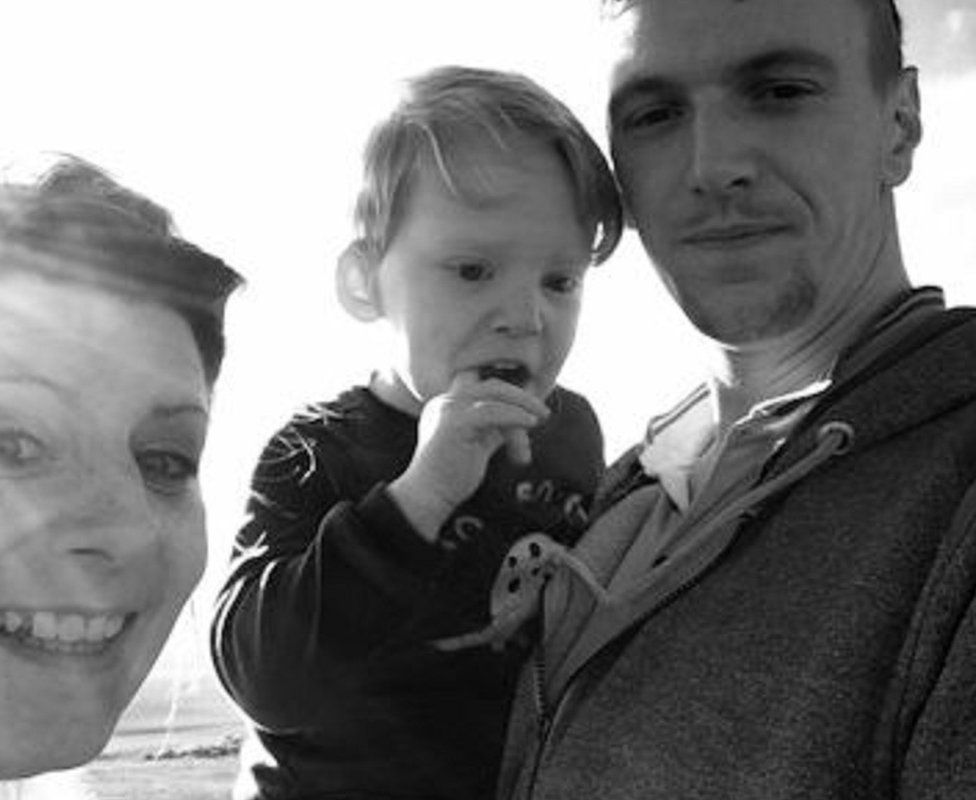 Two men have been found guilty of murder after a mother and her four-year-old son died in a house fire that was started after a drugs-debt row.
Gina Ingles, 34, and her son Milo Ingles-Bailey died in July 2018 at their Eastbourne home. Ms Ingles' partner Toby Jarrett was also injured.
Jacob Barnard and Andrew Milne have been convicted at Lewes Crown Court of their murder and attempted murder.
John Tabakis was found guilty of perverting the course of justice.
Barnard and Milne are due to be sentenced on Friday. Judge Mrs Justice Whipple said they "will be facing lengthy terms" in prison.
Tabakis was released on bail to be sentenced at a later date.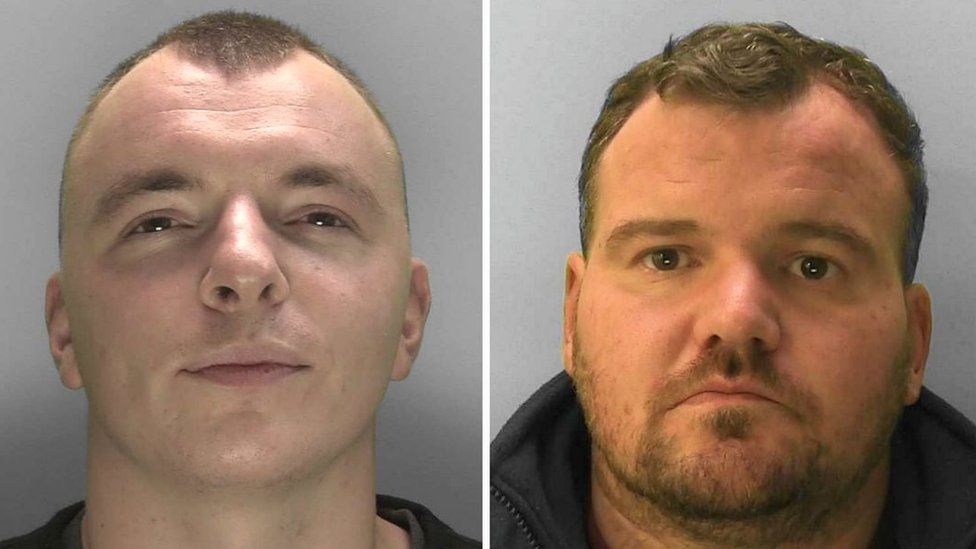 Fire investigators concluded the blaze had been started deliberately close to the front door, and outside the house a petrol can and lighter were found.
DNA matching Barnard was found on the lighter, and DNA matching Milne was found on the petrol can, the court was told.
CCTV images showed two men walking away from scene of the fire just before 01.00 BST on 10 July 2018.
Barnard dealt in second-hand cars, buying them in the UK and selling them in Portugal. He also dealt in drugs.
Milne worked as a debt collector for Barnard, the court heard. He was arrested in Portugal.
The jury was told Mr Jarrett owed money to a local drug dealer, who in turn owed money to Barnard.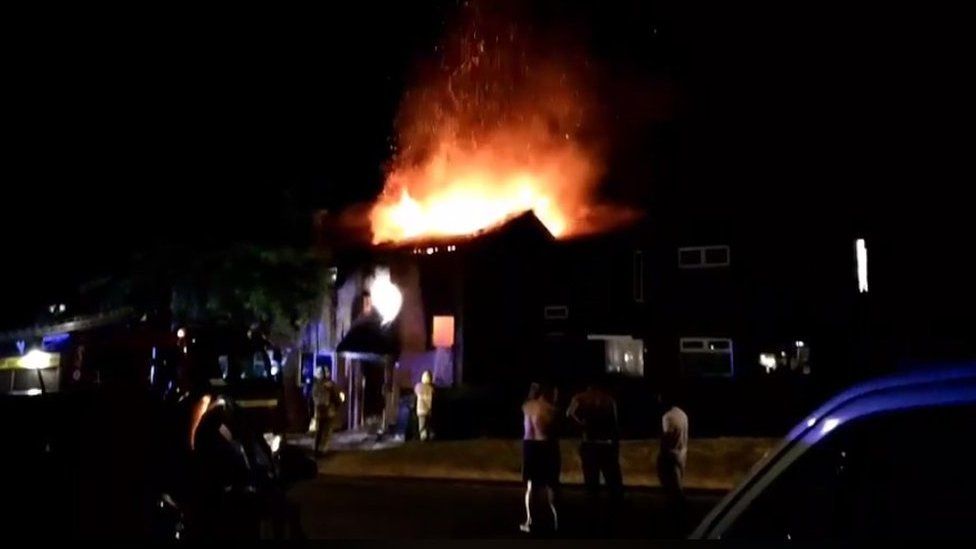 Mr Jarrett had woken at about 01:30 BST to find the house he shared with Ms Ingles in Croxden Way, Eastbourne, filled with smoke.
He fell from the bedroom window, and was seriously injured and suffered from extensive burns, while Ms Ingles went to get Milo from another room.
The remains of Ms Ingles and Milo were found in her bedroom under a window several days later, together with the body of a dog, the jury was told.
Mobile phone data showed Barnard and Milne exchanged calls the day before the fire. Barnard had also exchanged calls with Tabakis.
A Mercecdes ML270 4×4 car, owned by Barnard, was picked up on number plate recognition systems driving into Eastbourne before the fire, and then leaving the town, after the time of the blaze.
The same car was then taken by Tabakis on a ferry from Newhaven to Dieppe, and on to Portugal.
He had been told by Barnard to "get the vehicle out of the country as quickly as possible as it had been involved in some criminal activity", the prosecution told the jury.
Barnard, 32, who lived in Portugal, and Milne, 42, from Hastings, were found guilty of murdering Ms Ingles and Milo, and the attempted murder of Toby Jarrett.
The jury also found Milne guilty of being in possession of a prohibited weapon.
Tabakis, 31, from Hastings, was convicted of one charge of intent to pervert the course of justice.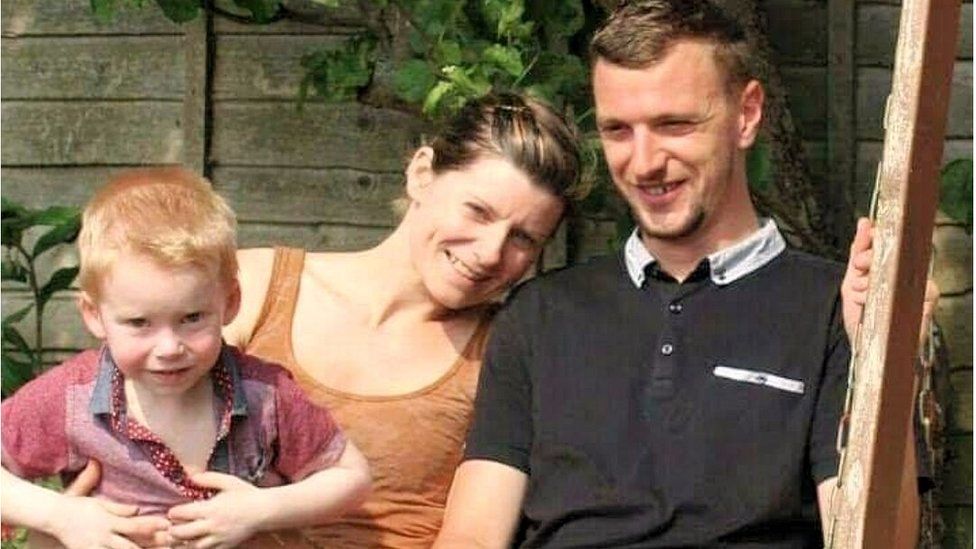 Senior Investigating Officer, Gordon Denslow from Sussex Police, said the investigation had been "very long and very complex".
"At no point have Barnard or Milne accepted responsibility for their actions in the early hours of 10 July 2018, or expressed any remorse or regret.
"Instead, their unfounded denials in the face of compelling evidence have meant that Gina's and Milo's family have had to endure a long and painful wait to find out what really happened that night, and why."
He said: "This was a carefully planned, cowardly, but horrific attack carried out by Barnard and Milne in the middle of the night against a defenceless family.
"Tabakis then knowingly tried to help them get away with their crimes by driving the car they used during the attack to Portugal just hours afterwards."

The BBC is not responsible for the content of external sites.