The mischievous moggy spent hours stuck at the top of a 10m electricity pole in Stow-on-the-Wold.
An adventurous cat was responsible for a street's power being turned off when it became stuck on top of a live electricity pole.
Gryffyndor, from Stow-on-the-Wold in Gloucestershire, is thought to have spent about eight to 10 hours on the 10m (32.8ft) pole on Saturday.
She was eventually rescued early on Sunday when engineers and firefighters brought her down safely.
Her owner said from now on, Gryffyndor would be strictly a house cat.
Verity Edwards-Flaherty said her family noticed Gryffyndor had not touched her food that day.
It was not until 20:30 BST that she was spotted on top of the pole in Fosse Folly by Mrs Edwards-Flaherty's 10-year-old son Connor.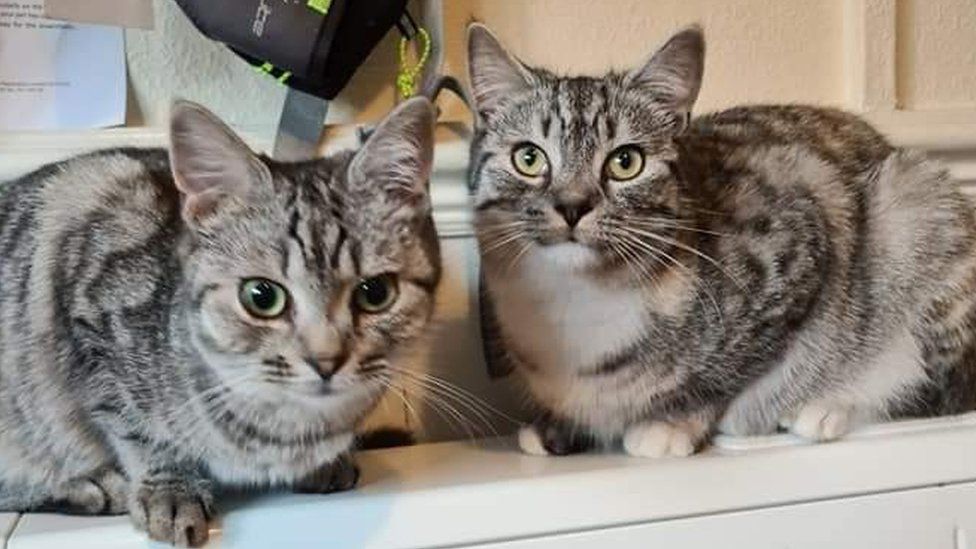 Fire crews were called out about two hours later.
The power line had to be turned off for about five minutes for Gryffyndor to be brought down safely.
Mrs Edwards-Flaherty said: "It was too much of a risk [to take her down with it on] so they had to shut off the electricity for the street.
"Nobody seemed to mind. People have been very kind and we're very, very grateful."
A Western Power Distribution spokesperson said power to about 100 homes was turned off to complete the rescue.
Gloucestershire Fire Service confirmed a crew was called at 22:29 to help on Saturday and left at 00:18 on Sunday.