Tory MP faces six-week suspension from Parliament after panel found he sexually harassed an employee.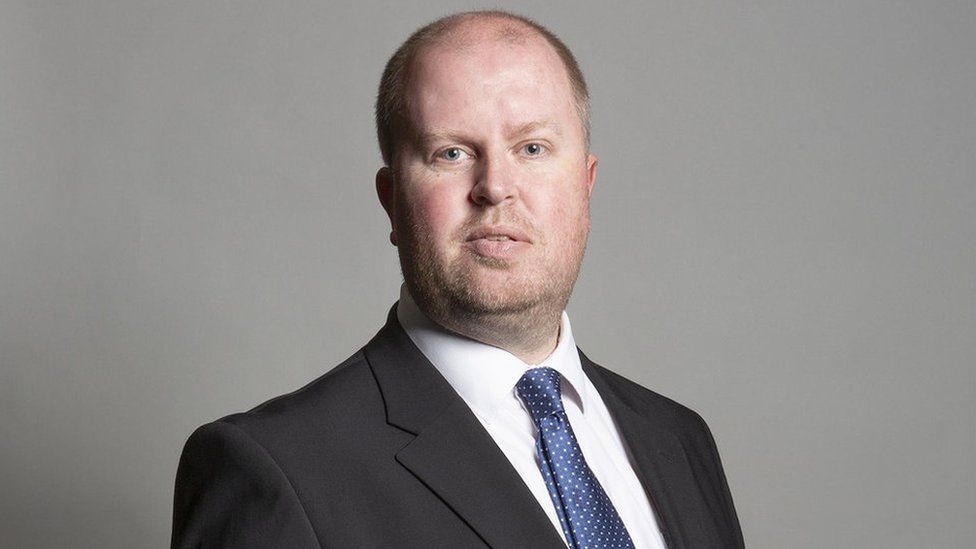 A Tory politician faces being suspended from Parliament for six weeks after an independent panel found he sexually harassed a member of his staff.
Rob Roberts's former staffer told BBC Wales the Delyn MP repeatedly propositioned him and asked him to "be less alluring".
MPs must now decide if they will back the sanction recommended by the independent panel, although Labour has called on Mr Roberts to resign.
He has been asked to comment.
In his first interview, Mr Roberts's former employee said he had been left "uncomfortable," "shocked" and "horrified" by the MP's behaviour.
In June 2020, the ex-staff member decided to report the MP to Parliament's Independent Complaints and Grievance Scheme (ICGS) for sexual misconduct.
It is one of the first cases to be judged by the panel appointed to look at bullying and harassment cases last November.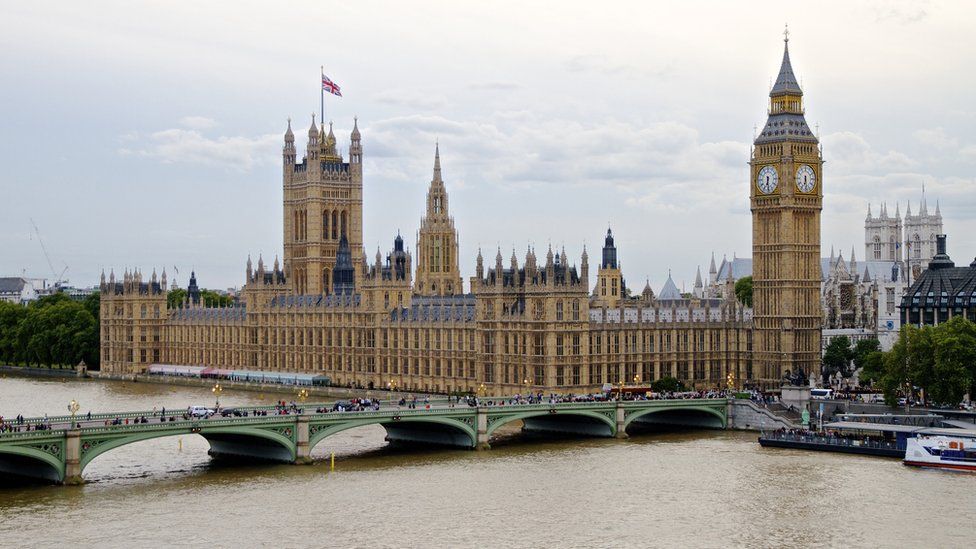 The complainant started working for the newly-elected Mr Roberts in early 2020, and said the MP made his "first advance" ten days later.
The staffer, who wishes to remain anonymous, told BBC Wales they were alone in a car together on a constituency visit when Mr Roberts said: "I find you very attractive and alluring and I need you to make attempts to be less alluring in the office because it's becoming very difficult for me."
The staffer says he found the comment "very uncomfortable" but "brushed it off" because the MP was "apologetic".
That weekend, he says Mr Roberts had dinner with his friend and "used it to ask permission to ask me out, or make a further advance".
Despite the friend "heavily discouraging him from doing so", the staffer said the next morning he looked in his work diary to see a "one-to-one booked with Rob".
In the one-to-one meeting, Mr Roberts told his staffer the advance he had made in the car was "something I would like to pursue, and if you would like to pursue that too it would make me very happy".
The staffer told BBC Wales: "I felt incredibly uncomfortable, shocked, pretty horrified.
"I tried to be very nice and said 'I really like you as a boss, but I think it's best our relationship stays professional.'"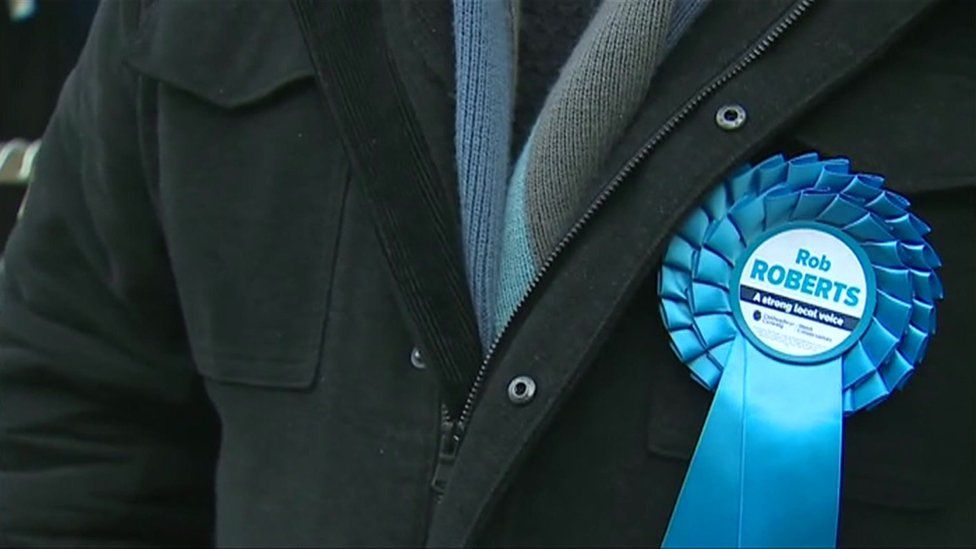 He says over the next few days Mr Roberts then exhibited "jealous behaviour".
"When I was having lunch with people he'd ask who they were, were they a boy or a girl?
"I'd arrange to have drinks with friends in the evening or dinner with my sister and he'd say 'why are you going for drinks with them and not me?'"
The staffer says Mr Roberts had also made inappropriate remarks referring to the staffer's sexuality.
After Mr Roberts invited him for drinks, and he said he was busy, the staffer says the MP then "booked drinks in the diary for the following Tuesday, outside of my hours, without giving me any go-ahead".
"That was the point I thought: 'I just can't come into work anymore.' Because it's not really appropriate behaviour, deliberately forcing me to spend time with him around him and alcohol."
Mr Roberts's former staffer said he was "in a constant haze".
"I had to find excuses just to get out of the room. I was constantly uncomfortable."
He said he had to decide "whether or not I was going to have to quit my job" and had a lot of "very difficult decisions to make" when he raised what was happening with the party whips.
"You're labelling yourself often in many ways as a 'troublemaker' with the party higher-ups and you don't know how the party is going to react.
"There is a reason there are so few of these complaints that come forward – the fear people have about what's going to happen to their career.
"I had very little job security and we had a pandemic around the corner."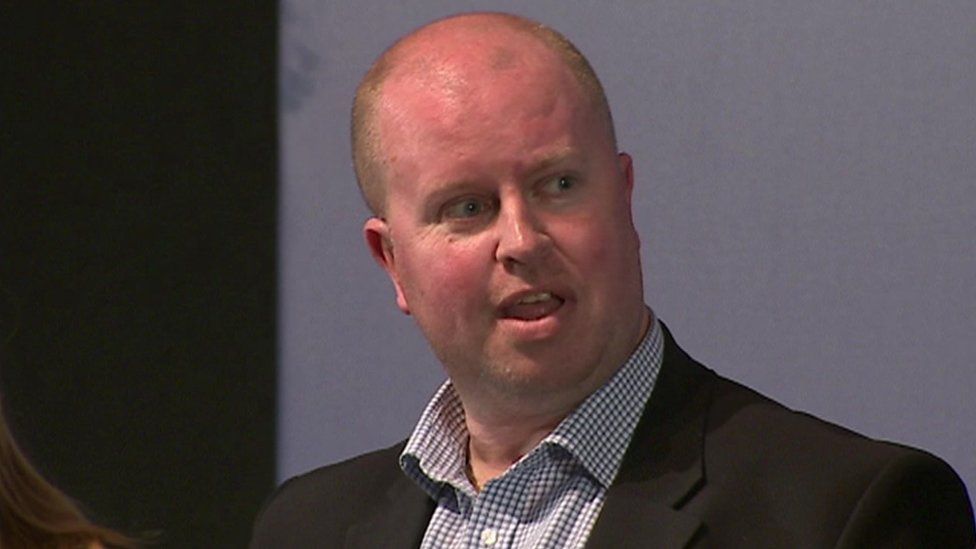 The staff member ended up moving to a different role in Parliament, and has now left the organisation completely.
"I was put in a position where I had to leave my job and I shouldn't have been put in that position," he said.
The staffer first spoke to the ICGS's sexual harassment service in March, and pursued a formal complaint in June after being made aware of other allegations about Mr Roberts – even after the party whips had spoken to the MP about his behaviour.
In July 2020, messages seen by BBC Wales also showed Mr Roberts inviting a 21-year-old female intern who was working in Parliament to "fool around" with him in April.
The MP also repeatedly propositioned her after she told him she was struggling with her mental health.
The female intern told BBC Wales the messages had made her feel "really vulnerable".
The male staffer told BBC Wales Mr Roberts made comments about him during the independent investigation, "referring to me as 'attention-seeking', saying 'I'm trying to destroy his life and his career.'
"A lot of the reason I've done this, and had to leave Parliament, is because I want to ensure that this doesn't happen to other people."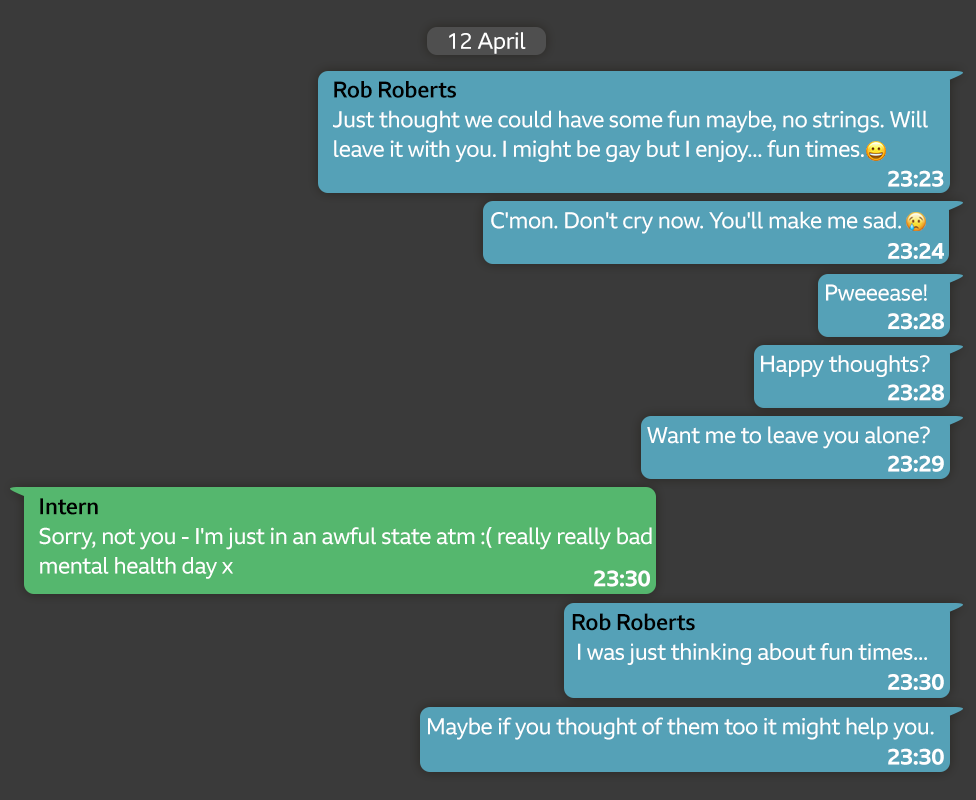 Commenting after the panel's findings, the former staffer said: "I am very relieved that the report published today has found that Rob Roberts committed a serious and malicious breach of policies in place to protect staff from sexual misconduct and I will welcome the recommendation by the panel that he be suspended from the service of the House [of Commons].
"This has been a long process and I am grateful to the Commissioner, the investigator and the members of the various panels for their considered approach to the facts in this case.
"I hope that the House will now reflect on the findings in the report and take quick action to uphold the suspension. I am pleased that this has shown the complaints procedure does work and I hope it gives confidence to others."
The report says Mr Roberts "was informed of the sanction in March and appealed it, but his appeal was rejected on 17 May".
The male staffer says Mr Roberts also appealed the ICGS investigation on three grounds including claiming the "term of sexual harassment has been 'misused', he calls them 'romantic advances'" – but his appeals were rejected by the independent panel.
In June 2020 MPs voted in favour of forming this independent panel of experts to deal with bullying and harassment allegations against them.
The panel is entirely independent of MPs and sanctions decided by the panel can include the suspension or expulsion of an MP – which then require a vote in Parliament – as well as less severe sanctions that can be imposed directly by the panel.
If an MP is suspended for at least 10 sitting days by Parliament's Standards Committee this triggers a recall petition – which can lead to a by-election if it gains enough signatures.
However, sanctions imposed by this Independent Expert Panel, who judge more serious sexual harassment and bullying cases against MPs, do not automatically trigger the Recall of MPs Act 2015.
The Conservative Party has been asked to comment on the ICGS investigation.
It launched its own investigation after BBC Wales published texts sent to the female intern and reported that Mr Roberts had admitted asking out a male parliamentary staff member.
The party claimed it did not contact either staff member as part of its investigation into Rob Roberts because complaints to the party were made by third party complainants and had not come directly from the individuals involved.
Earlier this year the party closed the investigation saying it had "strongly rebuked" Rob Roberts for his "unacceptable" conduct, but that he would remain a Conservative MP.
Mr Roberts has been asked to comment on the panel's findings.
In July 2020, the Delyn MP claimed he had invited a parliamentary staff member to dinner.
He said: "My invitation was not accepted and the staff member did not feel comfortable about it".
The MP added that he had found "the 'coming out' process to have been particularly challenging and the cause of a great deal of mental stress to me."
Mr Roberts has not commented on the messages sent to the female intern.
Labour's deputy leader Angela Rayner said Rob Roberts "should resign immediately".
"The fact that such serious abuse doesn't automatically result in the recall of an MP is absurd and unjust and the Labour Party will support legislation to rectify that injustice," she tweeted.
"He should not be in his role for another single day more."
Labour party chair Anneliese Dodds MP added: "The Conservative government cannot dance around gaps in legislation if it is serious about upholding standards in public life.
"That is why we expect the government to take immediate action – Labour will support efforts to pass emergency legislation or measures to rectify this situation."
The BBC is not responsible for the content of external sites.